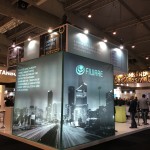 Cities are almost as old as society itself, their birth being surrounded by mysteries and legends such as the one of Romulus and Remus and the foundation of Rome. Since then, since the times of Roman urbanism, our urban environments have changed a lot. Not only in terms of distribution or legislation, but, especially, in terms of city management. And now, the new trend in city management is the creation of smart environments. We have already spoken about the smartness of devices, but now we can speak about cities that can manage their own information for the benefit of citizens.
And, for FIWARE, these urban environments, which are generally called Smart Cities, have been essential, as some of our enablers are meant to deal with the traffic of information that only places such as cities can generate. Apart from that, the Open & Agile Smart Cities Initiative is now modeling a standardized procedure to cope with data, so that the solutions created for one city can be adapted for others.
Some of the most interesting projects that have been founded and funded thanks to the FIWARE Accelerator Programme are actually destined to develop solutions in this field. That is why it is now the time to give them the floor and listen to the voices of those really working to improve the places we live in. Because their voices are our own.
Because this is our story… Which is yours?