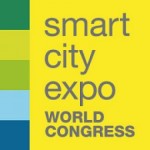 Last year's edition of the Smart City Expo World Congress (SCEWC) brought more than 14.000 visitors from over a hundred countries to the event at Fira Gran Via in Barcelona. The congress gathered 421 speakers, 485 exhibitors and 568 cities, confirming the SCEWC as a main international summit of discussion about the link between our urban reality and the technological revolution that is alredy happening.
Since its first edition in 2011, the Congress has succeeded to become a referential global event around the avancement of a Smart City framework, supporting the development of the urban communities of the present and of the future. This year, the SCEWC intends to increase previous figures. New top level stakeholders, organizations, exhibitors and visitors from all over the world will be joining to discuss smart cities and smart citizens and to review the most recent technological advances, social achievements, social and ecological challenges and the newest forms of economic development and governance.
FIWARE wil be there, as a Global Partner of the Congress and as the Open Source Platform and Community with an special focus on the IoT-enabled Smart City Framework.
This year's event will take place from November 15-17th in Barcelona (Fira Gran Via).
Several demos powered by FIWARE are already confirmed. Distributed in two categories –'Enabling new innovative services for the citizens' and 'Improving management of city services' – the companies and projects will be collaborating and engaging with the visitors, showcasing their solutions at our Stand C324 (Hall P2, Level 0, Street C), where we will be also presenting our value proposition and main partnerships for the Smart Cities.
The demos will be:
Enabling new innovative services for the citizens:
. Everimpact, cities' climate and pollution monitoring, showcasing a real-time 3D map of CO2 emissions.
The demo will provide a real-time 3D map of CO2 emissions of the city of Nantes (France). Everimpact is an awarded project in the fields of Climate and Smart Cities, that is partnering with Networks of Cities, Space Agencies and International Organisations, to advance in the monitoring and reduction of CO2 emissions.
. Outbarriers' solution to help blind people to move safely around the city. Under the slogan "Smart Shops for everyone: One beacon, thousands apps", Outbarriers is offering a service that uses FIWARE technology to present automated audio information to the person using its app. A shop that wants to provide this service only has to install a small beacon on its door.
· Kalliópê presenting their live communication and interaction software tools. Kalliópê describes itself as a "massive interaction Suite for spatial storytelling". Based on the use of smart phones (for machine to people communication) and sensors (for machine to machine communication), the project has been accelerated by Creati-Fi and is about to be commercialy launched, so it will be a great opportunity to be informed upfront.
· Tera, with Beeta hardware and software solution for the home energy automation, is adressing the fragmentation of the home energy automation IoT market and offering an ideal product to optimize energy usage in each situation. By informing users of how to manage their household electrics and encouraging a more responsible energy consumption, Tera estimates that savings of up to 200€ per client a year could be achieved.
Improving management of city services: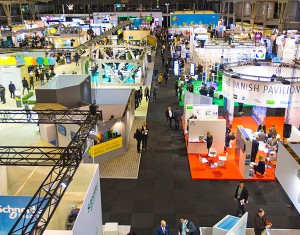 . Adevice and its water quality management system. Being one of the main assets for the digital transformation of Seville, the solution integrates multiple devices with standard-based technologies, combining industrial IoT technologies under a Smart City focus and assuring interoperability between the teams and systems from the different organizations involved. It allows real-time monitoring, collecting information and showing alerts to avoid any system malfunction, thus saving money through predictive maintenance.
. WiseTown suite, developed by TeamDev, a solution able to identify and manage the issues that are affecting the city. The demo will show how the system acquires data from different sources (portals, social networks, mobile apps, IoT sensors…) and organizes it according to a comprehensive knowledge database that has been made previously available. Then, WiseTown uses the data in order to deliver one-to-one feedback, geographic analysis for events and emergencies and other decision support systems.
· Telefónica and Geographica, demonstrating how to build portable smart city dashboards using FIWARE Harmonized Data Models. Focusing on municipalities that do not manage the public services by themselves but need reliable mechanisms to check if the service actually provided performs as expected and if the public resources are properly used. The demo will show a tool used to track waste management resources and utility performance, with real-time information from the city of Guadalajara (Spain).
· Engineering, showing a real-time parking advisor app, developed with the city of Ancona (Italy), to overcome the usually unaccurately estimations about the availability of parking slots in a city. The showcase will gather real-time information through automatic ticket tellers and a special mobile app and taking into account special parking permits. The citizen looking for a free spot will be able to submit a destination and visualize the estimated time needed to find a parking slot in that specific area in a colored map.
· ATOS and CityGO, a smart mobility solution part of a wider pilot project developed in Málaga (Spain). CityGO aims at providing recommendations about the best route to get usual destinations within a city, depending on diverse real-time conditions, promoting healthy and environmental care behaviours. It calculates the usual daily paths/itineraries, providing also valuable information to the municipality to take decisions about transport regulation. Third party companies could get value from the public data, creating additional services for the citizens or the municipality.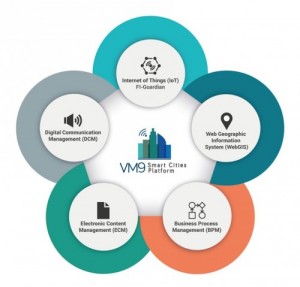 Another solution that will be showcased at the FIWARE stand is VM9 Smart Cities Platform. VM9 was selected also as one of the finalist of the Call for Solutions Award for 'Materializing City-as-Platform projects'. Linked to this solution, VM9 is also part of a real case implementation, on the Global South Award finalist project around Nova Friburgo and its smart city development. FIWARE is powering a initiative that is helping the Brazilian city to embark on an ambitious city-as-platform approach.
At our stand, VM9 will show how is currently working to establish a digital interface available for citizens, to connect them with the local municipality. The platform is focus on easing and promoting tasks like checking and providing feedback on planning legislation, creating their own maps, or making a public service request.
FIWARE will be also present in three special Parallel and Plenary sessions:
· 'Real-time open data fuelling the next generation of urban services' (DT 01) – Parallel session: Tuesday 15, 11:30-12:30h. With Juanjo Hierro, CTO of the FIWARE Foundation.
· 'Open, flexible, scalable city platforms' (DT 06) – Parallel Session. Thursday 17, 10:00- 11:00 h. With Carl Piva, Vice President Strategic Programs, TMForum
· 'Collaborative partnerships to achieve urban common goals' (PL 05) – Plenary session. Wednesday. 16, 17:15-18:15 h. Conducted by Juanjo Hierro, CTO of the FIWARE Foundation.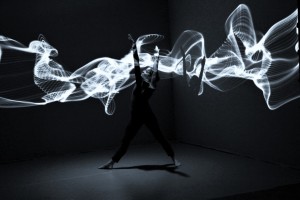 On Wednesday and part of the Smart City Party Context at the Congress Area, a special show will take place after the Smart City Awards ceremony: the 'CROMA pixel dance performance'. Powered by FIWARE technologies, CROMA is a project developed by HandMadeDance and Pelayo Méndez and was one of the winning projects of the Creative Ring Challenge, featured in La Mercè 2016 program.
Two stages will be connected, sharing images from each other and combining them through their walls thanks to the FIWARE technologies. Audio reactive software and a colour rule game will be controlling the room's digital environment during the show.

More collaborations and activities during the event will be announced soon. Our participation during the SCEWC, as well as the highlights of the Congress, could be followed through the FIWARE owned media channels (fiware.org and our Twitter, Facebook and LinkedIn profiles). Don't forget to use #SCEWC16 and #FIWARE when commenting about this Smart City Expo World Congress and our activities during the event.
Link to the event:
/event/smart-city-expo-world-congress-2/
Link to registration:
https://registration.firabarcelona.com/#/tickets/selection