FIWARE is helping power a major new city initiative that is helping one Brazilian city embark on an ambitious city-as-platform approach. The Brazilian startup VM9 is creating a smart cities platform that has already been adopted by the Brazilian city of Nova Friburgo, in Rio de Janeiro.
VM9 are currently working with Nova Friburgo to establish a digital interface for citizens to connect with the local municipality and to carry out tasks like checking and providing feedback on planning legislation, creating their own maps, or making a public service request.
Citizen Portal: Meio Ambiente Digital
"The Municipal Secretary of Environment and Sustainable Urban Development ("Secretaria do Meio Ambiente") is the organ of municipal government in Nova Friburgo responsible for a great number of activities related to territorial management, including licensing and civil constructions monitoring, supervision of environment preservation areas, and urban planning", explains Marcos Marconi, Founder and IT coordinator at VM9.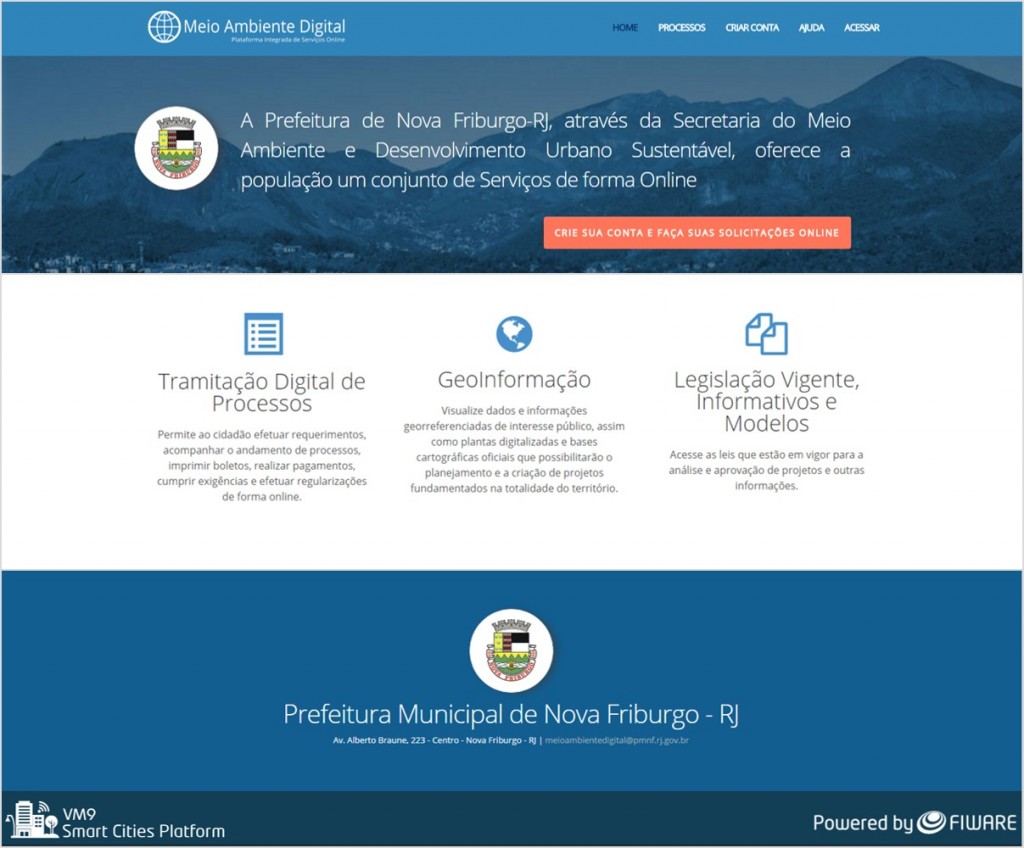 The Municipal Secretary of Environment and Sustainable Urban Development uses the VM9 Smart Cities Platform to provide better services to citizens and improve internal productivity through the portal Meio Ambiente Digital.
Marconi says the current project for the digital portal has been divided into two phases. He explains:
The first objectives are:
To construct a robust municipal geospatial database to be publish for citizens and provide internal support for technicians of the Secretary during approval process of licensing and others, and
To simplify and improve the services offered for citizens from digital workflows of public requests and enhance internal management.
The second phase will start in 2017 and will be used to monitor air and water quality, environmental conditions, etc and to publish information to citizens through a variety of communication channels.
Marconi says that as a pilot project, Meio Ambiente Digital is already receiving much interest and praise.
Government and City as a Platform
In 2013, media publisher and tech visionary Tim O'Reilly wrote a key paper on "Government as a Platform". This seminal text summarised the many global initiatives that demonstrate an emerging new approach to how government services are created and delivered. Instead of citizens being receivers of government services — with their main input being to vote every election cycle — O'Reilly envisions a new approach to government where "Internet technologies will allow us to rebuild the kind of participatory government". O'Reilly describes the concept of Government as a Platform:
There is a new compact on the horizon: information produced by and on behalf of citizens is the lifeblood of the economy and the nation; government has a responsibility to treat that information as a national asset. Citizens are connected like never before and have the skill sets and passion to solve problems affecting them locally as well as nationally. Government information and services can be provided to citizens where and when they need them. Citizens are empowered to spark the innovation that will result in an improved approach to governance. In this model, government is a convener and an enabler rather than the first mover of civic action.
O'Reilly's paper has encouraged the then-fledgling civic tech movement to evolve even further, and while we are still at the start of this journey, there are now many tech startups (like VM9) around the world focused on helping government engage with citizens and help citizens co-create government services and participatory mechanisms.
These ideas of government-as-a-platform are also being thought of in terms of the "City as a Platform". In many ways, cities may be faster at being able to take up the challenge of evolving into platforms. Government institutions can be huge monoliths that must meet the diverse needs of a geographically dispersed population. Cities, on the other hand, are where we live, work, and play every day and are at a much more human scale of participation. We all want a say over the areas we live in, how accessible is our transport and walkability, our access to resources like schools, supermarkets, and childcare, our local air and water quality, our safety, and our free movement and leisure opportunities.
A recent research report by David Bollier for the Aspen Institute says that implementing the vision of cities as platforms is underway, but, again, still in its initial stage:
Historically, cities have been governed through nineteenth and twentieth-century ideas of civic organization and social norms. Much revolves around representative governance and centrally directed bureaucracies overseen by experts using strict, formal rules of procedure. Conceiving of cities as platforms represents a significant shift in how cities might function. An open platform honours self-organized, bottom-up participation in the style of open source software, for example. It regards rigid and complex rule-sets and non-transparency as irksome impediments.
VM9 as a City Platform Hub
Startups like VM9 are leveraging FIWARE to help cities implement this new platform model.
To make the ambitious project achievable, the VM9 team has divided its scope into 5 interconnected project areas, with each also able to operate as independent services.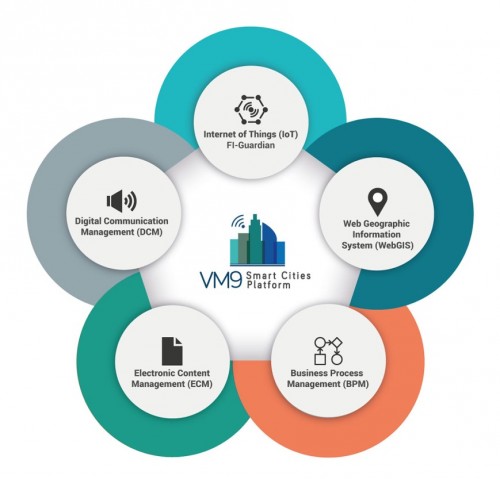 Marconi lists these five areas as:
1. Internet of Things (IoT)
This module — called FI-Guardian — "is totally based on FIWARE GEs", says Marconi. "It is being developed in partnership with the Federal University of Uberlândia (UFU) with a grant provided by National Council of Scientific and Technological Development (CNPq) under the Human Resources in Strategic Areas (RHAE) initiative. The FIWARE components are deployed in the FIWARE Lab infrastructure hosted by UFU".
Marconi shares an early iteration of how the IoT Module makes use of FIWARE to create an IoT module for use by the city and its partners: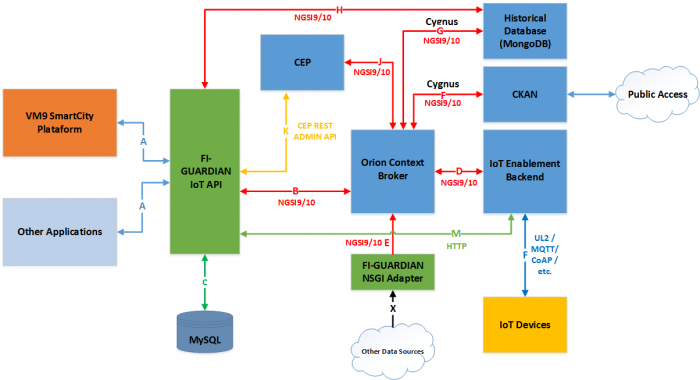 2. Web Geographic Information System (WebGIS)
"Here we have a WebGIS module which manages a GeoSpatial Database to deliver interfaces to citizens as interactive maps, geospatial searches, and geoinformation publishing", Marconi explains. In this way it can be used completely independently, but Marconi also says as part of the platform it is integrated with the business process management project to "create a powerful Territorial Intelligence System which helps analysts and technicians to conclude analyses about processes related to urban planning and city growth".
3. Business Process Management (BPM)
This is at the core of the first phase of Meio Ambiente Digital and is an excellent real world example of what city-as-a-platform can mean in practice. "It lets citizens make administrative requirements for the government, monitor the progress of processes, printing payslips, make online payments, and fulfil desired requirements. This could include building approvals, obtaining environmental licenses, any procedures that need administrative interaction between governments and citizens. It is based on an smart motor of logical workflow controls, dynamic and configurable forms, notifications panels, permission rules, and level of authorities. With this module, institutions can become more efficient and, at the same time, deliver comfort and simplicity to citizens and customers", says Marconi.
4. Electronic Content Management (ECM)
"This delivers an advanced system to create interrelationship between contents (photos, videos, sites and documents in general) and geographic data, in order to structure rich computerized geographical information databases to be published to citizens or used for technical teams, in order to qualifies digital workflows".
5. Digital Communication Management (DCM)
This area will connect the IoT module — for example, for measuring air and water quality and environmental conditions — with communication channels that share the information in an accessible format to citizens and business.
In stage one, the focus is on the WebGIS (project 2), automated workflows for citizen engagement with planning and service requests (project 3) and content management that supports these areas (project 4).
Marconi says modules 2, 3, and 4 are all now working and available to citizens, having been deployed on April 18th this year.
In early 2017, VM9 will focus on the IoT (project 1) as document communication (project 5).
FIWARE generic enablers, such as the GIS Data Provider GE, are being used to power the current work in stage one to enable citizens to create their own maps through the Meio Ambiente platform. "We also have the strong intention to use Kurento GE in the project related to Digital Communication Management", says Marconi.
A true smart city platform solution goes beyond efficiency of public service delivery to look at local economic development opportunities, and Marconi is excited about the work that VM9 has planned in this regard:
"Combos IOT is the next challenge for VM9. These will be pre-built packages of hardware and software, integrated with the VM9 Platform and focused on specific needs of the market, such as: environmental monitoring, health, urban mobility, etc. The objective is to simplify and accelerate the IoT adoption for our customers, through the delivery of complete solutions (plug-and-play) for specific IoT vertical markets".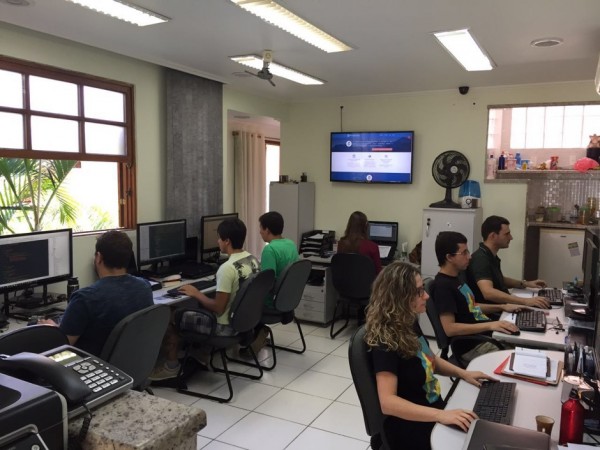 The VM9 team is now racing to complete all module work by March 2017.