In April last year, a Communication from the European Commission (EC) was published, incorporating a set of policy measures, aiming at the digital transformation of the Continent.
In May 2015, the EC presented its plans to create a Digital Single Market (DSM), a plan to tear down regulatory walls, supporting and linking efforts to unite the 28 national markets into a single and stronger one. A more agile and active, data-driven market, that eases the creation of new and innovative business. A transformation that will ensure a continuous and sustainable economic growth.
The Communication was the first industry-related initiative, part of the DSM strategy. Only two days later, at the Net Futures event, Commissioner Günther H. Oettinger addressed a message to country representatives and to the big companies, but also the SMEs and entrepreneurs, to the technology developers and the citizens committed with their own prosperity and welfare. To "all the Future Internet enthusiasts", as he said.
Commissioner Oettinger stated that "Open platforms are fully in line with the Digital Single Market objective, and will act as a key driver for the Digitalisation of the European Industry".
Certainly, FIWARE has been developing in line with the DSM objectives. And even now, after passing from the hands of the EC to the FIWARE Foundation, as the autonomous body within the community driving the global advancement of the technology and the expansion of the whole ecosystem, FIWARE maintains strong links to its origin and will keep playing a key role in the digitisation process that is revolutionising the European continent.
For instance, we have been working CEF Digital, a main EU programme supporting the establishment of trans-European digital infrastructures that contribute to the Digital Single Market. And, recently, the FIWARE Foundation were welcoming the Communication announcing the EC initiative on the free flow of data. FIWARE supports the principles laid out in the document, notably on minimising the lock-in effects and promoting the use of open APIs for reliable identification and exchange of data.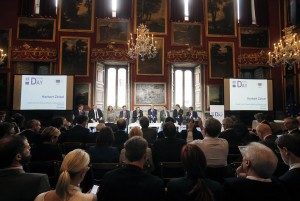 This year, March 23rd marked an important date in our calendar: part of the official celebrations of the 60th anniversary of the Treaties of Rome, the EU Digital Day event took place in Rome, looking at topics that will impact the near and long term future of EU citizens.
As Andrus Ansip, Vice-President for the Digital Single Market, presented it: "For over 60 years, European countries have worked together to capture the economic benefits of larger, better integrated markets, and made sure those benefits flowed to people. The same has to apply to the digital environment."
Tomorrow –and today– digital highways will be the link between every person, every object and every place. "The Digital Day is about making sure that we make digital a truly positive power – in policies and laws, in our economy, society and in the lives of all Europeans" said Ansip.
From the FIWARE point of view, the highlights of the Digital Day included: