Attendees from +45 countries listened to talks on the upcoming trends and disruptive technologies from +90 international renowned speakers
'Smart' has surely become a buzzword these days, with slightly different definitions across the board. One thing everybody seems to agree on, though, is the potential of smart technologies in transforming (for the better) the way people live in as well as outside of cities.
As the digital revolution sweeps citizens, public and private businesses off their feet, one could not expect any less of a 'buzzy' scene. The cornerstone of sustainable and inclusive cities, digital technologies can foster engaging, high quality, user-centric digital public services for citizens and continuous cross-border public services for entrepreneurs. In turn, the management of public services can be better handled, boosting accountability, trust and economic development. What's not to like?
The FIWARE Ecosystem Gears up for a Real Smart Future
The role of public administrations in delivering such scenarios was one of the main topics addressed during the 7th FIWARE Global Summit which, for the very first time, took place in Berlin, home to FIWARE Foundation's headquarters. Breaking novelty grounds, the Summit was co-located with the Smart Country Convention (SCC – which attracts nearly 10,000 participants each year) on October 22-24 and did not disappoint the attendees.
To begin with, FIWARE's 200 sqm booth was one of the main attractions of the Smart Country Convention. Throughout 3 days, +20 co-exhibitors and the FIWARE team welcomed in hundreds of people eager to learn about the gigantic Smart City Demonstrator (made of Lego bricks) and also all there is to know about FIWARE technologies and the solutions being created by cities, private companies, universities and developers, based on FIWARE open source technology.
Our very own Ulrich Ahle, Juanjo Hierro and Cristina Brandtstetter also took SCC's Arena Stage and delivered vivid talks about the role of open source technology in helping to shape the direction of innovation. Furthermore, Ulrich shared the stage with Gonzalo Alfredo La Rosa (Director, Instituto Ciudades del Futuro) who presented the smart landscape in South America, especially in Argentina. The Argentinean city of La Plata is home to one of FIWARE's 15 global iHubs.
Let's Get Down to Business, Shall We?
Among the most insightful talks delivered on October 23 were Pearse O'Donohue (Director for Future Networks, European Commission), Yasunori Mochizuki (NEC Fellow, NEC Corporation), Joachim Schonowski (Lead Business Consultant Smart Sustainable Cities, MSG) and Jim Craig. Senior Principal Product Marketing Manager at Red Hat (Berlin's Summit keystone Sponsor), Jim addressed the role of open source, growth of adoption, smart adoptions worldwide, digitalization as an economic engine and the role of FIWARE in this evolution. Up next, Ernö Kovacs (Head of IoT Research, NEC Labs Europe); Antonello Monti (Professor and Institute Director, RWTH Aachen University); Albert Seubers (Director Global Strategy IT in Cities, Atos) and Harald Sundmaeker (Senior Researcher, ATB-Bremen), members of FIWARE's Mission Support Committee – a driving force behind FIWARE's strategy – took the stage to discuss the development of smart markets.
Society 5.0 and the Future
Japan's government representative, Kenji Hiramoto (Chief Strategist (IT), Cabinet Secretariat, Government of Japan) enlightened the audience with Society 5.0, Japan's smart initiative, and was joined on stage by Caroline Corneau (IT Project Officer, European Commission) and Ralf Schulze (Head of Division SW I 3 – Smart Cities; International Urban Development Policy Federal Ministry of the Interior, for Building and Home Affairs, Germany).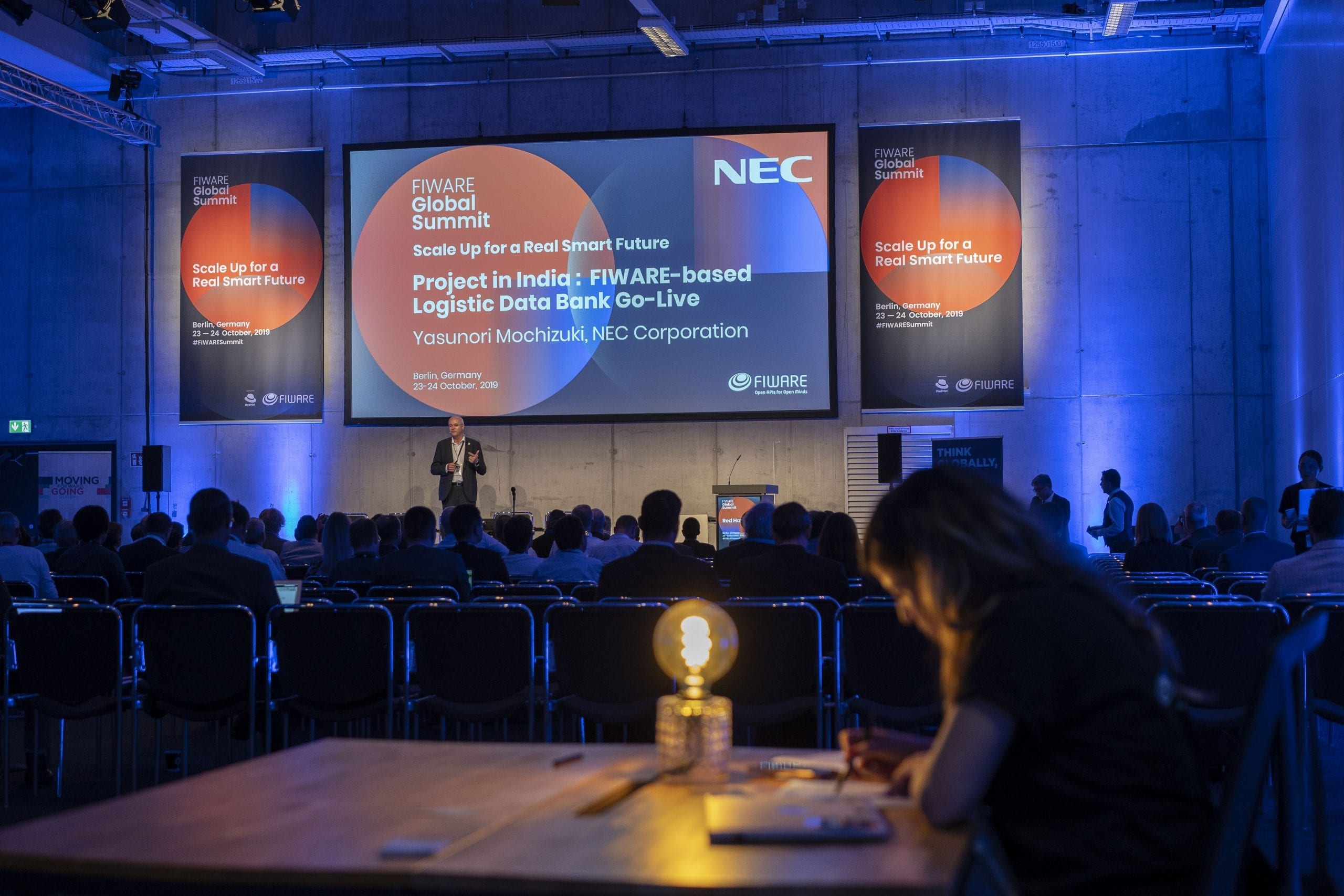 Several other initiatives were presented including the 5G-programme Wolfsburg Braunschweig. Chris Greer (Senior Executive for Cyber Physical Systems, NIST Engineering Laboratory); Ingobert Veith (Board Member, D21 & Director Public Policy, Huawei) among other international speakers, added a rather global perspective to the discussion.
Another panel that brought in the crowds was the City CIOs/CDOs. Dr. Sascha Hemmen (Head of Digital and Business Division, City of Wolfsburg, Germany); David Bueno (CTO, City of Malaga, Spain); Pierre Golz (CDO, City of Herne, Germany) demonstrated how city CIOs and representatives are delivering their vision of strengthened competition and citizens welfare, by learning from best practices in the private sector and smart cities worldwide.
There Is More Than Meets the Eye
As part of the full day programme, the Smart AgriFood Track included (among many other presentations) Intelligent Solutions for Tomorrow's Agriculture (Marc-Pascal Lehrich – Consultant Smart City Integration, Engineering DSS GmbH) and Christian Jacobsson (Head of Energy AI, Alpiq) was all about the local energy community in the Smart Energy Track.
Meanwhile, the role of open platforms in the digital transformation of the manufacturing industry was discussed by an international panel of specialists, including Valentin Charreton (R&D Mechanical Engineer, Georges Pernoud); Stefano Ierace (COO, Consorzio Intellimech); Oscar Lazaro (EFFRA Representative, Managing Director, Innovalia Association); Sebastian Steinbuss (CTO, International Data Spaces Association) and several other forward thinking speakers.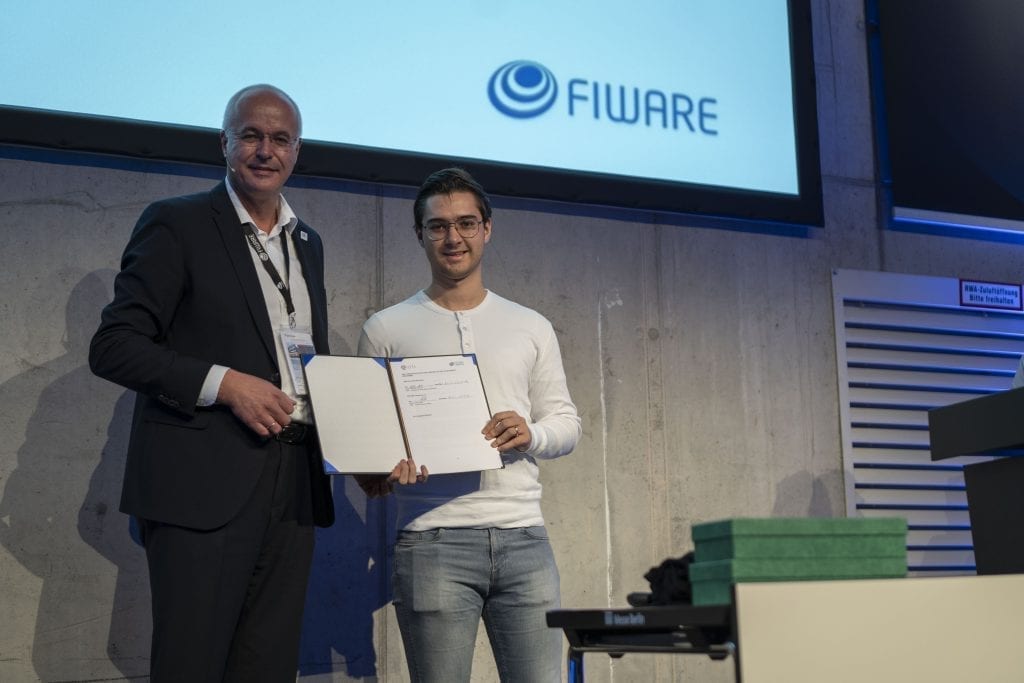 Additionally, the track on trends and disruptive technologies (such as Blockchain, Digital Twin, and IoT) attracted speakers from NEC Technologies India to Alastria Blockchain. Workshops, ranging from the power of procurement to FIWARE IHubs, took place simultaneously across 3 floors at the CityCube Berlin, providing attendees with a hands-on perspective on FIWARE technologies. Following tradition, the Developers Track was one of the most crowded ones and showcased the ways developers are benefiting from FIWARE technologies and how they are helping them to evolve.
During the day, FIWARE Foundation also announced its brand-new strategic partnership with IOTA Foundation as well as welcoming the German city of Herne (FIWARE's latest joiner), on stage to celebrate the FIWARE Foundation's 300th member.
Startup Day
The highlight of the second day was the Startup Day. A full 6-hours programme showcasing some of FIWARE's best success stories, how entrepreneurs can attract talent for their enterprises, how to get their hands on European Projects, funding, open call opportunities, and more, the day also included the participation of VC from across Europe, as well as short presentations from FIWARE's Berlin Summit partners Fiverr and Mindspace. At the end of the event, the FIWARE Hackathon winners (who took home thousands of euros) were announced.
Mindful Discussions and Key Use Cases
During the day, across the CityCube's 3 floors, successful FIWARE use cases were presented in the fields of Smart AgriFood, Smart Energy, Smart Industry and Smart Cities by Laure Parigot (IM Project Manager, Airbus); Ana Burgeiro (R&D Project Manager, Sensowave); Hans Peter Knaust (Managing Director, Engineering DSS GmbH), to mention but a few.
Standards Are Driving a Smarter Tomorrow
As the trends and disruptive track took on vital discussions on AI, Robotics, data sovereignty and so on, Joaquín Salvachúa (Professor, Universidad Politécnica de Madrid), Francisco Meléndez (Technical Expert & Evangelist, FIWARE Foundation) and 15+ international speakers were also addressing big data and machine learning with FIWARE in the Developers Track, highlighting how standards can help deliver such solutions in a fairer, interoperable and more affordable manner.
We caught up with attendee Karen Hand, PhD (Director, Research Data Strategy, Food for Thought, University of Guelph, Canada) who highlighted the need for such a framework. "These are the kind of initiatives, FIWARE, those that are happening in Canada and across the world, where we need to set standards and understand the value of data, data sovereignty in order to reach our sustainable goals in the future."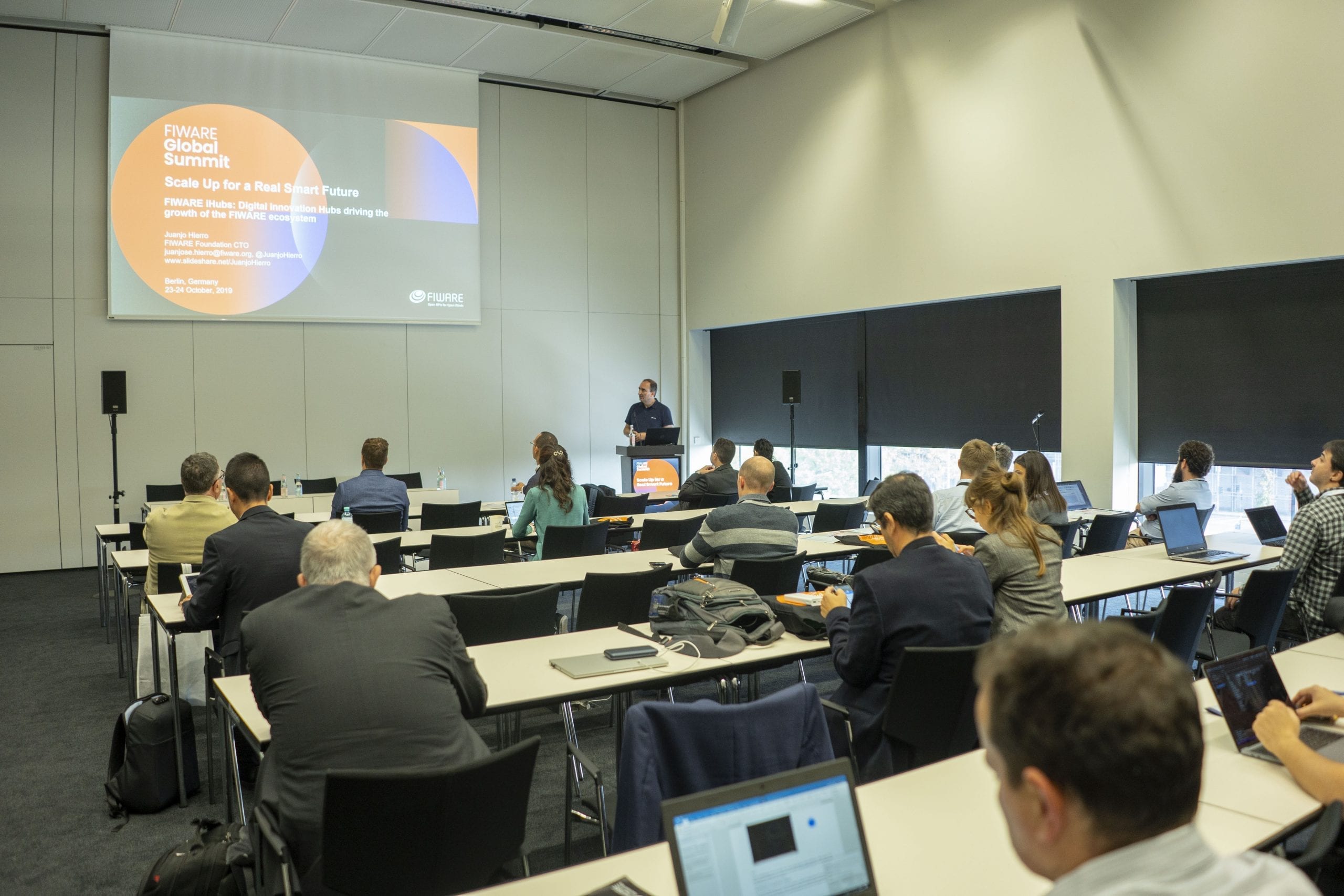 Meanwhile, supported by an international panel, FIWARE Foundation's CTO Juanjo Hierro lead the Front-Runners Smart Cities Workshop (which is driving collaboration among cities towards the definition of common data models enabling interoperability and replicability/portability of Smart City solutions) and Stefano de Panfilis (COO, FIWARE Foundation) was joined by Caroline Corneau (IT Project Officer, European Commission) and Maxine Lemm (Senior Consultant, Deloitte Digital) in the CEF Connecting Europe Facility Workshop, which presented the participants with the opportunity to learn how cities can move from traditional open data to right-time open data.
The Power of Partnerships
Another novelty of this Summit was the introduction of Community Partners Fiverr and Mindspace as well as Media Partners Berlin Valley, T3N Magazine, Ngin Mobility, Tech.Eu and Topio Networks.
Cristina Brandtstetter, FIWARE Foundation's CMO, said:
"If it hadn't been for our 20+ co-exhibitors, the FIWARE Community, our keystone sponsor Red Hat, our partners and volunteers who relied on us to deliver this outstanding Summit, we would not have succeeded the way we did. This event was a unique opportunity for developers, universities, private enterprises and public administrations, startupers to fully grasp what the digital future holds in store and how each one of us can be part of that."
When assessing the result of the Summit, Ulrich Ahle, FIWARE Foundation's CEO commented:
"It was extremely refreshing to welcome hundreds of forward thinkers to discuss and share best practices on how we can progress towards innovative, standards-based, sustainable business models so that cities can truly become digital ecosystems. And this is where FIWARE's open source technology is at its best: encouraging software engagement, open thinking, collaboration, ideas exchanges. Furthermore, this Summit has been crucial for our growth strategy in Germany and beyond. We were able to welcome several new members (from Finland to South America) on board and provided our members and co-exhibitors with the visibility and branding opportunities that will further help them in their growing strategy."
You can find the presentations from the FIWARE Global Summit in Berlin in the FIWARE Slideshare. To check out the photo gallery, please click here.
On 23 and 24 June 2020, Málaga (Spain) will host FIWARE 8th Global Summit. It will be bigger and bolder than ever. Stay tuned.