"Open platforms are fully in line with the Digital Single Market objective, and will act as a key driver for the Digitalisation of the European Industry", stated Commissioner Günther H. Oettinger, at the Closing Plenary session of Net Futures 2016. The complete Keynote Speech is a must-read for anyone interested in the upcoming transformation of the European economy, the fourth Industrial Revolution and how FIWARE will be continuing to enhancing it.
The Net Futures event this year was only two days after a very important announcement from the European Commission (EC): a Communication incorporating a set of policy measures, aiming at the digital transformation of the Continent and to its very core. A transformation that will ensure a continuous and sustainable economic growth.
This announcement was not only intended to reach the countries representatives and the big companies, but also the SMEs and entrepreneurs, the technology developers, the citizens committed with their own prosperity and welfare… as Commissioner Oettinger said, the message was being delivered to "all the Future Internet enthusiasts".
Last year, the EC presented its plans to create a Digital Single Market (DSM), a plan to tear down regulatory walls, to support and link national efforts and to unite the 28 national markets into a single and stronger one, a more agile and active market, that eases the creation of new and innovative business. The recent announcement comprises the first industry-related initiative, part of the DSM strategy.
The Communication engages all relevant stakeholders, namely large, mid-size and small companies from all industrial sectors, the digital supply industry, social partners, Member States and regions, putting its focus on actions with a global added value, complementing and ensuring the scaling up of national initiatives. The main Communication is accompanied by three further communications and three staff working documents that, altogether, draw the four main lines of action to Digitise the European Industry:
The European Cloud Initiative plan for building a world class virtual environment with open and seamless services for research data storage, management, analysis and re-use, across borders and disciplines. An infrastructure that will provide scientists and engineers with wide computing and data handling capacity.
The Priorities for ICT Standardisation, identifying the essential ICT standards and presenting measures to accelerate their development in support of digital innovations across the economy.
The E-Government action plan on the digital transformation of public services, focusing on the businesses and citizens need for end-to-end solutions that are online, cross-border and interoperable by default.
The staff working document on the Internet of Things that highlights the challenges and opportunities of IoT in Europe.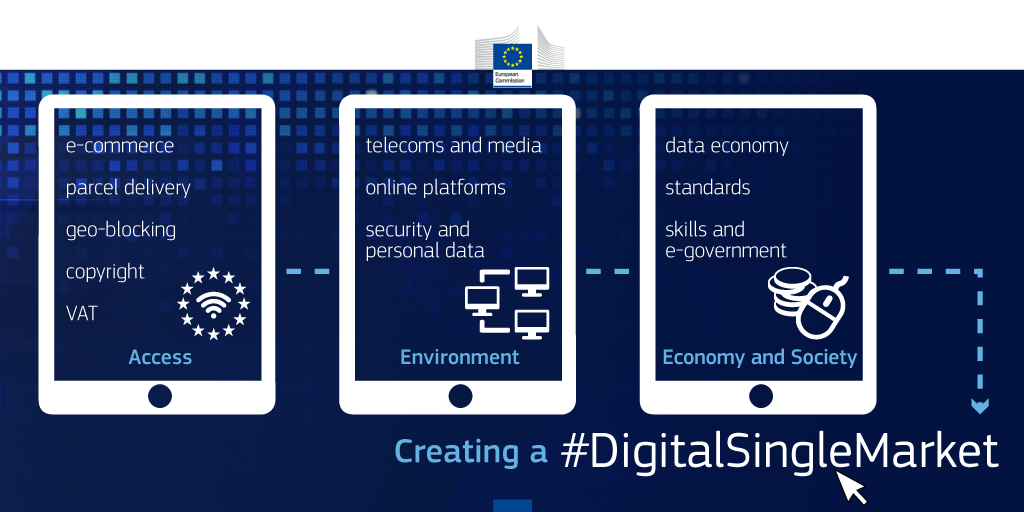 To help the progress following those lines, FIWARE is an open platform that encompasses both technology and a community: firstly, a set of Standards that have been providing the open backbone for the unfolding of the Open and Agile Smart Cities (OASC) initiative, and that are being pushed by the recently launched FIWARE Foundation, to aid in the development of the Smart Industry, the Smart Agriculture and of aforementioned fields like IoT or the Cloud.
FIWARE is also an Open Source community that has been growing through projects like the FIWARE Accelerator Programme, an inter-regional venture that has been reaching out to thousands of SMEs all around Europe, boosting their deployment of new digital products and solutions and incorporating them to the construction of an interconnected market that is building active communities at all levels and that is expanding even outside the Continent. It is the ambition of the Commission to focus 500M€ over the next 5 years from Horizon 2020 budget to continue funding these kinds of actions.
FIWARE also presents its own network of innovation hubs. The iHubs Programme aligns with the EC objective of spreading the access to latest technologies by creating a string of digital competence centers that will support and make it possible for any industry in Europe to increase its competitiveness, with a global aim to impel a wave of bottom-up innovations across sectors.
Additionally, FIWARE stands out as the existing open service platform that best serves to the goal of achieving the leadership in IoT advancements and therefore profit off the major innovation engine that the Internet of Thing is to become in an era of digitization and connection of everything and everyone.
This purpose around IoT was thoroughly expounded by Günther H. Oettinger at Net Futures. It lies in three pillars:
A single market for the Internet of Things, where devices and services must be able to connect seamlessly and on a plug-and-play basis anywhere in the European Union, and scale up without hindering from national borders.
A thriving IoT ecosystem developed through open environments, working across silos to support developer communities to innovate. Such an ecosystem would support IoT innovate in selected vertical markets.
A human-centred IoT, with the aim to empower citizens rather than machines and corporations, observing high data protection and security standards, notably through a Trusted IoT label.
To build and strength those pillars, standards are needed, to enable interoperability of solutions across Europe and ideally globally. Also clear rules should be determined to mark important issues like numbering and addressing of objects.
Expanding on the content of the Communications, Commissioner Oettinger pointed out FIWARE and open platforms as a key part of the EC strategy: "Open platforms enable faster innovation, facilitate interoperability, allow the reuse of applications and avoid vendor lock-in. In addition, users can fully benefit from open innovation ecosystems of developers and start-ups". Open platforms, and particularly FIWARE, "will contribute in making the European Digital Single Market a reality, and help innovation and entrepreneurship to thrive in the EU".
"I suggest you explore how you too could join the fast growing FIWARE ecosystem, using it to innovate in your organization" –said Oettinger, and concluded– "if you are already part of the FIWARE ecosystem, consider how you could increase your contribution to its growth, implementing applications and services, disseminating results and attracting more users and developers".