Once more, FIWARE launches, in collaboration with Smart City App Hack, a new challenge to encourage developers to test and use our technologies to improve their apps and services. You probably remember occasions in which FIWARE awarded the most remarkable apps, such as the recent Smart Urban Farming Challenge, the FIWARE Smart Society Challenge and the FIWARE Excellence Challenge, or even those challenges that were launched during the Campus Party 2014, and whose winners are still FIWARE ambassadors, as their apps are already running and, in some occasions, on the market. Do you want to know more about this new challenge? Let's discover all you need to know!
What is Smart City App Hack?

According to their own webpage, "Smart City App Hack is an initiative by dotopen, fostered by the City of Barcelona, with the participation of the world's leading Smart Cities in a process to actively engage citizen communities, empowering them to become effective members of the civic innovation process".
Smart City App Hack focuses its efforts in fostering the creation of innovative services and state-of-the-art solutions to improve the quality of life in urban areas. "It does so by proposing opportunity spaces, offering resources, mentorship and support, along with the needed visibility events and communications". In short, they seem to be building a meeting place for the different actors involved in the creation of smart urban areas.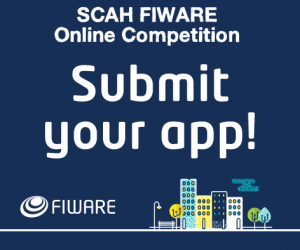 The FIWARE and Smart City App Hack Challenge

Last week, we already published some information about the challenge on our "News" section, which explained how FIWARE and Smart City App Hack had launched their challenge and were about to give 150,000 € in different prizes. But that is not the only reward that you can get… Some of the best applications in the fields of energy, mobility, collaboration, tourism and shopping will get all the support, mentoring and funding that only the FIWARE Accelerator Programme can provide, thanks to INCENSe and SoulFI, two of the FIWARE accelerators. Our accelerator programme has already helped about 765 teams to develop their businesses (stay tuned, because we will published these results on our blog very soon!).
How can I participate in this challenge?

If you want to know more about the challenge and to learn all the details and requirements, you can both read our "News" section or the Smart City App Hack's web, where you will find all you need to know to submit your app. Do you want to have a more direct contact? Don't hesitate to contact us through our social networks or to ask them through their Twitter account!