More than a year has passed since the last time we spoke about the use of FIWARE technologies in the field of agriculture and food production. And, if that last time, we imagined how these processes could be improved by the implementation of the latest technologies, now it is time to foster that implementation and the creation of smart services aiming to improve the consumers' experience as well. To achieve that goal, one of the FIWARE accelerators (FRACTALS) has presented the Smart Urban Farming Challenge, encouraging web developers to create innovative services and solutions addressing the challenges in urban farming.
This challenge will distribute a total amount of 49,000 € among its winners, in a ceremony that will take place in ICT 2015, one of the biggest ICT events organized by the European Commission and which will take place from the 20th to the 22nd of October 2015 in Lisbon (Portugal).
Would you like to apply to the Smart Urban Farming Challenge?

If you want to participate in this challenge, you must consider that the whole process is divided into two different stages. According to the accelerator's webpage, "the first stage or call for ideas invites participants to submit innovative ideas for applications that can be developed using the FIWARE technology. Proposals (up to 2 pages long) shall be submitted to the FRACTALS accelerator until the 25th of September, using the following email address: (urbanfarming#arroba#fractals-fp7.com)". You can find a template with more details ON THIS LINK. Ten teams will be selected and will be then invited to Lisbon (with an initial prize of 900 €), where they will participate in the second stage of the process. The rest of the money will be distributed as follows:
First place: 20,000 €.
Second place: 12,500 €.
Third place: 7,500 €.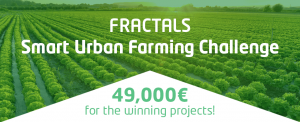 What services can be included in the concept of "Urban Farming"?

Applications to enhance productivity in urban farms (incorporating concepts such as IoT, optimization of inputs, task planning, etc.).
Applications that provide urban farmers with access to markets (connecting urban farmers with customers nearby, promoting the environmental benefits of urban farming and social responsibility of consumers of urban farming products, promoting innovative business models associated with sharing economy, etc.).
Applications that promote networking and training among urban farmers (connecting urban farmers with each other and allowing them to promote their products collectively and exchange knowledge and experiences, promoting barter economy networks related to urban farming products, e-learning apps for urban farming, etc.).
So… what are you waiting for? Do you want to participate? Would you like to have more information about the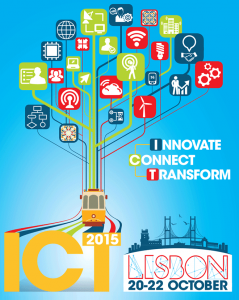 challenge? You are not really sure whether you can present your app or not? Then, find all the detailed information you may need here.
The ICT 2015 – Innovative, Connect, Transform

The Smart Urban Farming Challenge will take place in the frame of the ICT 2015, which is, as we already said, one the major ICT events organized by the European Commission. There, participants will also attend conferences and exhibitions, while having great networking and funding opportunities. If you want some more information about this event, don't hesitate to visit the European Commission's digital agenda, where you will find everything you may need to know. Join us during ICT 2015 to network, follow interesting debates in the conference, hear the latest news on the European Commission's new policies and initiatives with regard to R&I in ICT, find information about funding opportunities and much more!