At last, after so much work, the FIWARE Accelerator Programme is now being presented at the European Conference for the Future Internet (ECFI) in Munich! Some 400 people are attending this meeting point where developers, entrepreneurs and accelerators can experience this technology first hand. Within the framework of the FIWARE Accelerator Programme, the European Commission destines 80 million euros to fostering innovation and businesses on the Internet of the Future. The motto that could be heard among the conference stages and stands where the accelerators, entities in charge of distributing the funds, presented their target businesses was: "Not without FIWARE". And the very same objective did Mario Campolargo, chair of Net Futures (European Commission), highlight when he said: "their goal is to promote business projects".
In the style of a trade fair, ECFI showed its best face from the stands where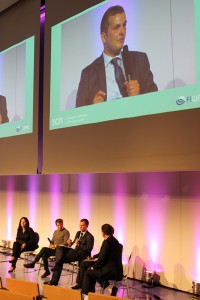 the enterprises promoted FIWARE and its different strategic domains (Smart Cities, eHealth, Transport, Energy & Environment, AgriFood, Media & Content, Manufacturing & Logistics, and Social & Learning). While the press interviewed SmartCities projects' developers (projects already in use in cities such as Málaga, Seville and Valencia), visitors exchanged their business cards and phone numbers while taking some coffee and presenting their ideas in different European languages. Representatives of other projects such as FoodLoop or Adevice were also present at the event and participated actively in it. The developers of another innovative project were also there. We are talking about Smartaxi, a Spanish app developed thanks to FIWARE, which allows taxi drivers to know where/when to find a higher number of customers. According to its webpage, the idea came to its developers' minds thanks to a friend of theirs, who was a taxi driver himself.
In the halls of the School of Mathematics and Informatics of the University of Munich, where two big slides connect the highest floors to the main floor, different speeches showed that the technology is now a reality and that businesses are about to become real with the support of this Private-Public Partnership.
Which open calls are already open?
If you have a bright idea and you want to be part of this revolutionary breakthrough, you can also participate in the FIWARE Accelerator Programme! Six of the whole amount of 16 accelerators have already opened their open calls and are waiting for your proposal. Let's see what they seek:
Soul-FI: it aims to enhance the development of Smart Cities in the areas of energy, mobility, environment, resources, tourism and quality of life. Is that your case? You have until the 31st of October to submit your proposal.
FI-Adopt: it will target highly innovative, yet realistic, and sustainable applications in the areas of learning and training, healthy behaviour and social integration. You also have until the 31st of October to submit your proposal.
CEED Tech: it longs to help young companies build viable products, launch them quickly and successfully raise capital in the domains of Smart Cities, energy, media and content, and manufacturing and logistics. Do you want to participate? Submit your proposal before the 15th of December.
SmartAgriFood: this accelerator will foster smart apps and services for agriculture. Do not miss this opportunity and submit your proposal before the 15th of November.
EuropeanPioneers:it is boosting digital media businesses in an intensive 8-month acceleration in the domains of Smart Cities, learning, social connected TV or pervasive gaming. Does it sound interesting to you? Submit your proposal before the 31st of October.
FICHe: FICHe will accelerate eHealth app development across Europe. If you want to be part of that development, submit your proposal before the 31st of October.
But these accelerators are just a part of the whole FIWARE Accelerator Programme, in coming weeks, more and more calls will be open. Submit your project and be part of the future, the change, the progress.