WISDOM ACROSS THE BOARD   //   INTERVIEW #12
A couple of weeks ago, this interview series covered the profile of Ernö Kovacs, Co-chairman of the FIWARE Foundation Smart industry Mission Support Committee (MSC), and Head of IoT Research at NEC Labs Europe, NEC Europe Ltd. This week, we turned our attention to the Smart AgriFood sector as we caught up with Harald Sundmaeker, co-chair of the Smart AgriFood MSC and a Senior Researcher at ATB-Bremen.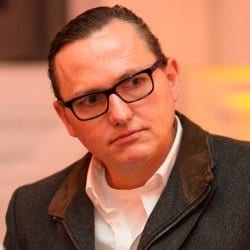 As agriculture adds up to climate change, whilst also being affected by it, the need to reduce greenhouse-gas emissions from agriculture and adapt food-production systems to cope with climate change is on the rise. Climate change, however, is just only one of the many challenges faced by the agriculture sector. As the world's population rises fast, global demand and competition for resources rise even faster. 
Farmers and the agriculture value chain all together desperately need solutions to better improve – the too often archaic – farming processes, making production more efficient (among many other benefits). Food production and consumption need to be seen in a broader light, with a direct connection between agriculture, energy, and food security. We will get Harald's perspective on the matter and discuss what lies in store for FIWARE Foundation's Smart Agri-Food Mission Support Committee. Before that, let's get to know him a bit, shall we? 
After graduating as an Economic Engineer, Harald gained experience in different technological fields, ranging from automotive maintenance to communication system provider, allowing him the opportunity to continue towards innovation and research. In 1998, he joined ATB and has ever since been working in close collaboration with a large number of players from industry, research, academia, and specifically with SMEs. With a strong interest in ICT-related topics and the design of new solutions, Harald spends most of his spare time gaming, getting inspired about the role played by the virtual and digital scene. On a personal note, he believes that the real world – with its cultural diversity – can be similarly inspiring and he enjoys talking with friends and colleagues over tasty meals.
The interview has been edited for length and clarity.
FIWARE Foundation: Why did you want to be on FIWARE Foundation's Smart AgriFood Mission Support Committee?
Harald Sundmaeker: My involvement with FIWARE started quite some time ago. I joined the journey from the very beginning, having the opportunity to be involved in the coordination of several projects, namely the SmartAgriFood, FIspace, and FInish projects. Having been involved in many research-oriented projects before, I realised that these projects were focusing much more on innovation, test, and validation and it was exciting. At the time, we also had the opportunity to involve startups and work on creative ideas to improve the agrifood chain, from the farm to the consumer table. This continuity helped us to test diverse solutions and develop business models that offer a return of investment for several stakeholders along the agrifood chain. 

I think that FIWARE offers a wider range of features and benefits that helps the developers community to reduce implementation efforts and facilitate collaboration between different stakeholders. Therefore, given my research background and the fact that I am part of many different communities, being in the Smart AgriFood Mission Support Committee offers me an excellent opportunity to initiate new implementations and foster cross-border scientific research collaboration.
FIWARE Foundation: What experiences do you bring from your current role and your career to date that would be valuable to the foundation?
Harald Sundmaeker: Over the last years, I've been involved in the design and development of diverse solutions, while specifically researching the IoT field. At the same time, I have always been interested in analysing and understanding the principles and approaches that facilitate innovation as well as the coaching/mentoring processes that help end-users and ICT providers to achieve a joint understanding. 

Therefore, I think that the multi-stakeholder approach that is specifically applied in the agricultural environment and projects is a key enabler to facilitate the designing of smart digital solutions. Hence, due to my cross-sector profile and extensive expertise within both the AgriFood sector and ICT, I believe this to be a great asset to the foundation. I think this way of working and openness is very helpful for the FIWARE Foundation to motivate different stakeholders, to try new approaches and solution design. So, one of my roles in the MSC is to encourage that, to ensure that the foundation is doing its utmost to facilitate, to understand the need for a direct connection between end-users and ICT providers. 
FIWARE Foundation: Being a member of the Mission Support Committee presents trials of many kinds because it requires being attuned to people (including those who are at various levels of the foundation hierarchy) and handling a large variety of tasks on top of your work at ATB-Bremen. What would you say are the main challenges and opportunities when doing Mission Support Committee work at FIWARE Foundation?
Harald Sundmaeker: When I look at ways in which we can further promote FIWARE technologies,  help the community to accelerate the development of smart digital solutions, based on Open Source technologies, it always comes down to people. So, in terms of challenges for my work at the MSC, there is a large heterogeneity when considering the different stakeholders that are involved in the 'farm to fork' process. The term itself is too short-sighted when you consider the developments towards a circular economy. Presenting new ideas and supporting the communication, cooperation of diverse stakeholders can be very challenging and time-consuming. It often involves avoiding misunderstandings, talking about the "appropriate language". My role is to help create further ways for cooperation and ideas incubation. 

As for opportunities, there are many. We all can learn so much from the best practices, the successful cases and failures present in our growing FIWARE Community so that we can always do better next time. Therefore, I consider FIWARE as an evolutionary journey that opens new doors and helps colleagues to realise tangible solutions.
What has been the greatest achievement/most successful moment with the work you are leading at the Committee so far? 
Harald Sundmaeker: My most recent collaboration has been with developers, end-users, and standards organisations on public data models and implementing new software components facilitating interoperability. At the same time, we are aiming at a strategic collaboration of different large scale projects like the IoF2020, SmartAgriHubs, DEMETER, ATLAS, Fairshare, and others. The openness to discuss and exchange results are very promising and we will further support this collaboration.
FIWARE Foundation: From your perspective, what are the biggest strengths and challenges for the Smart AgriFood domain in the upcoming years? What role does Open Source play in overcoming the challenging scenarios? 
Harald Sundmaeker: The AgriFood domain is confronted with diverse challenges, from food production traceability, minimizing the usage of fertilizer or pesticides – while also maximising productivity – reducing CO2 emission to ensuring fair salaries, to highlight just a few. At the same time, we cannot consider the AgriFood sector as a homogeneous domain. It involves diverse sectors and solutions that have to cope with fundamentally different processes and environmental conditions. 

For example, there are very specific challenges for arable farming that are of minor or no relevance for dairy farmers or vineyards. Equally, aquaculture is definitely different from raising tomatoes in a greenhouse or implementing a vertical farm. On top of that, transport, food processing, and distribution of our daily food are also key elements that need to be looked at. All in all, diverse competencies and a multitude of stakeholders are involved in the process of feeding us all. As a consequence, simply replicating solutions from one sector to another becomes challenging. Therefore, FIWARE stands out as one of these enablers that offer components agnostic enough to facilitate its reuse and present limited efforts for solutions providers when adapting solutions to another sector. 

With regards to the biggest strengths for the Smart AgriFood domain in the upcoming years, I would say that it is the resilience of the agrifood system (the current COVID-19 crisis has shown how complex and diverse global systems are) that makes it strong and will assure the availability of food for all. A lot of flexibility is required to become resilient and I think that in times of pandemics, the agri-food domain is able to cope with such a crisis and assures that we are not running out of supplies. 

For instance, recently in the SmartAgriHubs project, I managed two open calls for ideas and solutions that can help mitigate the effects of the COVID-19 pandemic. The call closed on June 3rd and the projects are just about to start. One of those open calls is a pan-European Challenge for solutions to be developed by SMEs and startups. We received 78 proposals with excellent ideas from diverse fields of expertise. The heterogeneity element present in the AgriFood sector makes it its biggest strength and allows people to think outside the box. 

As for how Open Source comes into that equation, I think that initiatives such as FIWARE can specifically facilitate solution development that faces such heterogeneous requirements, as it can reduce the effort for implementation and increase the level of replicability. When using FIWARE Open Source technologies, developers can concentrate their efforts on their solutions' USP and not so much on implementing the usual features such as enabling visualisation, interoperability, or connectivity, for instance. 
FIWARE Foundation: Finally, where do you see FIWARE foundation in three years from now what will your contribution to its further growth be?
Harald Sundmaeker: In the past, FIWARE perception within RTD and developers communities was not always favorable but we have come a long way in terms of maturity level. FIWARE has been growing and evolving over the last few years with market adoption and presence growing fast, on a global level. And the FIWARE Community has a lot to do with this expansion. FIWARE and the hundreds of individuals present in its community have had the courage, have been bold to learn from past failures to do better next time around. I consider resilience a basic strength of the foundation and the colleagues within the community. Therefore, I assume that we will have quite some opportunities to create diverse collaborations with new stakeholders inside a specific business domain, but also on a vertical perspective, generating synergies out of domain silos, especially facing challenges with regards to interoperability. 

The latter is a topic that we are currently addressing, also in collaboration with Andrea Cruciani, the chair of the Smart AgriFood MSC. For instance, we are currently working on an Open Source AgriWeather Gateway that will facilitate the interoperability and integration of weather stations as well as on a service monetization component offering a lightweight solution to secure and control access. We consider such solutions as a baseline to further exploit and monetize software services and data and this is one way that I will contribute. 
Stay tuned as we talk next to Juan Marcelo Gaitán Leiva, Chairman of the FIWARE iHub Committee.