A couple of weeks ago, we already spoke about the unique opportunity that the Internet of the Future meant for the area of food and agriculture. Let's see now how these digital dreams can come true and become one of the success stories FIWARE feels proudest of.
FoodLoop helps you organize your shopping at the grocery and make the most of your money. An alarm system in real time informs customers about discounted products at the store. This app, developed thanks to FIWARE technologies, is co-funded by the European Commission and aims at reducing the amount of waste at supermarkets, which at the European Union climbs up to 90 million tons annually. According to the developers of the project, FoodLoop is intended to be used by all supermarkets at a global scale by 2025.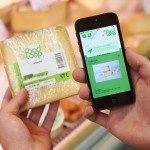 If you have ever walked through a supermarket, you have probably noticed that products with early 'sell-by' dates tend to be discounted and then, if not sold, thrown away. So did Christoph Müller-Dechent, founder of FoodLoop. To avoid the waste of eatable but not sellable food, which according to the app's webpage rises up to 1.5 billion euros ONLY in Germany, a new barcode (which you can see at the picture) encoding 'sell-by' dates are put on products. Then the app works this way: your product has a discount, you get an alarm message.
This apparently simple yet effective idea came to the mind of Müller-Dechent in October 2012 during a Strategy and Entrepreneurship seminar, when he was still a student of the Media Management Master's Programme in the University of Cologne. And then did mentoring, support and awards mushroom and lead them to success. We would gladly highlight one of the awards that they received, the "Smart Business & Industry Challenge" awarded by the European Commission with a prize of 75,000 €, after which he decided to found the company they are today.
They have also been present at other FIWARE events, such as the "Smart Products for a Smart Digital Europe" Conference in June 2014 (Brussels). According to Müller-Dechent, they have received a constructive feedback from test users that is allowing them to currently improve the app. Once FoodLoop is premiered and implemented in one German bakery and two supermarkets, it will let consumers buy for less and build a more sustainable society to live in. FoodLoop, save it all!