WISDOM ACROSS THE BOARD   //   INTERVIEW #11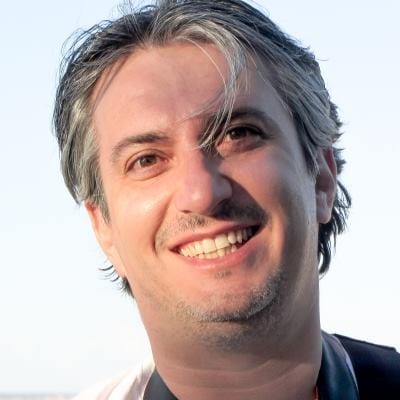 Earlier this week, this series introduced you to Jose Benitez, CEO, and co-founder at Secmotic, an IoT company committed to innovation, development, and IT security. Now the time has come for us to have a one-on-one chat with Andrea Cruciani, CEO at TeamDev and Agricolus. Andrea is a member of the FIWARE Foundation Board of Directors (BoD) as well as the Chair of the Smart AgriFood Mission Support Committee here at FIWARE Foundation.
The interview has been edited for length and clarity.
FIWARE Foundation: Why do you want to be on FIWARE Foundation's Board of Directors?
Andrea Cruciani: My "FIWARE journey" started in 2014 as part of the then FIWARE Accelerate program's open call. FIWARE was relatively new at the time and my company was only six years old. I was trying to better understand the FIWARE ecosystem, its work with EU projects and so on. Then I discovered the power of the FIWARE technology but, even more important, the value of its network. Through the FIWARE network and ecosystem, I have met – and become friends with – many potential business partners and many smart digital creators that have ever since become part of my life. So, long story short: I have joined the FIWARE BoD because now that I'm part of this ecosystem this is my way to give back to the FIWARE Community the same level of support (in one way or another) that I received from it. 

By being part of the BoD I can better contribute to the work we are already doing in the Mission Support Committees by creating a link between the BoD and the domain communities, and with the iHub ecosystem. With the other FIWARE Gold Members representatives, we can also bring the voice of the SMEs to the table.
FIWARE Foundation: What experiences do you bring from your current role and your career to date that would be valuable to the foundation?
Andrea Cruciani: FIWARE is an ever-growing, wide community made up of actors from different industries, varied company sizes who have different perspectives. Both Agricolus and TeamDev are still small companies but they are scaling up fast with varied products and entering many markets. I feel that I can bring to the Foundation a bit of a founder's perspective: what the main challenges for small and medium-sized companies currently are, what the market expects from us, and what the technological barriers may be for companies that are similar to mine and so on.

Moreover, I am deeply involved in the AgriFood market and I see that the combined efforts being pushed forward by the Smart AgriFood Mission Support Committee at FIWARE Foundation – headed by myself and my colleague Harald Sundmaeker – are already helping build smart digital solutions that can really help farmers to optimize their processes, to have a lesser impact on climate change and so on and this expertise is clearly something of great value for the foundation.

We are now striving to create new open source technologies because we want to propose new standards to the EU and extra-EU market. One example for this, a joint effort between Agricolus, FIWARE Foundation and IoF2020, is the AgroWeatherGateway: a domain specific application that can enable organizations of farmers and public administration to collect data from any weather station model and to deliver them to the farmers and to platforms.

Finally, another important step from my side has been the launch of FIWARE Innova iHub, the very first FIWARE iHub in Italy, which supports the Italian and international community using FIWARE. Hence, when combined, my business and technical experience is an asset towards helping the foundation to establish relevant and long-lasting relationships to help the foundation to grow in numbers and also help the worldwide adoption of FIWARE technologies.
FIWARE Foundation: From your perspective, what are FIWARE Foundation's biggest strengths and challenges for the upcoming years? What would you do to enhance the strengths and overcome the latter?
Andrea Cruciani: The foundation has many strengths but for me, its biggest asset is the foundation's work on standardization, which has already produced consolidated results with ETSI (NGSI-LD API specifications), W3C (Web of Things), GSMA (IoT Big Data Ecosystem project), TM Forum, for instance. Whereas FIWARE Foundation – together with its members and partners – has so far been crucial in driving the definition – and the Open Source implementation – of key open standards to allow developers to create portable and interoperable smart solutions in a faster, easier and affordable way, I believe that more can be done. We can further extend the foundation's role on this front to domain-specific standards, as exemplified by the AgroWeatherGateway, for instance.

Similarly, when we talk about FIWARE, there is a tendency, in my opinion, to mainly focus on the technology and software architecture aspect of it. I think this is a consolidated value but I see a greater role for the FIWARE community when it comes to the global adoption of FIWARE. So, in reply to what my role as a BoD member is to enhance the strengths and overcome the challenges faced by the foundation, I would say that we need to further involve, engage with the FIWARE Community.

How? You may ask. We have formidable opportunities. The members of the FIWARE Community use the same technological layer in their products and solutions and this allows an immediate integration between different solutions. Too often, due to the amount of work that we all have to manage, we still struggle to create such ecosystems of solutions. However, the awareness about the potential that such joint solutions can generate (from a business standpoint) grows year after year and I'm sure that this will be one of the main drivers of the FIWARE community. This network of companies and individuals are committed to sharing a similar market approach and they surely want to build a joint presence on the market.
FIWARE Foundation: Where do you see FIWARE Foundation three years from now and what will your contribution to its further growth be? What changes, if any, would you make to the foundation's strategic direction?
Andrea Cruciani: We are now reaching a very mature level across FIWARE-based solutions currently in the market. This will attract many more players (organizations and individuals) to the FIWARE community. So, in the next few years, I am hoping to see FIWARE better present and much closer to other regions outside Europe, Asia, and South America. I foresee the growth of national communities, that will be created around the iHubs, that will promote the usage of the technology and, even better, that will accelerate the presence of a structured FIWARE community. FIWARE Foundation, with the support of its growing Community, is strongly devoted to the growth of the technology, its network, and the wider market adoption.

However, in the near future, we need to spend more time and resources guiding local communities (and we already do that with FIWARE's over 20 iHubs, located worldwide), so that they can help us further disseminate FIWARE across the globe.
FIWARE Foundation: Finally, since you wear both hats (a BoD and MSC member) can you tell us please what are the opportunities and challenges currently faced by the AgriFood sector and how Open Source technology can help to overcome the latter?
Andrea Cruciani: Agritech is now a fast-growing market: many people say that the primary sector is the last part of the market that needs to face a deep digitalization. Clearly we still see many gaps in that process. Many agricultural experts and farmers are looking to the latest technologies with suspicion and, sometimes, try to adopt one technology or another without having a clear vision of the advantages that could derive from them.

Open Source technologies can support many associations of farmers, cooperatives, and other organizations to start this digitalization process without feeling trapped with specific providers. Even commercial solutions that follow an Open Source approach such as Agricolus, for instance, could benefit from this approach because the integration between Open Source products and open platforms allow end-users to have more autonomy, experiment different solutions and make a progressive adaptation to the digitization process.

In the near future, digital tools will be the key for farmers to stay on top of the competition and there are many reasons why: smart digital technologies mean optimization of the production, cost reduction, transparency and full accountability within the product chain and traceability of the produced goods. We see that, as in many sectors, the growth of different business models will shape a market that will address the needs of different types of organizations. Open Source solutions such as FIWARE will be the glue to create robust and lifelong standards for this market.
Stay with us as we next week we catch up next with Federico Facca, CTO and Head of Martel Lab, Martel Innovate, and a member of the FIWARE Foundation BoD.