SMES
Project:
FI-Guardian
Country:
Rio de Janeiro, Brazil
Sector of activity:
Smart Cities
Vision:
FI-Guardian is a Smart Monitor for Adverse Events. For FI-Guardian, adverse events are any kind of events that impact the citizens' quality of life or expose them to conditions of risks.
FI-Guardian
The Project of FI-Guardian comes from the desire of contributing to the reduction of the impact of adverse and dangerous events on the lives of people combined with the love for technology. These are the reasons that lead the FI-Guardian team to develop solutions to assist citizens and government to face, together, adverse circumstances such as natural disasters.
Researches show that, due to global climate changes, adverse events of this nature will become more frequent and more intense in a near future. It means that we, citizens of the world, are increasingly exposed to risk situations.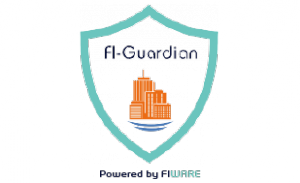 The use of FIWARE technology
FI-Guardian is a smart monitor for adverse events, such as natural or chemical and radioactive disasters.
Fi-Guardian has 4 main objectives:
Improving monitoring related to adverse events,
Enlarging communications channels,
Promoting interoperability.
FI-Guardian deploys several FIWARE Generic Enablers:
Publish/Subscribe Context Broker – Orion Context Broker is responsible of managing all context information and data collected by different sensors while also easing the way to displaying and consulting them.

BigData Analysis-Cosmos is used to manage massive information. It keeps historical values connected to a geographical context and uses them to perform Map Reduce functionalities, analyze trends and generate graphics.

Complex Event Processing (CEP) – Proactive Technology Online allows the creation of a smart network for data processing that analyzes information in real time and defines parameters to trigger alarms and provide the adequate solutions.

Stream-oriented – Kurento is used to hold multimedia content. With Kurento, FI-Guardian implements an innovative multimedia alarm system based on webRTC to send live georeferenced broadcasts to any device.

Application Mashup – Wirecloud is used to develop charts, reports, georeferenced maps of sensors, images of online cameras, etc.

Identity Management – KeyRock is used to authenticate users. It allows a safe access to FIWARE Lab accounts.

Benefits and accoplishments
The use of FI-WARE technology has provided a great productivity for FI-Guardian Team. It has allowed to build the application much faster, considering that many key technologies needed to the project are already available in the form of Generic Enablers, such as: Orion, Kurento, Cosmos, CEP, etc. Additionally, FI-Lab provides an easy, integrated and accessible cloud computing environment for developers.