Berlin, 24 November 2022
FIWARE returned to the Smart City Expo World Congress (SCEWC) in Barcelona, Spain, for the world reference event for all related to smart cities. This year, the event organizers reported more than 20,000 visitors on site and 21,000 online, 134+ participating countries and 400+ speakers! FIWARE joined other leaders from the most innovative companies, governments, and organizations to move cities toward a better sustainable future. Thousands of visitors from around the world took the unique opportunity to get to know more about FIWARE's Open Source use cases and successes, its technologies and reference architectures, meanwhile 1,000+ smart data models, and news about digital twins, and learn from Smart World by FIWARE (built by Lego bricks®), FIWARE's famous eye-catching demo, how smart technologies and solutions work in the real world. 
FIWARE speakers, together with the experts of the FIWARE Global Community, ran around 90 presentations on FIWARE's own stage and participated in dozens of the sessions and panel discussions from Data Spaces to Data Driven for Smart Cities.
But there are so many more appealing takeaways from SCWEC:
It was an exciting and successful experience to present with 16 FIWARE Members, European projects and special offers at the biggest FIWARE booth ever: 
Addix, AWS, EDAG, the FIWARE iHubs, FIWARE Marketplace, INTERSTAT, Libelium, NEC, Odala, Red Hat, Smart Data Models, TOKEN, Ubiwhere, UI!, WiseTown, NIST.
Official delegations from Morocco, Japan, Brazil, Korea, representatives of African DIHs  (from Ruanda, Egypt), SKG Tecnología (from Colombia), as well as the German Ambassador to Spain, María Gosse, visited the FIWARE booth and enjoyed a special tour showcasing Smart World by FIWARE, one of the biggest demonstrators built by LEGO bricks ® when it comes to real digitalization use cases.
A special moment marked  the Madinah City delegation receiving a VIP booth tour for the official representatives of the city.
We also welcomed two new members to the FIWARE who decided to celebrate their signing ceremony on the official FIWARE stage: Our long-term cooperation partner SIRUS joined as Gold Member, and Cintel officialized their Associate Membership. Both proudly signed their contracts during the official ceremony on the stage and concluded a new collaboration level with a handshake with FIWARE's CEO Ulrich Ahle.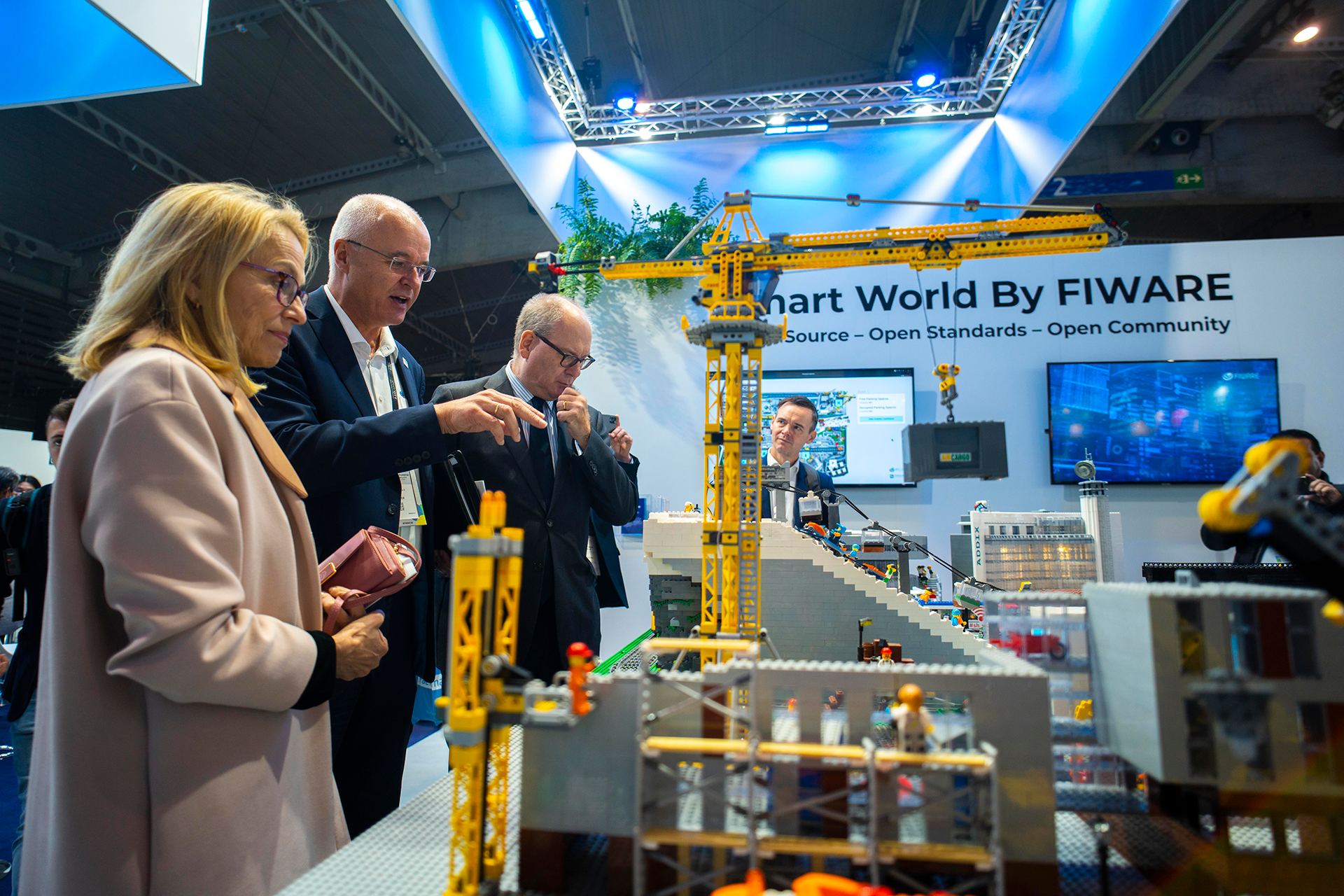 While SCEWC sets new records every year, so does FIWARE. This time, with our brand new edition of Smart City Book, ed. 4, referencing more than 300 cities out of which 125 with an in-depth view and 135 product and solution insights. With this, FIWARE showed once more that it is constantly growing its global adoption and proves being the global standard for Smart Cities in its space. Get your free copy of ed.4 of the FIWARE Smart City Book here.
Ubiwhere, a FIWARE member since the very beginning, interviewed Ulrich Ahle about one of the most driving topics these months and the years to come: "Data Spaces and Smart Data Models for Smart Cities", after a presentation to the Korean booth delegation covering the journey of Data Spaces Business Alliance and one of the most compelling European projects, Data Space Support Center (DSSC).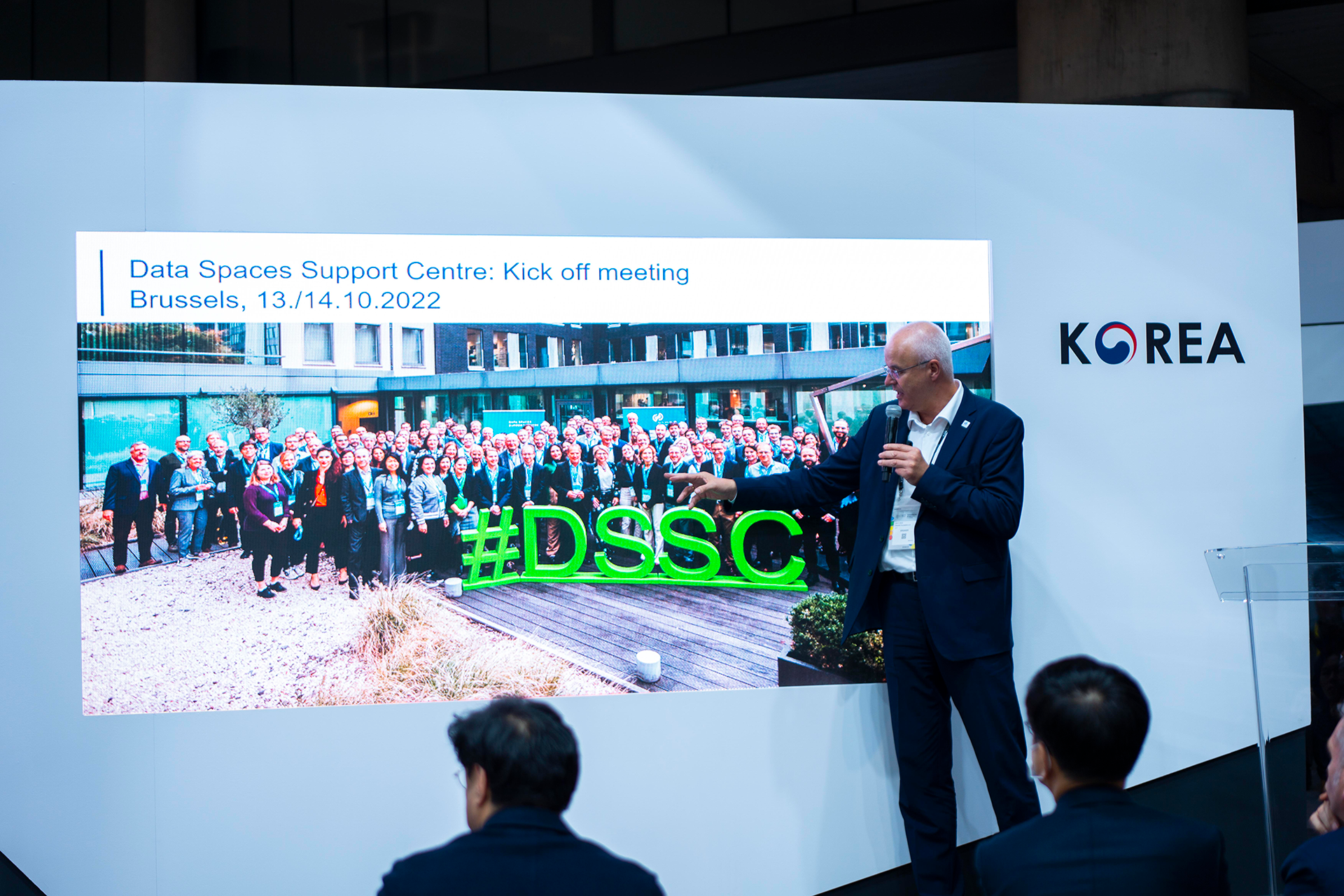 SCEWC additionally gave the perfect ground to show the latest news about the FIWARE Accelerator Programme and how it boosts start-ups and SMEs (all benefits in the brochure here). Further product and solution highlights on display at the trade who included the exhibits like the FIWARE Marketplace recently relaunched on a new platform, the fast-growing FIWARE iHubs Innovation Ecosystems, the Smart Data Models Programme and diverse FIWARE Hackathon.
Several hundreds of visitors came to meet FIWARE and its partners – and once more, the Smart World by FIWARE attracted and inspired all of them. Watch the official SCWEC highlights video (and get excited by FIWARE from 0:36)!