FIWARE Foundation is excited to announce Madinah City as the 8th Platinum Member. FIWARE Foundation the non-profit organization that encourages the adoption of open standards using Open Source technologies for the development of smart solutions on a global basis, signed a Membership Agreement with the city of Madinah (Saudi Arabia), during the FIWARE Global Summit, held in Gran Canaria, Canary Island, Spain, on September 14th.
By signing the agreement, Madinah became the first city in the world to hold FIWARE's Platinum Membership, and got a seat on the FIWARE Board of Directors, next to the city of Vienna (Austria) and the city of Herne (Germany). FIWARE Foundation thus recognizes the regional leadership and the human and technological commitment of the Madinah Smart City Program (MSCP) and its platform, Raseel, the first smart city platform implemented in Saudi Arabia, powered by FIWARE. MSCP will have an active role in the evolution of the FIWARE framework and become a powerful force for open innovation and developing open-source standards. Moreover, MSCP will boost FIWARE's member and partner ecosystem by co-creating and deploying open source technologies.
During the Grand Opening Ceremony of FIWARE Global Summit, the agreement was duly signed by Ulrich Ahle, Chief Executive Officer, FIWARE Foundation, and Mr. Abdulrahman Ibrahim, Chief Data and Innovation Officer, Madinah Region Development Authority (MDA).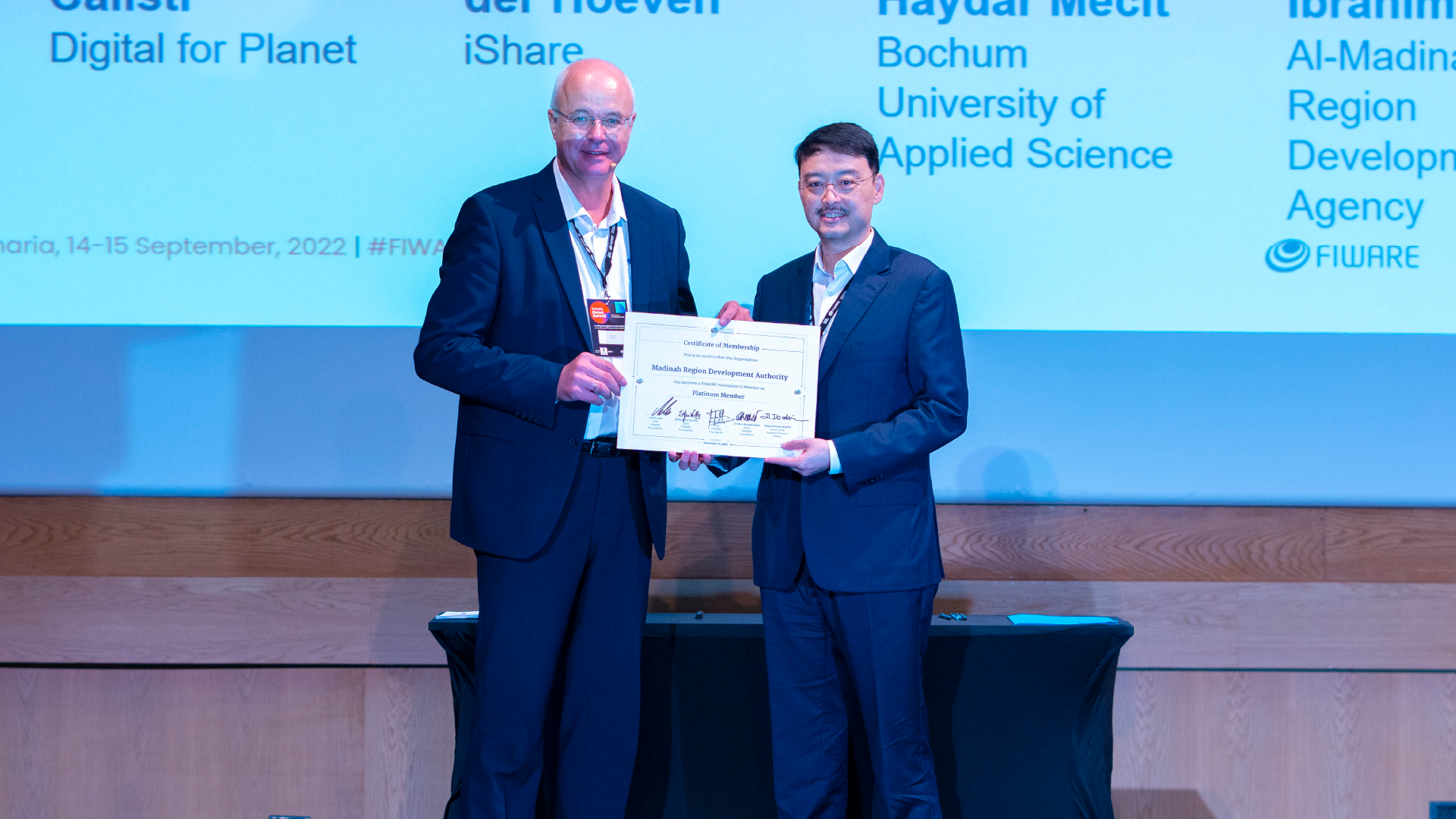 From left to right: Ulrich Ahle (CEO, FIWARE Foundation) and Mr. Abdulrahman Ibrahim (Chief Data Analytics and Innovation Officer, Al Madinah Region Development Authority).
Ready to learn more about the Madinah City and FIWARE Foundation partnership?