The FIWARE Global Summit is rapidly approaching and we couldn't be more excited. On the 27th and 28th of November we will be returning to Málaga, Spain for the 5th FIWARE Summit. Join us, as well as fellow startups, developers, decision makers and thought leaders as we build a smart future with data. Discuss how disruptive smart solutions will be created in the future and successful business can be developed around them. Sound appealing? Here are…
9 Reasons Not to Miss this Fantastic Event!
2. The Summit will enable you to meet fellow startups and entrepreneurs who continue to push the boundaries with their innovative solutions. Discover the opportunities FIWARE brings from both a technology and business perspective.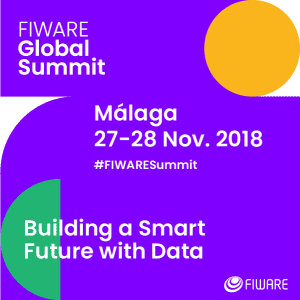 3. Interested in Smart Cities, Smart Industry, Smart Agrifood, and Smart Energy? Exchange developments and views on how IoT-enabled Cloud-native Smart solutions can be implemented in those fields.
4. Looking for a new challenge? Discover new open calls, such as RobotUnion, Tetramax, European Data Incubator and L4MS, that can help your startup reach that next stage.
5. Stay up-to-date with the latest FIWARE news. Moreover, the most recent additions to the FIWARE Catalogue will be presented through Community sessions and practical use cases.
6. Take your technological know-how to the next level! Useful how-to's and tech pills will serve as a starting point for developers who are new to FIWARE. Besides that, more in-depth sessions will be available for the FIWARE experts.
7. Learn more about trending topics in tech. These include Blockchain, AR/VR, Machine Learning, Industrial IoT, Robotics and AI. The event will discuss them within a Smart Cities, Smart Industry, Smart Agrifood and Smart Energy context. Discover how all of them are integrated in the FIWARE Roadmap!
8. Connect with the FIWARE iHubs. They can help you to develop your network at regional level and bring you the necessary training on FIWARE. In turn, they will be able certify your products for publication on the FIWARE Marketplace. The FIWARE Marketplace serves the purpose of globally disseminating existing commercial offerings around FIWARE.
9. Last but certainly not least. Talk to policy- and decision-makers from target customers like cities, or companies you might want to partner with.