FIWARE will be attending the Smart Agrifood Summit, the world's largest event on innovation and entrepreneurship in the Agrifood sector. The event will take place from June 20th to 22nd in Málaga. The Summit aims to present innovative ideas, provide access to funding, and showcase the latest technologies in the Agrifood value chain. In addition, attendees will be introduced to the best European initiatives in the AgTech field.
The New Revolution in Farming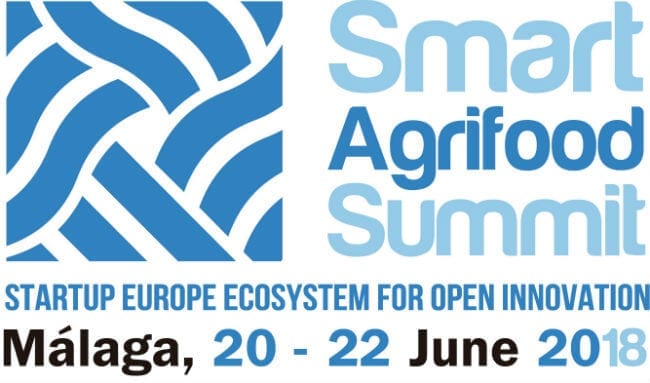 Smart farming aims to optimise the production in farms by using the most modern means in a sustainable way. It hereby increases the production and delivers the best products in terms of quality while maximising the return. It makes use of a wide range of technologies including IoT sensors, wearables, GPS services, UAVs, robots and drones operating in the field. These provide real-time data to systems helping to monitor the production line and support decisions. This, in turn, enables less waste and maximum efficiency in operations.
Currently, the Smart Farming sector faces several challenges. These range from technological issues; lack of standards for interoperability, the debate on data ownership and data security and the usability of end applications, to challenges directly related to farming. These include the limited availability of arable land, the urgent need to reduce waste and increase efficiency and the assessment and monitoring food quality.
FIWARE for Smart Agrifood
FIWARE is a curated framework of open source platform components which can be assembled together, and with other third-party platform components, to accelerate the development of Smart Solutions.
The FIWARE Orion Context Broker, a Generic Enabler, is the core component of FIWARE. It gathers, manages and provides access to information coming from different sources that describe what is going on in the Farm: the "Farm Context".
Building around the FIWARE Context Broker, a rich suite of complementary FIWARE components are available in order to facilitate:
Interfacing with IoT sensors, robots or drones operating in the farm;
Processing of current and historic data using event rules or advanced Big Data and AI algorithms to extract valuable insights supporting smart decisions or automated smart actions;
Creation of dashboards for monitoring progress of processes within the farm;
Generation valuable reports as well as the analysis and monitoring of KPIs (Key Performance Indicators)
FIWARE also bring supports to the potential publication of farm data for transparency or the monetisation of farm data offered to third parties, enabling new sources of revenue.
Meet FIWARE at Booth D6
At the booth, we will be joined by innovative FIWARE-powered Smart Solutions for Agrifood, as well as some of the FIWARE iHubs. For more information about the exhibitors, click here.