Get inspired by today's most influential leaders in IoT and join FIWARE at the IoT Solutions World Congress in Barcelona, Spain from 3rd-5th October.
The third edition of this leading international event that links the Internet of Things with industry will host an impressive 172 exhibiting companies and over 8,000 attendees from 70 countries. The event, which will provide a highly international environment, will once again focus on IoT solutions for industries.
The 3-day program offers its visitors a look at the most disruptive IoT solutions, a chance to attend talks from over 180 top-level speakers, real demonstrations of IoT in action, and, last but not least, the opportunity to establish connections with like-minded individuals in order to build bridges and to achieve that next goal.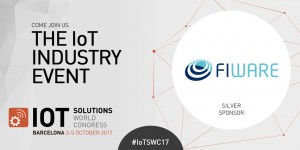 This year, FIWARE will be showcasing its value proposition to IoT at stand number 380, where it will be joined at the exhibit by 8 'Powered By FIWARE' companies and Smart Solutions: e3TCity, HOP Ubiquitous, solution Smart Poi, ELMITEL, solution eVineyard, Tellspec, Future Intelligence-Quhoma, Ubiwhere-Citibrain, Zenodys, and Wellness Telecom.
FIWARE Foundation CEO, Ulrich Ahle, will be joining the panel that will bring together city administrators and solution providers involved in private-public sector partnerships and smart-city innovation: 'Empowering Smart City Managers and Smart City Entrepreneurs'.
Next week we will be presenting the exhibitor companies that you will meet at our stand and keep sharing our value proposition for a world where everything will be connected trhough the IoT. Stay tuned!