"After years of corporate business practice, EuropeanPioneers was a culmination of fresh ideas and insights – it was a pleasure to be part of it!" commented Peter Muryshkin, Enterprise Business Analyst and Change Manager, whilst speaking about the accelerator final DemoDay.
A few weeks ago, on April 14th, 250 investors, mentors, entrepreneurs and editors came together to attend the event held in Berlin, celebrating the second round of EuropeanPioneers. Over the past 2 years, part of the FIWARE Accelerator Programme and backed by 6,000,000€ provided by the European Commission, EuropeanPioneers have supported 25 start-ups from all over Europe, aiming to build bridges between a team to be investor ready when the Programme is finished. Each team received 175,000€ in funding in order to accelerate them further and, at the event, the second half of the start-ups –13 of them, from five different countries–, presented themselves and their most significant outcomes, achieved after only 8 months of acceleration.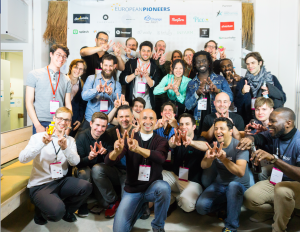 After all the hard work, intense mentoring, extensive product testing and individual training sessions, start-ups in various verticals such as AgriTech Food, Energy, Smart City, IoT and Media & Content offered their innovative solutions. "We choose very diverse startups on purpose. Although they are active in different markets, they face the same challenges: they all have to validate their products, they have to reach out to customers" said Laura Kohler, Director of EuropeanPioneers, when speaking about the cross-sector focus of the accelerator.
Here are some of the most interesting projects stemmed from such funding, coaching, networking and use of innovative technologies:
Such a variety of projects has had a social impact as a positive and shared focus, as well as a highly disruptive and shareable approach. Scott de Mercado, founder of audiotube provides us with a final statement that illustrates how the encouraging spirit has passed on to the developers and entrepreneurs around the accelerator: "EuropeanPioneers has been an incredible experience for us. The enthusiasm, the support and the love the EuropeanPioneers team has shown all the startups have been very endearing"
Now watch the following video summarizing EuropeanPioneers' DemoDay in Berlin.