The following post has been written by the team of FI Business. We would like to thank them for their collaboration and willingness to participate.
FI Business is a business support programme for the start-ups and SMEs of the 16 FIWARE accelerators. The aim is to support those participants accepted by FIWARE in their go-to-market strategy and to facilitate their access to private capital. Its services include, for example, bootcamps, webinars, online pitches and onsite investment forums. Discover more of our service portfolio and get some insights into past events:
Get trained on business topics with our webinars
FI Business provides free access to online training for all the participants of the 16 accelerators. Current topics covered are Management summary, Product Development, Product Innovation, Internationalization, International Marketing, International Sales, Sales Call, Finance, Teambuilding and Pitching to investors.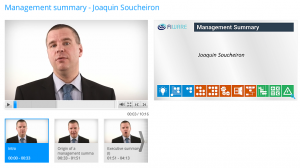 Get boosted at our bootcamps
The 1st bootcamp hosted by FI Business took place on 1-3 May 2015 in Berlin. About 60 participants from all accelerators attended the bootcamp, which was packed with networking opportunities, workshops, personal coaching, seminars and investor meetings. Follow this link for more information. The 2nd bootcamp will take place during the first weekend of October in Athens, detailed information about the call for application and the programme will follow soon!
Profit from individual 1:1 coaching
FIWARE participants can profit from free 1: 1 business coaching. Startups and SMEs can ask their accelerators for coaching vouchers which allow them to book a coaching session via our platform with one of our top FI Business coaches.
Meet your (prospective) investor at our e-Pitches & Investment Forums
FI Business provides onsite & online pitching opportunities to present business ideas to business angels and VCs.
This is the programme for upcoming e-Pitches:
e-Pitch "Creative & Media" on 02 Sep 2015
e-Pitch "Smart Cities " on 21 Oct 2015
e-Pitch "Social & Education" on 25 Nov 2015
The service offer also includes a series of onsite Investment Forums. During the last event in Heidelberg, Germany, highly motivated participants presented their ideas to convince the investors and the interested audience. At the Future Internet Pitch they had the opportunity to present their venture, their idea and their strategy as well as their objectives in a short speech of 6 minutes. Watch this video to get an impression of the event:
For more Information about the FI Business services, contact details and upcoming events, please visit http://www.fiware.org/fi-business/ and https://news.fi-ppp.eu/fi-business/.