The following post has been written by the team of FIcontent. We would like to thank them for their collaboration and their willingness to participate.
The advent and spread of the Internet as well as the development of connected devices have led to a striking technological convergence of audio-visual, telephone and computer networks, enabling the communication of content more rapidly and far-reaching than ever before and leading to profound effects on people's habits. Nowadays, citizens not only interact with other individuals but also with all kind of media.
The FIcontent project develops Specific Enablers (SEs) within the framework of the FIWARE initiative supported by the European Commission, taking into account this new social model and aiming to provide innovative, practical and valuable tools, enhancing individual's experience towards media and content.
1. The FIcontent platforms
FIcontent partners have created and tested a rich library of SEs with reference implementations, allowing developers to put into effect functionalities and to develop an application right away in three specific domains: Social Connected TV, Smart City Services, Pervasive Games, through three specific platforms.
The Social Connected TV platform
The Social Connected TV platform is designed to foster the development and uptake of TV applications based on Future Internet technologies. This platform demonstrates a number of exciting innovations and new user experiences based on open standards such as HbbTV and HTML5. Personalized services will help users easily access and find content based on data inferred from the behaviour of individuals and groups of users, as well as on explicit data provided by the users.
A few examples of Social Connected TV SEs are presented below:
Content Enrichment

provides functions to create, distribute and play interactive video content across platforms and devices by making objects in the video clickable for their viewers. Watch the

Content Enrichment demonstration video

.

HbbTV Application Toolkit

provides a powerful tool set for Broadcasters, program editors as well as TV app developers to create

HbbTV

compliant TV apps in a fast and easy way. A

video

presents the HbbTV Application Toolkit.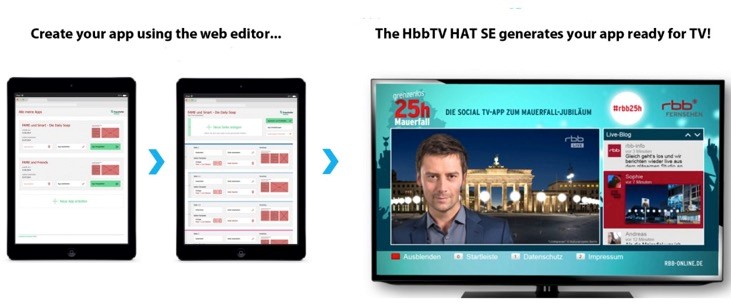 HbbTV Application Toolkit SE
The Smart City Services platform
The Smart City Services platform provides contextualization, recommendation, live information, mixed reality, 3D, sharing capacities and communications technologies to enable creative people to generate, share and combine assets, objects and stories and develop mobility city services. This platform allows people to login, connect and build communities to interact with each other and gain from social network streams.
Discover some Smart City Services SEs:
Open City Database

SE is an open source database management system for any smart city related data (e.g. points of interest, open city data and related media from various sources). Watch the

Open City Database demonstration video

.

Social Network

SE is a set of software modules that enable to create a social network. Watch the

Social Network demonstration video

.
Test of the Social Network SE during the Carnival of Cologne, Germany
The Pervasive Games platform
The Pervasive Games platform demonstrates a strong mix of real life and Internet experience in a playful way and shows advances in 3D or virtual world environments in a way that becomes immersive and ''real''. The platform focuses on multiplayer mobile gaming that leverages the future Internet technology in order to enable large groups of users to participate in innovative mobile gameplay experiences. A central theme of this new social gaming platform is moving beyond the traditional paradigm in which a user is fixed in front of a console or display. In this way, the game becomes an augmented version of the real world that delivers a more compelling experience than traditional console games or the simplistic social games that dominate today's market.
Some Pervasive Games SEs are presented below:
Networked Virtual Character

is provided as a plugin to the FIWARE Synchronization GE and thereby extends its synchronization capabilities to virtual characters while supporting a variety of cross-platform clients. Watch the

Networked Virtual Character demonstration video

.

Reflection mapping

measures camera properties and adapt the virtual objects to fit to the camera image background visually. Reflection mapping is used in the

Augmented Resistance

game.
Augmented Resistance Game using the Reflection mapping SE
2. The FIWARE Media & Content Lab
In order to facilitate access to all these SEs, FIcontent is now developing the FIWARE Media & Content Lab, a live instance providing everything SMEs and developers need for discovering the FIWARE Specific Enablers for media and content, trying them with short demos, and even directly tweaking the client-side code of the Specific Enablers and seeing the results live in the browser.
The FIWARE Media & Content Lab will even allow developers to very easily deploy the Specific Enablers on the FIWARE Lab cloud or on any other machine, with its "run" function.
Stay tuned on http://mediafi.org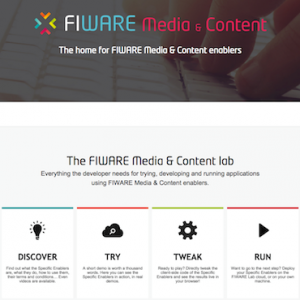 FIWARE Media & Content lab homepage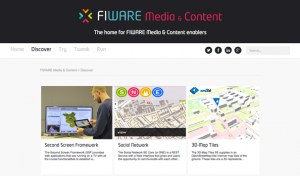 FIWARE Media & Content lab "Discover" page