After two days of FIWARE training at the FIWARE Developers Week in Brussels by FIWARE experts and one and a half days of intensive coaching by FI-Business and FInish, one of the accelerators from the FIWARE Accelerator Programme, regarding How to pitch perfect and intensive working by the 10 finalists the Net Futures 2015 FIWARE Challenge has come to an end. 10 innovative ideas where presented by 10 teams from 10 different countries creating a real European spirit. At the end only five teams could take a price home, but we would like to thank all teams for their participation. And the winners were…
1. Place (Prize: € 25,000) | InFoLog – Intelligent Food Logistics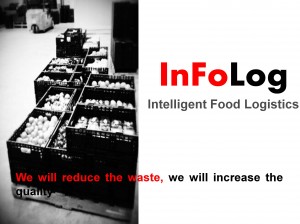 Company: ENCO srl
Country: Italy
A huge amount of diary food is wasted because of the lack of proper and precise logistic and warehouse management practices. A real-time monitoring system shall support timely intervention when a non-optimal parameter is detected and recalculation of the remaining shelf-life of the product. Proactive and corrective actions implemented by end users increase shelf-life, assure perishables quality and contribute to prevent and reduce food spoilage and waste, minimize CO2 emissions, and allow to define new model for warehouse management, starting from the end users' needs.
2. Place (Prize: € 15,000) | BONSUM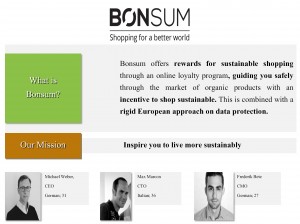 Company: Bonsum UG
Country: Germany
Bonsum boost the sustainable eco-system. We offer rewards for sustainable shopping through an online loyalty program, guiding the customer safely through the market of organic products with an incentive to shop right. This is combined with a transparent, rigid European data protection approach in a sector where personal data protection becomes more and more crucial to customers.
3. Place (Prize: € 10,000) | RemiSense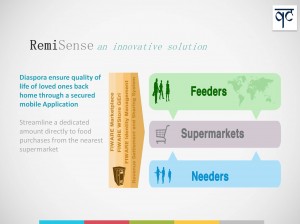 Company: Quality Cultures
Belgium
Ensuring food products for family back home is one prime concern of diasporas working miles away from their home land. The envisaged mobile application helps members of the Eastern European Diaspora (feeder) to streamline their remittances by directly paying the bills of food products selected at a supermarket by their families back home (needer). The feeder can keep track of the real-time transaction and use of the remittance. This envisaged multiuser platform is scalable to other consumables and continents (such as Africa and South Asia), and can also be useful for intraregional migration.
4. Place (Prize: € 2,500) | Aerial Imaging by Drones and Analysis Services on Cloud for Precision Agriculture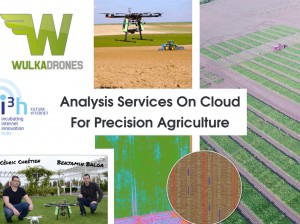 Wulka Drones
France
Most agri-food companies that use scoring systems on crops mainly rely on human skills and its variable imprecision or inherent capacities. New solutions are needed to get high-quality, reliable and consistent data at a very high flow. However, analysis are always "one-shot", the data collected is never reused because no platform is available to do so. Precision agriculture by joining drones, high-resolution imagery, IoT and the Cloud enable development of new services and a new business model. Services will be provided through an advanced Cloud platform allowing B2B collaboration. The platform will first run internally developed analysis and scoring tools, for precise, reliable and high-flow scoring, for early diseases and weeds detection, for virtual tours, and some more.
5. Place (Prize: € 2,500) | iOHealth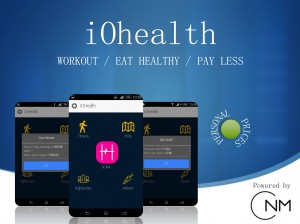 CNM d.o.o.
Serbia
We are finding more and more need to work out and eat healthy, take care of ourselves while struggling to find some spare time for it. On the other side, prices of healthy organic food are skyrocketing. To bridge that problem a new way of interaction and communication between growers/sellers and consumers is needed. Consumers can download the app to get a discount for changing their daily routine, e.g. walk an extra mile, take stairs instead of elevator, park their car and go for a walk. The app will remember that and next time users will get a discount for their favorite groceries.