This year's edition of the Smart City Expo World Congress (SCEWC) has come to a close, and we can look back on a fantastic, informative, engaging, and above all, fruitful event. FIWARE Foundation headed to Barcelona this week with 16 exhibitors, the Smart World by FIWARE and a lot of motivation to show the world what we – the FIWARE Community, are doing to help cities throughout their transformation journey, by adopting common standard APIs and information models.
We would therefore first and foremost like to thank our amazing group of co-exhibitors, who traveled all the way to Barcelona to showcase their innovative FIWARE-powered smart solutions and platforms for Smart Cities (in alphabetical order): Addix, Atos, Capelon AB, Connecting Europe Facility, Engineering, Extenda, Digital Enabler, Ficodes, FIWARE Zone (a private and public initiative between Telefonica and the Andalusia region), HOPU, Kommunal 4.0, Martel, Naevatec, NEC, NTELS, OpenVidu, Orchestra Cities, Snap4City, and Wisetown by TeamDev.
New Partnerships and Members
We kicked off the second day of the event with great news from our Platinum Member, Atos, which entered a strategic partnership with Sensative AB. The Swedish tech company offers IoT solutions for Smart Cities, Smart Buildings, and Smart Homes. About the agreement, Albert Seubers, Director Global Strategy IT in Cities at Atos, said the following:
Our customers need standards and systems that can work together to realize their visions. Atos actively contributes to the standardizations for Smart Cities through our membership in the FIWARE Foundation. We have seen how Sensative leverages FIWARE with, for instance, integrations and security features that add tremendous value to their customers. We are now happy to be able to jointly provide these solutions for Smart Cities and Buildings in all our markets."
(Picture: Morgan Adolfsson (Technical Sales, Sensative), Albert Seubers (Director Global Strategy IT in Cities, Atos), Cristina Brandtstetter (CMO, FIWARE Foundation), Robert Lann (Sales Manager, Sensative), Jan-Joost van Kan (MyCity, Principal Architect, Senior Consultant, Atos)
The occasion was celebrated with a Partnership Party at the FIWARE booth, where we also welcomed Sensative AB as a brand new Gold Member of the FIWARE Foundation.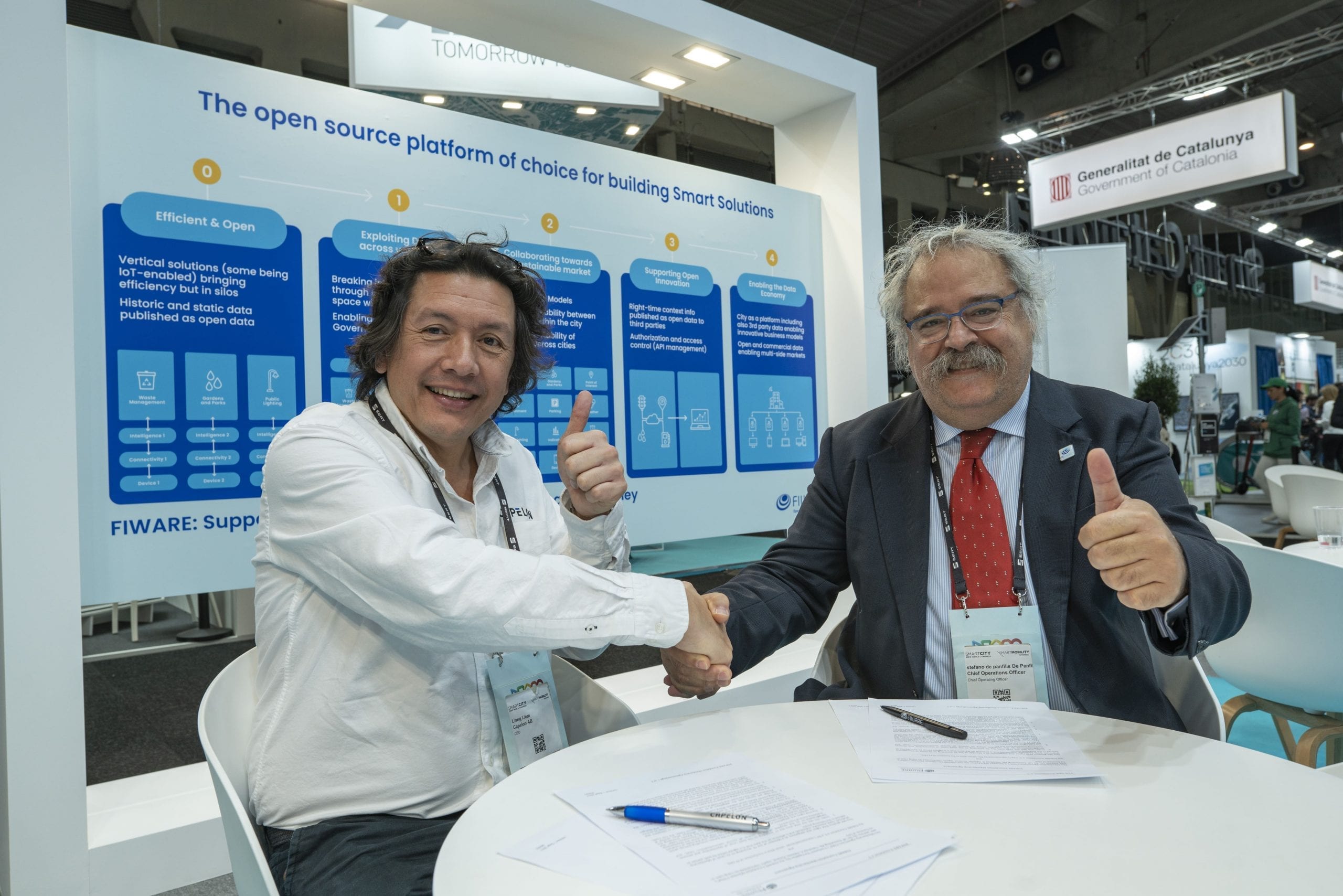 Also joining the Foundation as a Gold Member is our SCEWC co-exhibitor Capelon AB. With over 20 years of knowledge and experience, Capelon facilitates the connection of the Internet of Things (IoT), unlocking the potential for great value not only for the customer's city but also for the whole planet. In attendance to sign the agreement were Liang Liem (CEO, Capelon AB) and Stefano De Panfilis (COO, FIWARE Foundation).
The Power of FIWARE for Smart Cities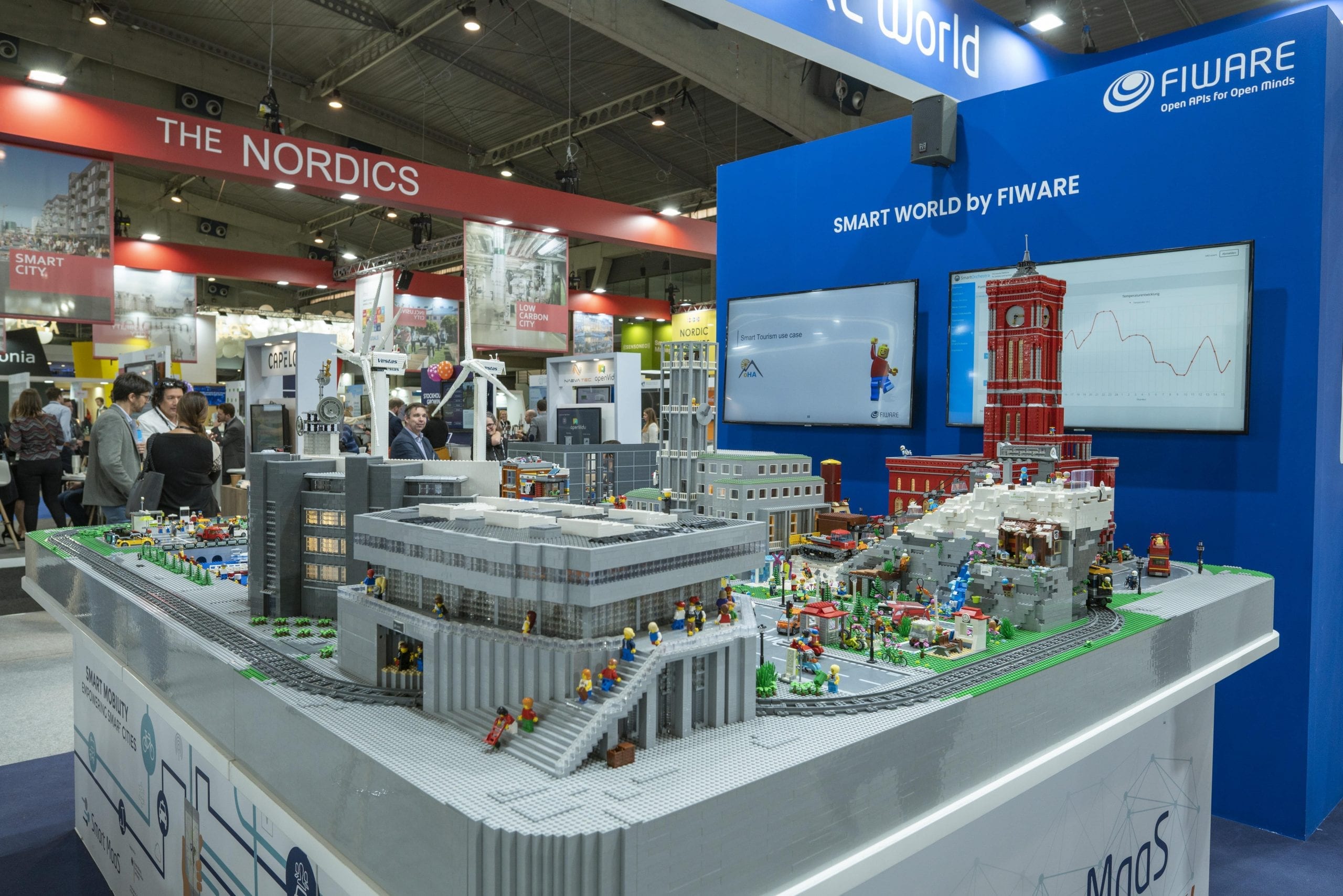 The event offered visitors of the FIWARE stand various opportunities to obtain further knowledge on what FIWARE is doing to help cities adopt a more efficient management of services, turning them into enablers of innovation, economic growth, and well-being. The Smart World by FIWARE was, again, a true eye-catcher. Luckily it is far more than just that. The Smart World by FIWARE originated as a demonstrator of the Smart MaaS concept. Mobility is extended to the surrounding domains: Smart City, Mobility, Energy, Industry 4.0, and Farming. That way we demonstrate the huge assets and achievements of both the Smart Maas Project and the FIWARE community over time, and how they are interlinked and integrated.
A new feature at the stand were the Guided Tours, allowing visitors to receive additional insight into how FIWARE partners and members have created smart solutions around FIWARE. The Guided Tours took participants around the FIWARE stand, but also to neighbouring partners, such as the Italian Pavilion, Bettair and Ubiwhere.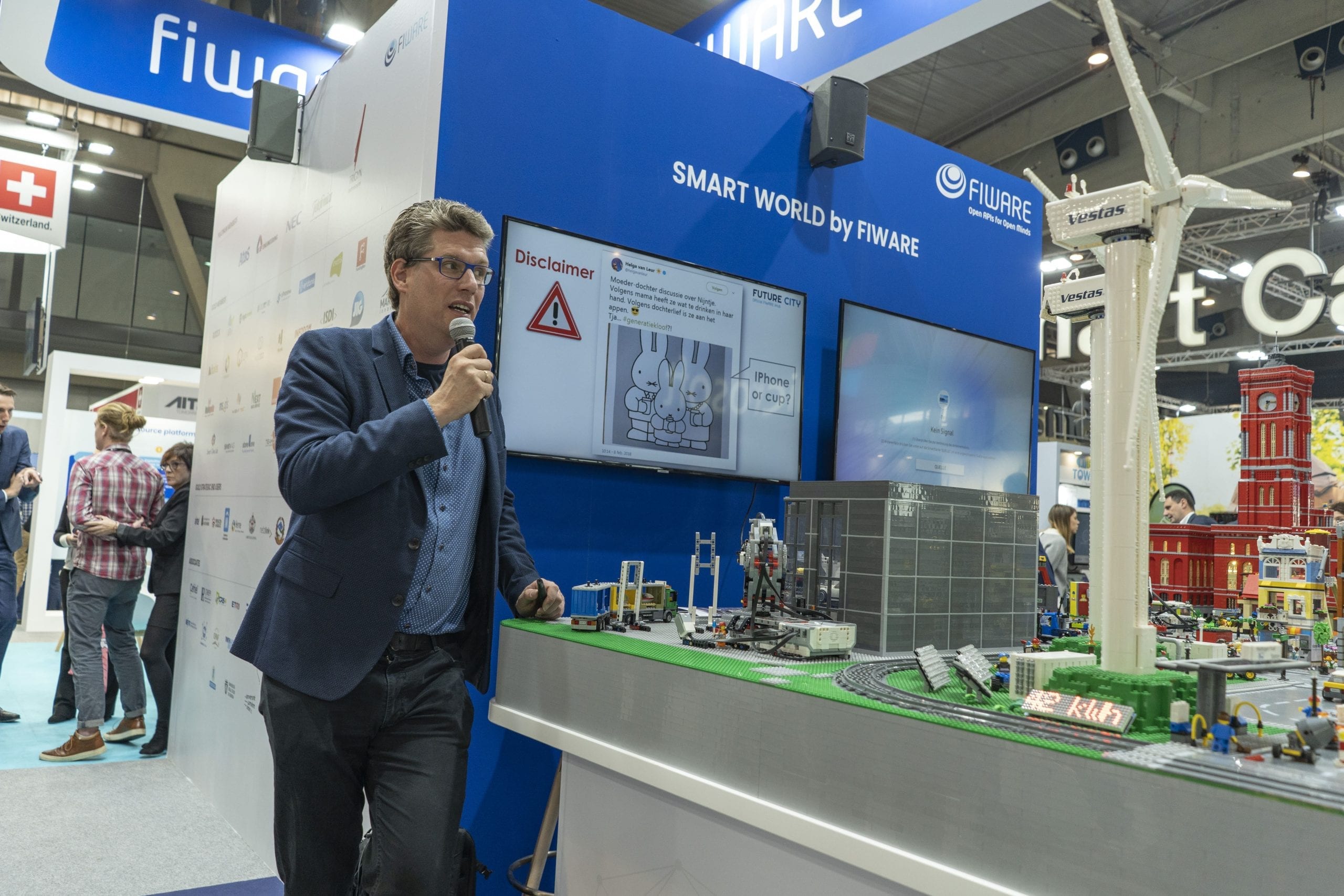 Designing a Smart City – how does it happen, what are the opportunities and what are the risks? These questions and more were investigated by FIWARE iHub Future City Foundation, together with 26 partners. The result is their book: "A Smart City, This is How You Do It – Connected, Flexible and Meaningful: Make the Real Future City". FIWARE Foundation CEO Ulrich Ahle was interviewed for the book, where he underlines the function of the Context Broker, which is also a Connecting Europe Facility Building Block. At the stand, Jan-Willem Wesselink (Program Manager, Future City Foundation) and Ulrich Ahle presented the book, and the Future City Foundation kindly supplied us with some free copies to hand out.
Málaga, Here We Come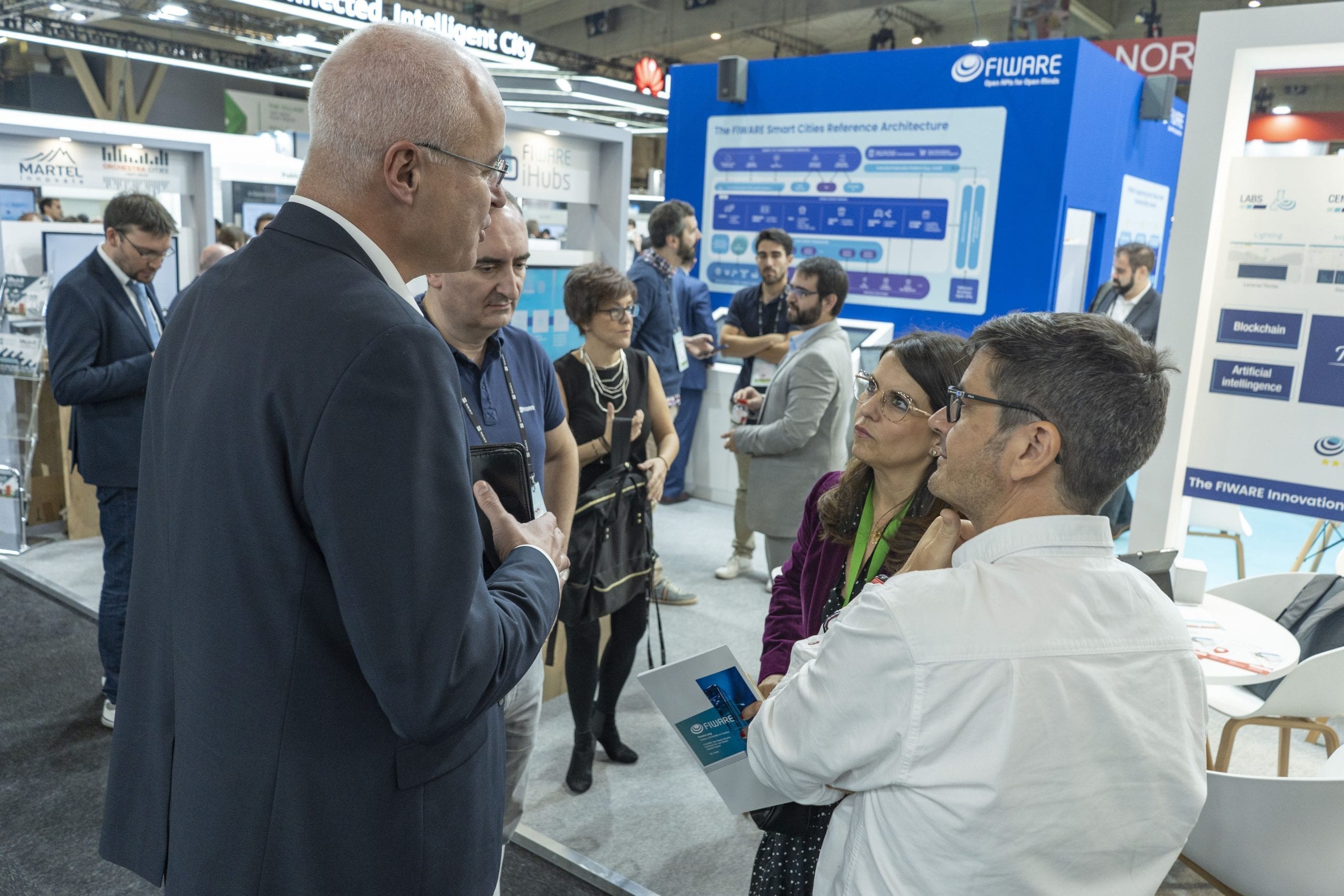 Susana Carillo, PhD (Deputy Mayor for Innovation and Urban Digitalisation Málaga City Council) visited FIWARE iHub FIWARE Zone (a private and public initiative between Telefonica and the Andalusia region) and Extenda. The iHub and Andalusian Agency for Foreign Promotion were present with various startups to showcase Smart City solutions related to citizens' safety, parking management, light pollution, sustainable mobility, air quality, and traffic management. At the stand, she met with Juan Marcelo Gaitan Leiva, Director of FIWARE Zone, Ulrich Ahle, CEO of the FIWARE Foundation, and Juanjo Hierro, CTO of the FIWARE Foundation.
The next FIWARE Global Summit will take place in the beautiful city of Málaga (Spain) for the fourth time, from 23-24 June, 2020. The event will again provide a fantastic opportunity to city representatives, startups, thought leaders, developers and entrepreneurs to discuss the goals, challenges and opportunities presented by the current digital transformation.
Making Powerful New Connections
Each edition, SCEWC offers great opportunities for us to meet those interested in learning more about FIWARE. This week, we had the pleasure of welcoming some special guests to the booth, to establish new connections and to tell them more about what the FIWARE Community is doing on the Smart Cities front. Notable visitors included: Mike Barlow and Cornelia Levy-Bencheton (both award-winning co-authors of Smart Cities, Smart Future: Showcasing Tomorrow), Will Needham (author, Future Distributed, data journalism and podcast host, data scientist – Smart Cities and Built Environment), Levi Östling (writer and analyst, Berg Insight), Valtteri Kujala (Finnish tech analyst, entrepreneur, aviation pilot and researcher), Andreas Eicher (editor, gis.Business), and Emanuele Bompan (environmental journalist and author).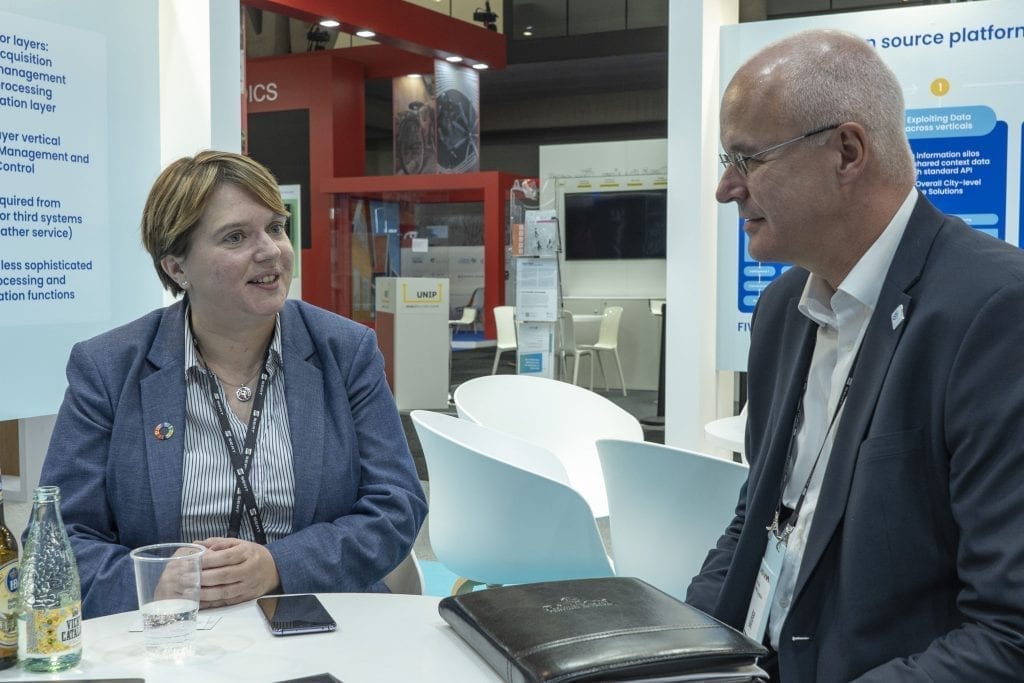 We also had the pleasure of welcoming Dr. Sally Eaves. Dr. Eaves is a keynote speaker and author, as well as an international advocate for opening access to opportunities. She founded Aspirational Futures to help skill, empower and support the generation of interdisciplinary talent into careers yet unconceived. In addition, she is a member of the Forbes Technology Council. Dr. Eaves sat down with FIWARE Foundation CEO Ulrich Ahle, CTO Juanjo Hierro, and CMO Cristina Brandtstetter, with whom she discussed all things innovation, including Smart Cities use cases, and Blockchain and AI in relation to opening up access to opportunity and data.
Want a short overview of the most memorable moments from our time at the event? We have listed the 15 absolute highlights here. 
Thank you to everyone who joined us at the event this year, from our co-exhibitors to those who visited the booth. We look forward to returning to the event in 2020 with more FIWARE-powered solutions and exciting news. For further impressions of our time at the event, head on over to the FIWARE Facebook page.