On April 30th the FIWARE Foundation hosted a 'New Member Reception' in its Head Office in Berlin to welcome 10 new members to the FIWARE Foundation. The event marked the starting point of a greater level of implementation and closer collaboration between the relevant new member associations: Digitanimal, Hyrde SL, ICE Gateway GmbH, Intellimech, Kommunal 4.0, NEXT Data Service AG, SIBB e.V., Smart City Association Italy, Tikal Technologies SL, and WAZIUP e.V..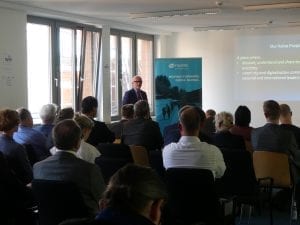 Attended by 35 guests, the event provided attendees and new members alike with a perfect opportunity to broaden their knowledge of FIWARE, the FIWARE Foundation, as well as its brand new members. Ulrich Ahle, CEO of the FIWARE Foundation, kicked off the event with a general overview of FIWARE, also in relation to the domains of Smart Cities, Smart Energy, Smart Industry and Smart Agrifood.
His introduction was then followed by insightful presentations from Olaf-Gerd Gemein (FIWARE Foundation Board of Directors), Dr. Stefan Afting (Bundesministerium für Wirtschaft und Energie), Dr. Regine Gernert (DLR), Giovanni Fazio (Smart City Association Italy), Dr. Mathias Petri (StoneOne AG Board), René Ebert (SIBB e.V.), Günter Mueller-Czygan (Kommunal 4.0 e.V.), Dr.-Ing. Abdur Rahim (WAZIUP e.V.), Ralf Gerbershagen (ICE Gateway), and Stephan Sommer-Schulz (NEXT Data Service AG).
Each providing their own unique expertise within their individual domains, these presentations showed just how instrumental the new members will be in helping to achieve the FIWARE mission: to develop an open sustainable ecosystem around public, royalty-free and implementation-driven software platform standards that will ease the creation of Smart Applications in multiple sectors.
Olaf-Gerd Gemein, CEO of Smart Cities Lab, and Member of the Board of Directors at FIWARE said about the event: "In such a way, we really gain traction and raise awareness. The audience was quite impressed with the assets and status of FIWARE, and also the new members have a quite good feeling being in the right community. This is, of course, a milestone, but work is ahead. Now we need to materialize the vision together with the new members and harvest the fruits, in various areas. The discussions, also during the preparation, pointed already in very promising directions. FIWARE is well recognized, well suited and established globally. Now is the time to grow with our members."
The event ended with a networking session, providing attendees with the opportunity to mix and mingle whilst enjoying a cold Berliner Kindl.
For more information about the event, the new members and how they, together with the FIWARE Foundation, will work towards designing a smart future, click here.