What was once a direct value chain is now transforming itself into complex ecosystems. Consumers are becoming prosumers and supply and demand are optimized in real time and at a very granular level. The need for flexibility has grown notably with the innovations of renewable energy resources, batteries, power electronics, electric mobility, blockchain, and rapid digitalization.
At the same time, there are many business model innovations – rapid integration of distributed energy resources, decentralized markets, and Peer2Peer energy exchanges – that are driving differentiation and commodification across the energy sector leading to the electrification of everything.
CHALLENGES IN SMART ENERGY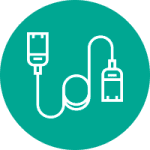 TECHNOLOGICAL
Lack of wireless broadband coverage in rural areas.
Lack of standards regarding IoT protocols.
Lack of standards for interoperability.
Lack of standards for easing integration.
Debate on data ownership and data security.
Limited usability of end applications.
Lack of cost-effective solutions.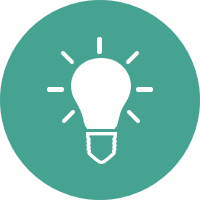 ENERGY SECTOR
Inadequacies in grid infrastructure.
Stability concerns.
Energy storage concerns.
Energy management and expected massive penetration of electric vehicles.
High capital investment.
An urgent need to reduce losses and increase efficiency.
Uncertainty regarding weather-related events.
Power theft.
Regulations and policies.
EVOLUTION OF SMART ENERGY

The digitalization of the energy sector demands higher levels of operational excellence with the adoption of disruptive technologies to foster cross-domain data sharing and data-driven innovation.
The following key elements in data management in support of a data economy need to be fulfilled:
Data Model/Semantics: Defining an appropriate data model beyond a single sector is a key ingredient for interoperability.
Context Information: Defining the context is a key ingredient for bridging the gap between different verticals.
Data Sovereignty: The ability of a data owner to define what a third party is allowed to do with his/her data.
Open APIs: Closed solutions will not create a real open and competitive market. Open APIs offer the perfect bridge between private infrastructure spaces.
FIWARE: A STANDARD WAY TO DEVELOP AND INTEGRATE smart energy SOLUTIONS
FIWARE is a curated framework of open source platform components which can be assembled together with other third-party platform components to accelerate the development of Smart Solutions.

The FIWARE Context Broker if the core component of any powered by FIWARE architecture and implementation: it gathers, manages and provides access to the information coming from different sources that describe what is happening in an Energy Ecosystem.
A GLOBAL ARCHITECTURE FOR SMART GRID APPLICATIONS
IMPLEMENTATION OF SMART GRIDS
Modern grid applications need to accommodate the interaction of a variety of actors.
The main goal of a smart grid implementation is the creation of an automatic process. It is critical to define for every possible data exchange, both the semantics of the information as well ass the communication protocol.
DATA FLOWS IN THE SMART ENERGY SECTOR
A number of data standards are available and many data exchanges are already formalized. New standards, emerging from the recent work of ETSI with the FIWARE Context Broker, are an important piece of the puzzle.
The increasing significance of data at customer/prosumer level requires platforms which are able to aggregate large amounts of data. The emerging role of sector couplings like E-Mobility or Industry 4.0 with Energy makes it critical to avoid data silos.
Data platforms need to be based on open standards in order to support open competition.
REFERENCE ARCHITECTURE FOR SMART ENERGY MANAGEMENT SOLUTIONS "POWERED BY FIWARE"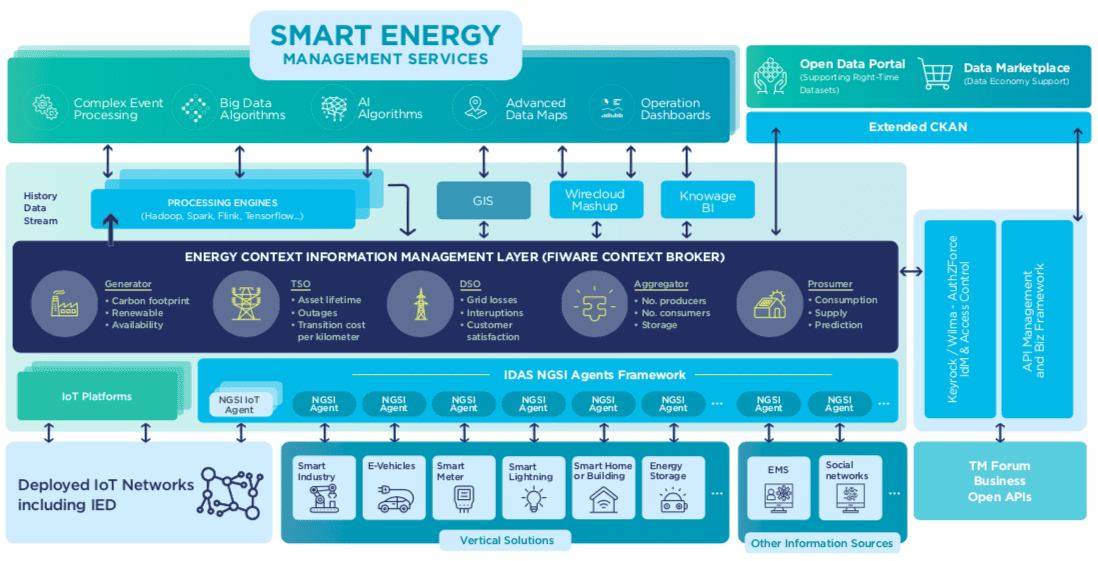 USING FIWARE TECHNOLOGY FOR KEY DATA FLOWS
AGGREGATORS VS DCO
This interface is yet to be defined, there are no dominating standards. In the FINESCE project, ESB Ireland implemented a complete solution based on FIWARE technology.
Prosumers-Retail vs Power exchange market: A FIWARE-based platform for smart meter-based services can integrate smart metering data in the larger context of Smart Cities.
SECTOR COUPLING
The main characteristics of a local energy community are the integration of different energy vectors to increase the level of local flexibility. Such a solution requires to go beyond the electricity section.
Solutions such as the FIWARE Context Broker support a seamless merging of sectors, extending the set of contexts present in the ETSI CIM standard.
LINK TO THIRD PARTIES
Data platforms offer the opportunity to create open interfaces that can be exploited by third-party providers, bringing innovative services to the energy domain. A complete set of APIs present in the FIWARE NGSI as well as extensions of the FIWARE Context Broker can be used to develop new energy domains.
LINK TO SMART CITY PLATFORMS
When coupling the Energy and E-Mobility sections, FIWARE's open API and Context Broker technology can serve as a bridge of proprietary mobility services.