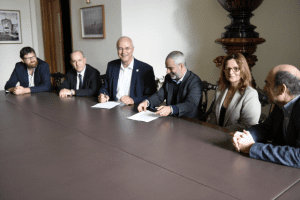 The City of Montevideo has signed a Letter of Intent for an agreement with the FIWARE Foundation to be integrated as a Strategic User City of the FIWARE platform.
The letter underscores the intention of the Montevideo City Council to become a Strategic Gold End User of the FIWARE Foundation with the aim of signing a membership agreement no later than during the Smart City Expo World Congress to be held in mid-November 2018.
Participating in the signing were the Mayor of Montevideo, Oscar Curutchet, and the CEO of the FIWARE Foundation, Ulrich Ahle.
The FIWARE Foundation developed a platform of services that the City Hall has been using for two years in the development process of Montevideo Ciudad Inteligente.
The new stage will help it to integrate itself as a main user city.
The commune has been using the platform to develop new services promoted by the Department of Sustainable and Intelligent Development, such as the tracking of buses online through GPS that are displayed in the mobile application. How to go through the information of waiting times at stops, among other applications.
The original text was published on the Municipality of Montevideo website.