We're proud to announce that the FIWARE Foundation will be attending the Smart City Expo World Congress as a Global Partner. The event, which will take place from 13-15 November in Barcelona, will focus on five main areas: Digital Transformation, Urban Environment, Mobility, Governance & Finance, and Inclusive & Sharing Cities.
Transforming Cities into Engines of Growth
Making a city truly "smart" means turning your city into an platform of growth for innovation, economic development and well-being. By adopting common standards and information models, cities can achieve this transformation with minimum impact, merging forces to build an ecosystem where they can connect and collaborate.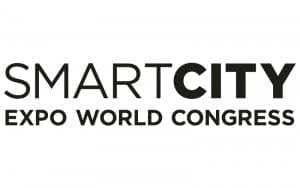 FIWARE is open source. It helps cities to avoid vendor lock-in and protect their investment. It provides access to context information describing what is going on in the city in right-time and on a large scale. This data is accessible through a standard open API independently from the source of information.
FIWARE integrates components that enable cities to process, analyze and publish historical and current information in order to achieve a better management of municipal services and bring support to an Economy of Data. The use of FIWARE technologies hereby helps companies to develop and test Smart City applications in one city, that can then be easily adapted to other cities. This can scale opportunities for developers and result in lower costs for cities.
Don't Miss Our Congress Sessions
The FIWARE Foundation will be participating in a total of four Congress sessions. FIWARE Foundation CEO, Ulrich Ahle, CTO, Juanjo Hierro, and COO Stefano De Panfilis, will be taking part in the following sessions:
Tuesday, 13 November
Thematic Program: Internet of Things: Powering the IoT Revolution and Making Sense of Data
Presentation: How Interconnected Devices Can Change Life in the City
Venue: Digital Transformation Room
Time: 18:20 – 19:20
Panelist: Juanjo Hierro (CTO, FIWARE Foundation)
Wednesday, 14 November
Thematic Program: E-gov & Open-gov: How is Open Data Transforming Urban Services?
Venue: Governance & Finance
Time: 16:20 – 17:10
Panelist: Stefano De Panfilis (COO, FIWARE Foundation)
Wednesday, 14 November
Thematic Program: Data-Driven Cities and Cloud: Making the Most of Data in a Multi-Cloud World
Venue: Digital Transformation Room
Time: 12:05 – 12:20
Keynote: Juanjo Hierro (CTO, FIWARE Foundation)
Wednesday, 14 November
Plenary Session: The City We Want: Resource-Efficient, Resilient and Sustainable
Venue: Auditorium
Time: 10:45 – 11:45
Speaker: Ulrich Ahle (CEO, FIWARE Foundation)
Join FIWARE at Booth C337
FIWARE is driving key standards to break information silos, integrating all vertical systems within the city into a horizontal platform for integrated city management. It has therefore become the "de-facto" standard adopted by 117 cities from 24 countries across the globe. Want to know more about our co-exhibitors and value proposition for Smart Cities? Save the date and join us at Booth C337, our biggest one to date.
Click here to find out which exhibitors will be joining us at the stand.
<iframe width="560" height="315" src="https://www.youtube.com/embed/WIu_dz7Hffg" frameborder="0" allow="autoplay; encrypted-media" allowfullscreen></iframe>