FIWARE and TM Forum have been working together since November last year. Following the announced collaboration agreement, we have been partnering in order to create the infrastructure that will serve the emerging Economy of Data.
The FIWARE Business Framework is being developed and has been shared as part of this ongoing partnership. Powered by the TM Forum APIs, the Business Framework is enabling the management and monetization of diverse kinds of digital assets and involving multiple partners.
This aims to be used in the creation of a Smart City digital single market, materializing as a marketplace that will include open datasets and data from paid sources, where data services from different partners can be exposed, priced, monetized and consumed within a single platform.
A more in-depth approach to this process can be found in our recent post, following the interview in which Juanjo Hierro –Chief Architect of FIWARE at Telefonica– reviews the successive maturity levels that the cities would be reaching when they enable a data economy.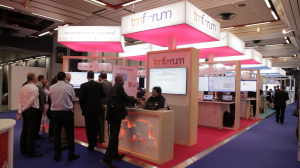 The idea behind that –the top level of maturity starting when cities offer a way for third parties to enrich city-supplied data and to enable monetization– was already explored at the TM Forum Live event that took place in Nice this year, among other aspects around the aforementioned partnership and how it is enabling an Economy of Data in the smart cities.
In Nice we had the chance to assist the Open Hack, where FIWARE was providing the platform to be used by the participant teams. We were also at the Live event, spreading awareness about data interoperability, supporting the Smart City Workshop and presenting three smart solutions powered by FIWARE.
It was the perfect occasion to talk with innovation enthusiasts from around the world, Smart City experts that illustrated how communities are making use of smart technologies nowadays, applying the latest ICT advancements and focusing on the creation of innovative and sustainable urban platforms that can not only ease a much better management of the city services, but that can also boost the collaboration between the citizens, the local business and the city authorities, in order to provide the digital tools that can turn each city in an engine of growth and well-being.
We would like to invite anyone interested in FIWARE to check out the outcomes of our partnership with TM Forum and the experience at the Live event in Nize, that we are presenting as our latest My FIWARE Story, now ready to be discovered and shared.
Also, we would like to remind the next event organized by TM Forum and within the same intelligent urban development vision: TM Forum's Smart City InFocus, an exclusive three-day conference in Yinchuan, the premier Smart City capital of China, starting on Wednesday, September 7th.
Last year's inaugural event attracted over 200 senior government and business officials from across the digital smart city ecosystem to network, learn and exchange ideas. In partnership with the City of Yinchuan and ZTESoft, TM Forum Smart City InFocus 2016, will bring together over 800 C-level executives and government officials from across the global Smart City ecosystem to network, learn and exchange ideas across an interactive conference program. This year's event will be looking primarily at building sustainable smart cities and offering end-to-end smart services for citizens.