Last week, FIWARE attended one of the pioneering events in terms of technology and urbanism, Smart City Expo World Congress; a congress that, according to its webpage, gathered 9,424 visitors in 2013. They, and the 293 cities from 80 different countries participating, make it become the best place to show innovative projects aiming to transform cities into engines of innovation. And it has only needed three years to climb to the highest tops of Smart Cities events, with more than 400 experts speaking about the technology that is already making cities a smarter environment and a better place to live.
The presence of FIWARE at Smart City Expo was more than picturesque, as its stand had been designed and made by Boa Mistura, a young team of graffiti artists that was born in 2001 and that combines different perspectives to create great optical illusions where the viewer plays an active role when observing the work of art (a technique known as anamorphosis). The FIWARE stand was then a place where creativity, both in terms of art and digital innovation, swept over everybody's minds. "Smart Cities, Open Minds" were the welcoming words that lead visitors into the inner lounge, where one could meet technology experts and representatives from some of the FIWARE accelerators.
In the FIWARE stand, we could attend different workshops that presented some of the accelerators. INCENSe, FI-C3, frontierCities, IMPACT or SpeedUP! Europe were among them. But Sergio García (Smart City FIWARE specialist, Telefonica), Maurizio Cecchi and Juan José Hierro (Chief architect of the FIWARE platform) also delivered some speeches about how the FIWARE technology can shape the cities of the future. The Smart City Expo World Congress 2014 did also witness a crowded conference by Mario Campolargo, from the European Commission, where the Catalonian strategy to develop not only Smart Cities but also Smart Regions was discussed. In it, Mr. Campolargo highlighted FIWARE as a key factor in this development; as, in his words, "Smart Cities will benefit from these investments, and citizens themselves will improve the urban life."
But, at the very same time, some other events had been also taking place. During the previous days to the FIWARE presence in SCE (16th and 17th of November), the CitiSense 2014 Conference, organized by the World Bank had aimed to share innovative projects to enhance public service delivery through technology-enabled collaboration with citizens, and to promote interaction of experts and partners with cities from all over the world. Sergio García presented FIWARE in the Open Cities workshop, set up to stimulate the discussion about how "efficiently respond to the challenges in areas such as mobility, energy and environmental protection". As a whole, CitiSense 2014, attended by around 150 people, attracted a combination of city policy officers and technology specialists, representatives of some national innovation agencies, innovation experts and community managers from all over the world. The FIWARE participation in CitiSense helped to establish new contacts with difficult-to-reach audiences and to consolidate some existing contacts.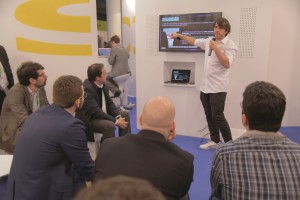 And for those who wanted to see how FIWARE is already shaping a new kind of city, some projects developed with FIWARE were also present at the stand, so that everyone could meet them and get to know personally how FIWARE helps them, as developers, to build their innovative services. Among them, we could see EsAccesible, an app that measures the accessibility of places; Adevice, a system that makes public fountains keep clean; Virtual Oulu, a 3D virtual representation of that Finnish city to be overflown with Oculus Rift; Graffter, an app to make virtual graffiti; CitySense, a system that transforms individuals into data sensors thanks to smartphones; Smartaxi, an app to help taxi drivers find customers; or We Build Hamburg, an app that allows the citizens of Hamburg to plan the buildings of their own city.
If fifteen European cities have already opened their data and have taken the step to become smart with FIWARE (Torino, Trento, Spoo, Helsinki, Amsterdam, Valencia, Málaga or Lisbon are just examples); in Smart City Expo World Congress, all the technology that has made it possible was shown and discussed. It was a great experience to see all of the decisive factors gathered and in action, together with a creative environment that fostered innovation. At the end of the day, it is not only about technology, it's about people; about making Open Minds create Smart Cities.