FIWARE node and innovation hubs are being created all around the world, reaching international players, organizations and initiatives all over the world.
This is where the FIWARE Mundus Programme comes in: to establish worldwide links that help FIWARE to thrive within and beyond European borders by mobilizing policy makers and innovation ecosystems in in regions where FIWARE would help embracing the Future Internet challenges.
Promote the adoption of FIWARE in European regions and internationally reaching countries outside Europe where the take-up of Internet innovation can occur and impact local markets.
Ensure that the FIWARE ecosystem is sustainable at medium and long term.
STAKEHOLDERS ENGAGEMENT
EU entreprises
EU regions
Worldwide actors
COMMUNITY
BUILDING
Best practices
Roadmap
Policies
IMPACT ON
COMMUNITIES
Technology adoption
Marketplace population
PAVING THE WAY TO BECOME GLOBAL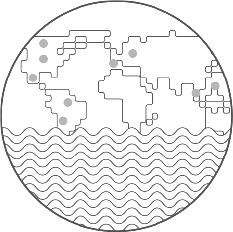 With the expansion of FIWARE, cooperation opportunities arise, like setting new FIWARE Lab nodes and FIWARE innovation cosystems, sharing knowledge and best practices in the usage of FIWARE all across the globe. The activities that are being performed within FIWARE Mundus include:

Help public and private organizations in charge of supporting the development of innovation at regional and international level promote the usage of FIWARE and the set-up of FIWARE ecosystems, with a view to make it sustainable. A process has been defined in this sense with the ultimate goal of setting up FIWARE Regions all over Europe and beyond.

Define a long-term vision of FIWARE technologies and business models taking into account similar research and innovation schemes coming from other countries e.g. the US.
HERE ARE SOME OF OUR FIRST STEPS TO BEING GLOBAL!


MANY ACTIVITIES WITH LATIN AMERICA
In Mexico, a FIWARE node has been set up and FIWARE Mexico is facilitating the uptake of FIWARE technologies through trainings and events . An R&D center devoted to FIWARE is being set up in Chile. Initial conversations have happened with Argentina, Costa Rica, Panama, Nicaragua, and Colombia.

FIRST AGREEMENT WITH KOREA
An agreement has been signed on 5 March 2015 to promote FIWARE as a common platform for IoT between Europe and Korea.

INTEREST IN NORTH AMERICA
Discussions are happening with USA in particular with US Ignite, and in Canada with a number of relevant organizations gathered by the University of Toronto, to investigate possible paths for cooperation and in particular for using FIWARE as one of the global platforms for Smart Cities worldwide.

PROSPECTS IN AFRICA
FIWARE nodes are planned be hosted at Sonatel in Senegal and at Mauritius Telecom by the end of 2015. Contacts are also happening with Ivory Coast.

MAP OF TECHNOLOGY AND BUSINESS CHALLENGES
FOR THE FUTURE INTERNET
The FIWARE Mundus initiative is focusing, as part of its activities on the definition of a long-term vision for the Future Internet covering both business and technology aspects. This vision is being elaborated in the form of a set of roadmaps that aim to support FIWARE in its future evolution as part of the Future Internet ecosystem, through the involvement of key European and international players, including contributions from SMEs, industrial stakeholders, public authorities as well as scientific efforts both, in the academia and corporate worlds.
Below you can find all the white papers on Future Internet roadmap produced by the initiative.
INTEREST IN NORTH AMERICA
The FIWARE Mundus initiative so far produced an introduction white paper focusing on the Future Internet challenges, and a collection of white papers focusing on the future roadmap of key future internet technologies developed within FIWARE programme. All white papers have been elaborated with the support of a small team of international experts from the academia and the industry, whose names are listed in the front page of the documents.
"Map of technology and business challenges for the Future Internet" white paper describes the challenges that Future Internet should face in term of technology and business evolution. The white paper is the first step for the elaboration of the roadmap contented in the other white papers.
"A Future Internet Roadmap for the FIWARE ecosystem" white paper provides a roadmap of the evolution of the Future Internet considering FIWARE as the platform to support that future. The white paper works as a general introduction to other five white papers providing a detailed view on the roadmap for the following technologies:
Media Internet
Big Data
Internet of Things
Cloud Computing
Communication Networks

INTERESTED IN THE FIWARE MUNDUS PROGRAMME?
Be part of FIWARE Mundus!