WISDOM ACROSS THE BOARD // INTERVIEW #2
Last week, Dario Avallone, Chairman of FIWARE Foundation's Board of Directors – and R&D Director at Engineering Ingegneria Informatica S.p.A. – kicked off our Wisdom Across the Board series in style, revealing his plans for fast-speeding FIWARE Foundation position as an enabler platform for innovative solutions worldwide. This week, we sat down with Albert Seubers, Director of Global Strategy IT in Cities at Atos, one of FIWARE Foundation's founding Members.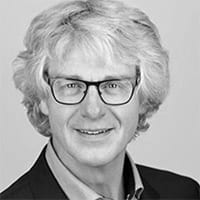 Before we deep dive into the interview, let's find out a bit more about our interviewee and what makes him tick. Originally from the Netherlands, Albert started his career in IT in 1985, after graduating from the University for Agriculture (now called University of Life Sciences) in Wageningen. Ever since he has worked for several large and smaller companies. In 2008, Albert joined Atos Netherlands and two years later, he took on the challenge of creating a new market offering for Atos, focusing on IT in Cities.
Within Atos, he is a member of the Scientific Community studying the IT of the (near) future and how that will impact our lives. On a personal note, Albert turned 60 last year and is passionate about the outdoors, walking, cycling. Travelling is surely a very enjoyable part of his job, as it allows him the opportunity to see new cities, learn about new cultures.
FIWARE Foundation: Why do you want to be on the board?
Albert Seubers: By being on FIWARE Foundation's Board of Directors I am able to actively support spreading the word on how cities need to adapt to open standards for creating data-driven-services that are secured, trusted and scalable.

Getting the citizens involved in optimizing livability in their hometowns, making better decisions, based on information provided, is the recipe for success for cities. Through my role in the Board of Directors I hope to support and provide guidance to the Foundation in expanding/renewing, wherever needed, the FIWARE technology already available.
FIWARE Foundation: What experiences do you bring from your current role and your career to date that would be valuable for the Foundation?
Albert Seubers: I have been involved in the development of the Smart Cities market since 2010. I have always been – and still am – in close contact with many cities across the world. This interaction with cities, combined with my understanding of new technological developments, will bring value to the Board of Directors.
FIWARE Foundation: From your perspective, what are FIWARE Foundation's biggest strengths and challenges (besides the ones mentioned above) for the upcoming years? What would you do to enhance the strengths and overcome the latter?
Albert Seubers: FIWARE Foundation's strength lies in its wide network of strategic partners as well as its close interaction with global entities that are focusing on regulations, data privacy, etc. The Foundation can play an incredible role in adding value to such discussions through presentations and real demonstrations. Most importantly, FIWARE can be a real asset in promoting the use of open source software technologies and products which can, in turn, help save development cost, avoid lock-in scenarios and allow fast adaptation to specific business needs. All that because the world-wide developer communities can support such technologies and are constantly adapting them.

The downside of it is the possibility that too many different ideas/perspectives of what a smart city platform should/could look like could get on the way/slow down this important dialogue. Not to mention the marketing power of the hyperscalers/large corporations, which can, unarguably, affect the growth of FIWARE as a recognized tool to create great solutions.

One way for the Foundation to overcome such challenges is to create further collaboration between its Startups, SMEs and Corporate members. Most importantly, the Foundation needs to further promote such members and their incredible solutions for a smarter future, in order to provide a steady growth in market share. Moreover, strengthening the cooperation with cities and city-focused organizations such as OASC, for instance, need to be at the center of the Foundation efforts.
FIWARE Foundation: Finally, where do you see the Foundation in three years from now and what will be your contribution to its further growth?
Albert Seubers: From my perspective, the Foundation must strongly focus on the European market in the coming years to establish a good reference model. First and foremost, joining forces with worldwide cities and the FIWARE members that are stepping outside the box and coming up with tested blocks to create innovative and interoperable solutions should be the priority number one. Fostering discussions on what building blocks need to be added/changed etc can only come from projects using FIWARE.

In terms of how I can contribute to the Foundation's growth, I will take advantage of my role at Atos to drive up the extension of the FIWARE library within the many cities I am closely connected to.

Furthermore, by helping to expand FIWARE's international networks and the exchange of European solutions – based on FIWARE technology – I can support fast-speed the FIWARE market adoption. In terms of where I see the Foundation in three years' time, I foresee an organization that has considerably grown and operates in steady growing markets with a high social and societal impact, supporting cities and citizens to make the right changes to improve livability everywhere.
Stay tuned as next week we have a sit down with Agustín Cárdenas Fernández, Director of Business Transformation, Telefónica Empresas.