WISDOM ACROSS THE BOARD   //   INTERVIEW #1
No matter in which business one may be in, changes are a constant feature. Whether driven by market conditions, customer demands or the arrival of new technologies, companies and non-for-profit organisations must evolve to stay relevant or to simply catch up. Too often, staying on the same course with a few minor tweaks isn't enough and the need to explore uncharted waters arise. In such scenarios, having a solid group of talented experts on the Board of Directors joining forces with Management to help steer the organisation's vision into the right direction can be a real asset.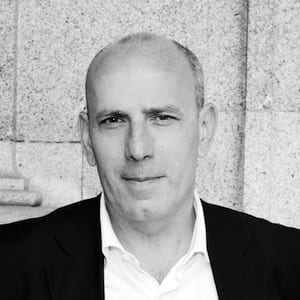 As FIWARE Foundation enters into its fourth year in business, we caught up with its current Board of Directors to discuss their motivations and strategic plans for the Foundation for the next few years. Kicking off our brand new series Wisdom Across the Board, we spoke to the Chairman of the FIWARE Foundation Board of Directors, Dario Avallone. Straight after getting his degree in Computer Science, Dario joined Engineering Ingegneria Informatica S.p.A's R&D Laboratory, where he has so far held different successful positions.
In 2000, Dario became the Director of the R&D division, aiming to push innovation into the large Engineering Group. During his professional career, Dario has been directly involved in different research initiatives, holding both managerial and technical responsibilities. He is also the author of different publications and articles and has co-authored the book "The Renaissance of Legacy Systems".
FIWARE: Why do you want to be on the board?
Dario Avallone: As a matter of fact, as Engineering is one of the Foundation's founding members, I have been involved with the evolution of FIWARE since its early days, including a role in its Board of Directors. The recent novelty is my appointment as the Board's Chairman, reflecting a new level of commitment from my side to help define new paths for the Foundation, especially fast-speeding its growth as an enabler platform for innovative solutions.
FIWARE: From your perspective, what are FIWARE Foundation's biggest strengths for the upcoming years? What would you do to enhance the strengths and overcome the challenges?
Dario Avallone: I am very much convinced that there are two key areas in which we need to work harder. The first one is increasing community engagement, ensuring that FIWARE Community members are actively using and promoting FIWARE technologies worldwide. Our members, solution providers, and partners are the target-audience, so they are important to further support us in showing how much FIWARE is a trustable, reliable solution.

Secondly, FIWARE's credibility and, consequently its adoption within markets on a global level, has a great potential to grow further. In the last three and a half years, we have actively participated and organized hackathons, industry fairs, international conferences and sector-specific events targeting developers, businesses and public administrations. Currently, there are hundreds of SMEs, entrepreneurs, corporations and cities adopting FIWARE technologies and having their products/services and platforms certified as "Powered by FIWARE " or "FIWARE-ready" is an important factor. We have countless successful use cases showing that FIWARE technology is tangible and is benefiting cities across the board.

Having said that, despite being well positioned for the current (and next) wave of the digital revolution, we have to showcase even better how FIWARE can help to build the smart solutions of today and of the future. A booster of a promising and proven technology, the Foundation has not yet been able to get the attention, traction and the level of adoption it has the potential to get from the global market. We need to overcome this challenge with early adoption in the Open Source world as well as getting the market to fully trust new business models and new open technologies like FIWARE.
FIWARE: Finally, where do you see the Foundation in three years and what will your contribution to its further growth be? What changes, if any, would you make to the strategic direction?
Dario Avallone: My role is to ensure the Management that they are not alone, that they can count on the Board of Directors' distinctive set of expertise to drive the organisation into the future. My goal is to drive FIWARE Foundation to prioritize target-audience's demands, to listen to customers and deliver what the market needs and, consequently, increase market attractiveness. FIWARE has shown that it has grown from a high dependency on European-funded projects to a global and more member-centric and digital hub-based business model. Furthermore, the Foundation has strengthened its presence and network by working with a growing number of Community and Media partners and sponsors. This path allows FIWARE to strategically position itself as a top player in the digital world in the years to come.
Stay tuned as next week we talk to Albert Seubers, Director of Global Strategy IT in Cities, Atos.