Twice a year, our ecosystem gets together with city representatives, thought leaders, entrepreneurs, SMEs, decision-makers, large enterprises, and developers to discuss the recent trends in smart technologies and urban development. Innovation, efficiency, sustainable growth and open source are just some of the thoughts on everyone's mind throughout FIWARE's Summit.
We know what you might be thinking: if you have already joined us in Malaga (twice!), have been to our Summit in Utrecht, and enjoyed the event in Porto, what's new? What's in store for 2019?
Of course, we are a little bit biased, but here are just a couple of hints as to why we think you should hurry to the Summit Eventbrite page to register even before you reach the end of this sentence.
1. Explore Genoa
This edition will take place in the beautiful port city of Genoa, Italy. Hop on and check out some stunning Mediterranean (and historical!) landscapes between one of our tracks or in the evenings. If anything, Italian cuisine should provide enough motivation, agreed? Have we also mentioned that a) the Summit's venue is located inside Porto Antico's historical Cotton Warehouses with stunning views and within walking distance from some of Genoa's top-notch visiting spots and b) that the city of Genoa is offering Summit attendees special discounts for some of the city's most popular sights and attractions? Well, now you know.
2. Surround Yourself with Visionaries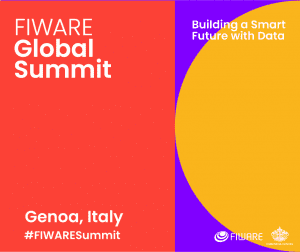 Our Summits are all about gathering people from all walks of life under one roof to exchange ideas on concepts that are already transforming how we live. By joining us (be it as a speaker, attendee or exhibitor), you will be adding forces to the growing movement of 'smart' believers across the globe who have already taken FIWARE's technologies on board. You will be part of a community that has wings spread all the way across the pond. In our latest Summit, over 600 people from 15 different countries joined us. Time and again, we cherish the diverse and brilliant individuals that make our events simply unmissable.
3. Let Your Voice be Heard
More often than not, our audience doesn't simply sit and listen. They challenge our speakers, the Summit's organizers and are keen to contribute their opinions and ideas. Above all else, they are willing to share their knowledge. It is this collaboration that adds real value to our Summits. The Genoa edition has been crafty put together thanks to many contributions from Europe, India, Japan, Brazil and more. We will not name drop here (no pun intended!), but just so you know, some of our speakers are renowned specialists in the smart technology field.
4. There's Always a Takeaway
Yes, we hear you: haven't we all been there? Long, endless conferences in which we leave unsure about the main takeaways or where to go next with all the information absorbed. Our Summits aim to encourage real change, to be inspirational and broaden attendees' perspectives. As usual, our agenda has been developed around the traditional tracks – Smart City, Smart Agrifood, Smart Energy and Smart Industry. We will have high-impact talks delivered under 45 minutes (and some as little as 10), which are compressed into blocks throughout the second day. Not to mention our traditional hands-on Developers' Track, bringing forward a unique opportunity to learn the basics for building "Powered by FIWARE" applications as well as gathering the whole FIWARE Community.
5. Break Time in Style
Even our breaks are carefully designed within the programme to boost collaboration and networking. Packed with live-demos, an exhibition area, and cool lounge spaces, the Summit is catered towards helping you to further explore ideas with fellow attendees and some of the most leading minds in the tech industry who will be joining us on the stage in Genoa. It makes it the ideal moment to catch up over some amazing Italian coffee and biscotti.
6. You Will Not Leave Empty-handed
Whether it is a specific talk or idea exchange that may take your mind off things throughout our 2-day event, we stand firm that it would be rather impossible (we do love a challenge, you see!) to say goodbye to Genoa without a feeling of satisfaction, inspiration and a handful of new contacts. As a matter of fact, at our most recent edition, one of our attendees summoned it up.
"FIWARE Summits are the perfect opportunity to catch up with the latest developments and activities related to FIWARE in Smart cities, Smart Agri-food, Smart Energy and Smart Industry. The community is steadily growing and new opportunities are emerging." – Miguel Garcia – Innovation Manager (European Data Incubator) and Consultant (Zabala Innovation Consulting, S.A).
We could certainly keep going but we hope that by now we have been able to persuade you to attend. Not quite there yet? Then what about the fact that once you get your ticket you are not only entitled to access the Summit but will also enjoy first-class lunches and catered breaks, gain access to interactive sessions, 75 speakers+, 500+ awe-inspiring professionals to engage (and network) with and an awesome welcoming reception.
If you have already registered, that's fantastic news. Here you will find some hotel suggestions if needed. If you haven't secured your spot yet, don't worry. Tickets are still on sale – grab yours right here, right now. We look forward to seeing you in Genoa. Arrivederci!