As we anticipated in the previous post, FIWARE will be joining IMPACT Growth at the 4YFN stand, with seven powered by FIWARE projects presenting their solutions. The team members from those companies will be participating in the different roundtables taking place at the stand, addressing subjects like 'How to build innovative apps based on IoT and BigData' and 'How to reach your target customers and partners through the FIWARE marketplace'.
"Internet of Things and Smart Applications technologies with the capacity for integration of multiple data sources, interoperability and scalable provisioning, are just the basis of any innovative solution". Antonio Jara, CEO of HOPU Ubiquitous, says that for companies like his, which was part of the FIWARE Acceleration Programme and is now scaling up and developing new projects, now is the time to focus on the business itself, letting FIWARE take care of the rest: "it can really support to simplify your business development through the integration of multiple IoT technologies, a portfolio of IoT devices ready to be used and de facto standards, that guarantee your introduction into a global ecosystem in key domains such as Smart Cities, Industry 4.0 and AgriFood".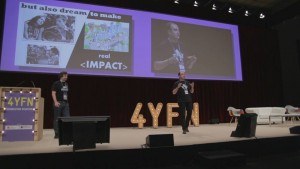 The companies that will join us at the 4YFN will be:
The FIWARE Foundation will be there too, represented by its CEO, Ulrich Ahle, who will be participating in the panel 'The smart manufacturing vision and examples of steps towards its realization', organised by MADE.
Following Jara, "as entrepreneurs, we should focus on make the best out of our idea, demonstrating how we are able to satisfy the need that we have identified, designing an innovative application, carrying out a strong communication and sales strategy, finding investors, customers and making it works as soon as possible in the market. For all the rest: technical issues, data integration, devices and sensors… just let FIWARE take care! It is time for IoT entrepreneurs to focus just on their business development".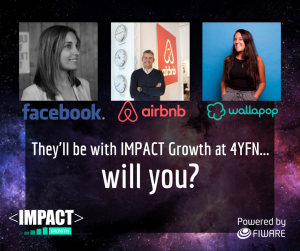 Aiming to fund, assist and promote more powered by FIWARE projects, IMPACT Growth will be announcing the new acceleration program at the F4FN event: selected startups will get up to €250,000 equity free, plus training and support from top level partners, while enjoying the benefits of joining the FIWARE ecosystem.
Check out the IMPACT Growth agenda for the event and don't forget to sign up and start receiving the IMPACT Growth newsletter now. Be the first to learn about this announcement!
As you know, FY4N is part of an (even) bigger event! If you are staying in Barcelona the whole week and visiting the Mobile World Congress 2017, do not miss the powered by FIWARE IoT Big Data demonstrations at the Innovation City, Hall 4 Stand 4A30: following the work that the GSMA is doing on this area, two showcases will be demonstrating its practical application within IoT applications and services.
Telefónica and Everimpact will be presenting an environmental monitoring system, showing how CO2 emission data is collected from ground sensors and satellites in the cities of Santander, Málaga and Nantes, before being analysed. During 2015, Telefónica started working with the GSMA in the development of an IoT Big Data Ecosystem, deploying and using harmonised data models, exposed through FIWARE NGSIv2.
Orange will be demonstrating how it can deliver harmonised public transport, weather station and air quality data streaming based on heterogenous and anonymised open data sources, coming from India and France.
If you are in Barcelona next week, attending these great events, do not forget to stop by our shared stand and demos. Join the conversation online using #MWV17, #4YFN17 and #FIWARE.
See you there!
Header image by Vincentiu Solomon on Unsplash