In his recent open letter to the startup community, Sebastian Muller, IMPACT Acceleration Director (ISDI), told us about the new team he is leading: IMPACT Growth. We had the chance to first meet this new project at the FIWARE Summit: after the closing of our previous programme, a new round of acceleration was announced, with two spin-off projects –the other would be frontierCities 2– that aim to drive powered by FIWARE startups even further.
This week, we had the chance to know more about IMPACT Growth first open call:
"IMPACT Growth is going to tell the world about the new equity free acceleration program. Selected startups will get at least €100,000 equity free, and training and support from IMPACT Growth's partners, as well as enjoying the benefits of joining the FIWARE ecosystem.
More details are under wraps until the big day, but we can tell you that an unprecedented team has come together, uniting VCs, global corps and accelerators from around the world.
All the details will be announced on February 27 in Barcelona at 4YFN, the world's largest mobile event. Check out our agenda for the event here. Join us there and be among the very first to learn about this exciting new project."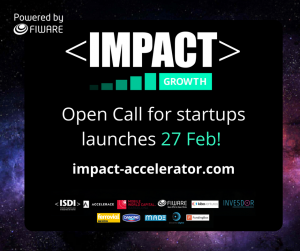 The message and challenge that IMPACT Growth is addressing should be attracting startups, with a global reach. "Our mission is to create the best accelerator program for startups from all over Europe and the world", expresses Nacho de Pinedo, CEO of ISDI. Continuous work is granted, under a single, strong principle that will lead this new venture to an even greater success: everything that IMPAC Growth do, must be done to benefit the startups.
"We're bringing together a widespread, generous community of digital business and experts. Working together, we all win", concludes de Pinedo. To achieve this goal, IMPACT Growth will be combining the forces of a diverse team of acceleration, corporate and venture capitals, like Funding Box, ISDI, Accelerace, Mobile World Capital, Invesdor, Kibo Ventures, MADE, Danone, DOCOMO Digital, Ferrovial, ISDI Mexico and the FIWARE Foundation.
FIWARE will be joining IMPACT Growth at the 4YFN stand, with seven powered by FIWARE companies presenting their solutions. Come and meet us there!
Next week, another post will be published, with more details about our presence at the event in Barcelona.
Check out the IMPACT Growth agenda for the event: http://bit.ly/2lT1FaQ
Sign up for the IMPACT Growth newsletter now, and be the first to learn about this announcement: http://bit.ly/2lPu9W9
Header image by Jeremy Thomas on Unsplash