Participating in Campus Party Brazil and connecting with so many people in the tech world, "beyond the pond", was an amazing experience for the FoodLoop team. We walked into the massive convention center Anhembi in Sao Paolo, a bit overwhelmed at first. After checking in, going through security, walking past hundreds of computers, many being occupied by gamers, others by people in all other aspects of technology, we found an open table. Our team sat down and got right to work.

We began to polish our presentation for the first round of the "Smart Business and Industry Challenge". We had entered a few months before and were honored to be selected as a finalist out of 600 applicants. In brief, FoodLoop is an app that brings info on discounted food prices, approaching the best before dates, to your smartphone in real time, saving customers money, saving retailers disposal fees and labor costs, and most importantly helping the environment by reducing senseless waste and act more resource efficient. Although FoodLoop has competed in events before, we were honored to be competing at this high level in the FI-Ware challenge.

Our first presentation went quite well in front of a panel of FI-Ware coaches. Through a question and answer session, they seemed to like the idea, and gave us a few suggestions of how we could improve and implement FI-Ware technology that adds value to our technical infrastructure and business model. After that we walked through the busy convention center and sat down together reflecting on the presentation and how we could improve for the final one.

The following nights leading up tot he 2nd presentation were late nights of working on the implementation of certain GE, improving the graphic user interface and networking with industry fellows like the guys from SAP South America. After all we were finally ready for the final presentation. We walked into the cool, air conditioned room, feeling confident and prepared. We presented, did a demonstration of the app, and answered any questions the evaluation committee had. It may not have been perfect, but we walked out of the room feeling good. All we could do now was wait.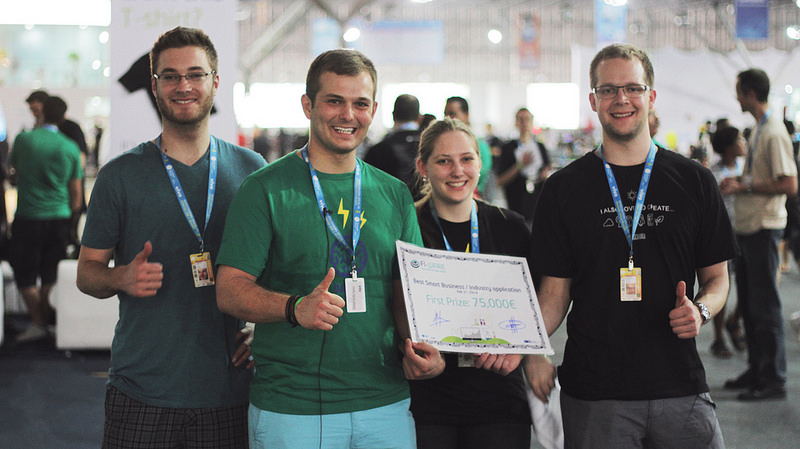 On the day of the award ceremony, we were filled with excitement. We spoke with FI-Ware members, had a couple of brief interviews and took our team photo. As we walked to the stage, we could feel the excitement growing. We had put a lot of work into developing this app and the whole concept including marketing and business model backing it up, and nothing at that moment could be more exciting that winning a prize that could help us take it to the next level. As our name wasn't called for the 2 runner up spots, the tension grew. We knew we had a great idea, and have been working hard on developing it for over a year. Was that along with our two presentations and the intial first round submitted proof of concept this week enough? FoodLoop popped up on the screen before the presenter said it. All of our eyes lit up and we screamed out in happiness and accomplishment. We walked up to the stage feeling very honored and proud of ourselves. Afterwards we thanked the Fi-Ware team and judges.

Campus Party Brazil was an incredible experience. It was great to meet so many talented, skilled, and kind people. After the excitement of the award ceremony died down a bit, we began to realize that we have an incredible opportunity to take FoodLoop to the next level, and that the next year will be the hardest working on of outlives. And we could not be happier about that.
Brian Christ (CSMO of FoodLoop)
Below these lines you can see FoodLoop's CEO, Christoph Müller-Dechent, speaking at the First European Conference on the Future Internet (ECFI) about FI-WARE's advantages for his business.