Barcelona, November 12, Smart City Expo World Congress.
The FIWARE Foundation and TM Forum – the global not-for-profit association focused on digital transformation – announced a joint collaboration program to support the adoption of a reference architecture and compatible common data models that underpin a digital market of interoperable and replicable solutions for smart cities. The cities of Vienna (Austria), Nice, Saint Quentin (France), Genoa (Italy), Utrecht (Netherlands), Porto (Portugal) Santander, Valencia (Spain), Gothenburg (Sweden), La Plata (Argentina), Montevideo (Uruguay) have joined the program, with an open invitation to other cities to join.
The reference architecture uses the FIWARE NGSI (Next Generation Service Interface) API and TM Forum Open APIs for interoperability and scalability of city solutions. The FIWARE Context Broker technology, implementing the FIWARE NGSI API, provides the basis for breaking information silos within the city, creating a real time view and foundation for overall city-data governance. This API has provided the basis for, and it will align with, the future NGSI-LD standard to be published by ETSI. Combined with TM Forum Open APIs, data publication platforms can support cities to realise the potential of real-time open data, easing development of innovative solutions by third parties. In addition, cities can evolve their current open data policies towards a 'city as a platform' vision supporting the data economy. This way, the proposed reference architecture is ready to solve the needs of cities today while future-proofing for tomorrow's requirements.
"As the number of cities deploying smart city platforms powered by FIWARE grows, the need for a collaboration program like this has become evident" explained Ulrich Ahle, CEO, FIWARE Foundation. "Joining forces with TM Forum brings more answers to the need for concrete and practical standards" he said. "Specifications will evolve to become TM Forum deliverables, thus gaining in trust and wider market adoption" said Joann O'Brien, TM Forum's Vice President of Ecosystems & Labs. "My ambition is to build on the success of the Forum's Open API program, in our continued style of open collaboration working with other organisations and communities to deliver the essential industry assets for interoperability and scalability", continued O'Brien.
Smart City Common Data Models will be public and royalty-free and validated through projects implemented in cities where a platform aligned with the defined architecture is previously deployed. Specifications will be considered stable as soon as enough cities have validated them in practice. This will help to curate defined models following a driven-by-implementation process. Stable specifications will become TM Forum formal deliverables following TM Forum's defined processes, demonstrating support of the wider industry and city communities.
"We feel very excited about this movement, which complements the work we are doing within the CEF (Connecting Europe Facility) program at the European Commission, since the FIWARE Context Broker technology is being integrated as a new CEF Building Block" says Daniele Rizzi, Principal Administrator and Policy officer at European Commission. Public Administrations within the European Union are recommended to adopt CEF Building Blocks so that their Digital Service Infrastructures can seamlessly support cross-border services. "Smart Cities are called to serve as infrastructures on top of which digital services supporting the daily life of people and operations of businesses are deployed. Smart Cities standards will enable that smart parking or air quality applications can work the same multiple cities across borders", Daniele Rizzi explained.
The Open & Agile Smart Cities (OASC) network, with more than 120 cities from 25 countries will collaborate with the program. OASC is focused on Minimal Interoperability Mechanisms (MIMs), such as Smart City Common Data Models, as enablers for a global digital single market for data-driven services for cities and communities. "OASC supports this effort to create consistent data models as the result of collaboration between the industry and cities like in the European IoT Large Scale Pilots.  The OASC Council of Cities can contribute demand-side validation processes, as well as new models and best practices." says Martin Brynskov, OASC Chair.
Vienna (Austria), Nice, Saint Quentin (France), Genoa (Italy), Utrecht (Netherlands), Porto (Portugal), Santander, Valencia (Spain), Gothenburg (Sweden), La Plata (Argentina), Montevideo (Uruguay) have already joined the program and others have express their interest to attend the kick-off meeting that will be organized on November 28th during the 5th FIWARE Summit in Málaga. Regular virtual and face-to-face meetings, programmed during major TM Forum and FIWARE events, will be programmed in 2019.
Announcement at the SCEWC '18
FIWARE will be present at the Smart City Expo World Congress (November 13-15 in Barcelona), participating as Global Partner (stand C337). The Front-runner Smart Cities program will be presented at 13:00 on the second day of the event, during the visit of Mrs. Gema Igual, Mayor of Santander.
More than 30 live demos of "Powered by FIWARE" solutions will be showcased at the FIWARE stand. Besides, the FIWARE Foundation will participate in several sessions during the congress. During each of these sessions, more info about the "Front-runner Smart Cities" program will be provided: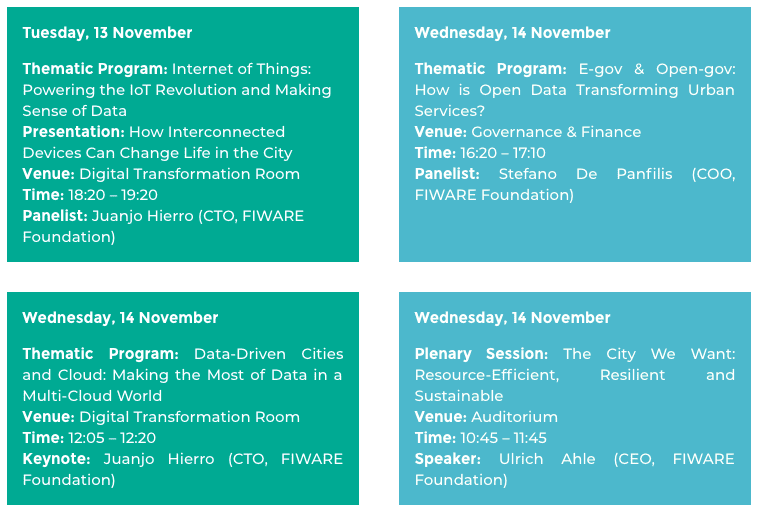 Quotes from Cities:
"The fact that Santander adopted FIWARE technology around 7 years ago has positioned our city in a privileged situation. We are now really proud to be part of this challenging program which will enable to consolidate tighter interactions with worldwide cities and speeding up its digital transformation. Once more I want to thank the FIWARE Foundation and TM Forum for leading initiatives such this one." – Mrs. Gema Igual, Mayor of the City of Santander
While Saint Quentin is a medium-sized city with 56.000 inhabitants, it is active on the international level. The city is a member of Open & Agile Smart Cities, acts as a local digital innovation hub, and cooperates with the telecoms association TM Forum to define the City as a Platform standard. Therefore, Saint-Quentin is interesting to join and participate in this new and ambitious collaborative program led by TM Forum and FIWARE" – Frederique Macarez, Mayor of the City of Saint Quentin
"The City of La Plata is excited to participate in a program like this, aimed at creating open standards based on the actual experience of cities which are moving into execution" – Mr. Rodolfo Torrallardona, Sub Secretary of Modernization Project Management
"Since 2008, Nice Côte d'Azur Metropole has been deploying a strategy for a sustainable and inclusive territorial development based on digital transformation. As a member of TM Forum and fostering collaborative innovation through economic and academic ecosystems partnership, Nice committed to turn into a European city test-bed for innovation in the fields of smart and safe city and silver economy. The new Front-Runner Smart Cities program is offering Nice Côte d'Azur Metropole the right collaborative framework for the development of its own city data platform based on TM Forum API, FIWARE, and open architecture concepts. Thus, our decision to join this initiative." – Alain Château, Head of the Centre of Excellence for Smart City, City of Nice
"Montevideo has pioneered the implementation of a Powered by FIWARE smart city platform in Latinoamerica. We are happy to collaborate with other pioneer cities around the world towards consolidation of FIWARE and TMForum Open APIs as "de facto" standard for smart cities, also contributing to the definition of common information models supporting the development of interoperable and replicable smart city solutions and the transformation of cities into engines of growth." – Mr. Carlos Leonczuk, Director of Smart and Sustainable Development Department (Departamento de Desarrollo Sostenible e Inteligente)
"The common adoption of open standards will pave the way for the creation of a Digital Single Market for Smart Cities enough large to boost development of innovative and cost-effective solutions and services that serve the needs of citizens and will bring economic growth. We are excited to join this initiative." – Mr. Paolo Castiglieri, Economic Development Department, Municipality of Genoa
"FIWARE based platform solution VeroCity integrates multiple datastreams from IoT devices and OpenData on the same datalake in Vienna – smartdata.wien" – Brigitte Lutz, Data Governance Coordinator, City of Vienna
"We are strong believers in collaboration and smart sustainable solutions that give added value to our citizens and anyone that visits our great city." – Kim Lantto, Development leader of Digital Services, City of Gothenburg
About FIWARE Foundation
FIWARE is a curated framework of open source components easing the development of smart solutions in multiple sectors. The FIWARE Foundation is the legal independent body providing shared resources to help achieving the FIWARE mission by promoting, augmenting, protecting, and validating the FIWARE technologies as well as bringing support to the activities of the FIWARE community, empowering its members including end users, developers and rest of stakeholders in the entire ecosystem. The FIWARE Foundation is open: anybody can join contributing to a transparent governance of FIWARE activities and rising through the ranks, based on merit. Learn more at fiware.org.
Press Contact
Angeles Tejado
FIWARE Foundation
E: angeles.tejado@fiware.org
T: +34 608 508 873
About TM Forum
TM Forum is an association of over 850 member companies that generate a combined US$2 trillion in revenue and serve five billion customers across 180 countries. We drive collaboration and collective problem-solving to maximize the business success of communication and digital service providers and their ecosystem of suppliers. We support our members, as they navigate their unique digital transformation journeys, by providing practical and proven assets and tools to accelerate execution, and by creating digital and physical platforms that facilitate collaborative problem solving and innovation. Learn more at www.tmforum.org.
Press Contact
Aisling Roberts/Anais Merlin
CCgroup PR
E: TMForum@ccgrouppr.com
T: +44 203 824 9201