Joint Press Release
OASC and FIWARE Foundation have established a new formal partnership in which:
FIWARE has become an OASC Strategic Partner and a formal member of the OASC Technology Council;
OASC has become an Associated Member of FIWARE and an Attending Member of FIWARE Foundation Board of Directors;
OASC has joined the Smart Data Models Program founded by FIWARE, IUDX and TM Forum;
FIWARE Marketplace solutions will be integrated into the CxC Catalogue;
They will run joint workshops and events to increase public visibility of both, and involve each other in specific projects and project proposals, in particular in the context of Digital Europe and Horizon Europe.
Berlin, Brussels, December 2, 2021 — FIWARE Foundation, the non-profit organization that drives the definition and encourages the adoption of open standards — based on Open Source technologies, reference architectures and over 800 Smart Data Models — to ease the development of smart digital solutions, and Open & Agile Smart Cities (OASC), a global network of 160+ cities — spread across 30+ countries — committed to ensuring cities and communities have a clear voice toward technology providers and regulators, have entered into a new collaborative agreement to continue their strategic partnership.
OASC, together with its members, partners, and independent experts, create sustainable impact for cities and communities, by providing minimal technical ground, namely, the MIMs (Minimal Interoperability Mechanisms). Based on open standards and technical specifications, including FIWARE NGSI-LD and MIM2 – Smart Data Models, MIMs provide the technical foundation for the procurement and deployment of urban data platforms and end-to-end solutions in cities and communities worldwide.
Vendor-neutral and technology-agnostic, OASC's MIMs can be integrated with existing systems, and have already been adopted by the OASC Council of Cities, which represents the entire OASC network. As an example, Slovenia was the first country in Europe to have requested its cities to apply MIMs when implementing their strategies for smart cities and regions.
Under the terms of the new agreement, FIWARE will support cities in their decision process to implement OASC's MIMs, enabling them to exchange solutions and share open data more easily. Equally, OASC will use its global reach to advise cities and communities about the importance of open standards and digital tools — such as the one provided by FIWARE — for companies and public administrations to be able to build a sustainable future. By using open standards and APIs, both organizations strive to enable companies and cities to share and reuse digital, data-driven solutions in a seamless fashion, hence, reducing the cost of innovation, and avoiding vendor lock-in.
With such shared goals, it is only natural that FIWARE Foundation and OASC go back a long way. Juanjo Hierro, FIWARE Foundation CTO, spearheaded OASC's launch in 2015, alongside Martin Brynskov, Chair at OASC. The relationship has evolved considerably since then and further synergies keep emerging.
"Europe-born, FIWARE and OASC complement each other with their respective geographic expansion. Also, given our combined skills from a demand and supply side, respectively, we are ideally positioned to fully understand what cities need in order to implement cost-effective, sustainable, inclusive, smart, and interoperable solutions", said Ulrich Ahle, FIWARE Foundation CEO. "Building upon the Digital Europe Programme — that aims to bridge the digital technology gap for businesses, citizens and public administrations — we will seek ways in which technologies can meet cities' vision of open, fair, inclusive and sustainable local economic development. Together with both our extended global communities, we will further support cities to ensure they become greener, more digital and resilient."
Smart Data Models
Both organizations have also started cooperating on Smart Data Models. In June this year, OASC officially joined the Smart Data Models Program. With this program, FIWARE, TM Forum, IUDX (India's Urban Data Exchange) — and now OASC — have been leading global activities to standardize Data Models across a wide range of domains, to guarantee interoperability between different systems, solutions, and vertical data silos. In order to deliver such outcomes, standard Data Models and a context management platform like FIWARE's Orion-LD Context Broker are vital to create a thoroughly smart approach. Currently, over 170 contributors have already defined roughly 800 data models in eleven different domains on Github.
"The launch of this program was a key milestone for our growing relationship. Driving the digital transformation of cities and communities goes beyond the use of cutting-edge technology. OASC is working hard to make sure that this transformation goes in a direction that benefits society as a whole. One that's open, free, and fair." As cities are currently overwhelmed with pressing issues, Geni Raitisoja, OASC's Executive Director, adds that they "need a voice towards technology providers and policymakers, to help them leverage global infrastructure and services, fast track their innovation, and improve services for their citizens. More importantly, they lack channels to share best practices, and relevant open data with other cities. FIWARE stands by this vision and given the fact that 250+ global cities are already benefiting from FIWARE open source technologies and standards, this adds value to the OASC network. I look forward to a long-lasting and meaningful partnership".
Both organizations are set to create value and synergies across many other areas. As part of the collaboration, they have agreed to the following:
FIWARE to become a Strategic Partner of OASC and join OASC's Technology Council;
OASC to become a FIWARE Associate Member and an Attending Member of FIWARE Foundation Board of Directors;
Both organizations will join each other's respective Mission Support/Technical Steering Committees and actively contribute to each other's relevant Working Groups;
They will collaborate on digital twin and artificial intelligence standardization requirements, and the open source implementation of jointly identified standards requirements;
Both will foster adoption among academia, researchers, and companies (among others) of open standards for open source technology, used as reference implementation of such standards;
Both organizations will disseminate the results of their collaboration through regular events and seminars, reassuring their commitment to driving wide-scale adoption of, in particular, data spaces, open technologies, Digital Twins, and AI.
With regards to the latter, FIWARE Foundation and OASC will be presenting such outcomes in their upcoming Summits, respectively, the FIWARE Global Summit (Jan. 19-20, 2022, Gran Canaria, Spain) and OASC CITYxCITY Festival (Jan 12-13, 2022, Brussels and online). Filled with world-class innovation, collaboration, and networking, the FIWARE Global Summit is open to all FIWARE members, partners, enthusiasts and newcomers — from startups to global players, public admin to academia, developers to strategists, project managers to CxOs — to meet and showcase solutions that are driving the digital transformation of cities and regions. The CITYxCITY Festival will bring together the OASC community, even in these difficult circumstances.
Additionally, on December 2 (1:30pm – 4:30pm CET), both organizations will join the 'Smart, Green and Resilient Cities and Communities — Dialogue between EU Mayors and the Commission". Moderated by Thierry Breton, Commissioner for the Internal Market, the event gathers dozens of EU Mayors from  the  Living-in.eu movement — promoted by OASC and with FIWARE an active contributor — and the Intelligent Cities Challenge to discuss cities' priorities, challenges and expectations in relation to their transition  towards a sustainable future.
Living-in.eu is an association of politics and civil society aiming to promote the sustainable digital development of cities in Europe, supported by the European Commission and the European Committee of the Regions. Its leading principles are determined in the Living-in.eu declaration and include citizen-centric approaches, cities as open innovation ecosystems, ethical and socially responsible access, use, sharing and management of data, technologies as key enablers, interoperable digital platforms, among others. A natural extension of FIWARE's open source mission, FIWARE joined the Living-in.eu association earlier this year.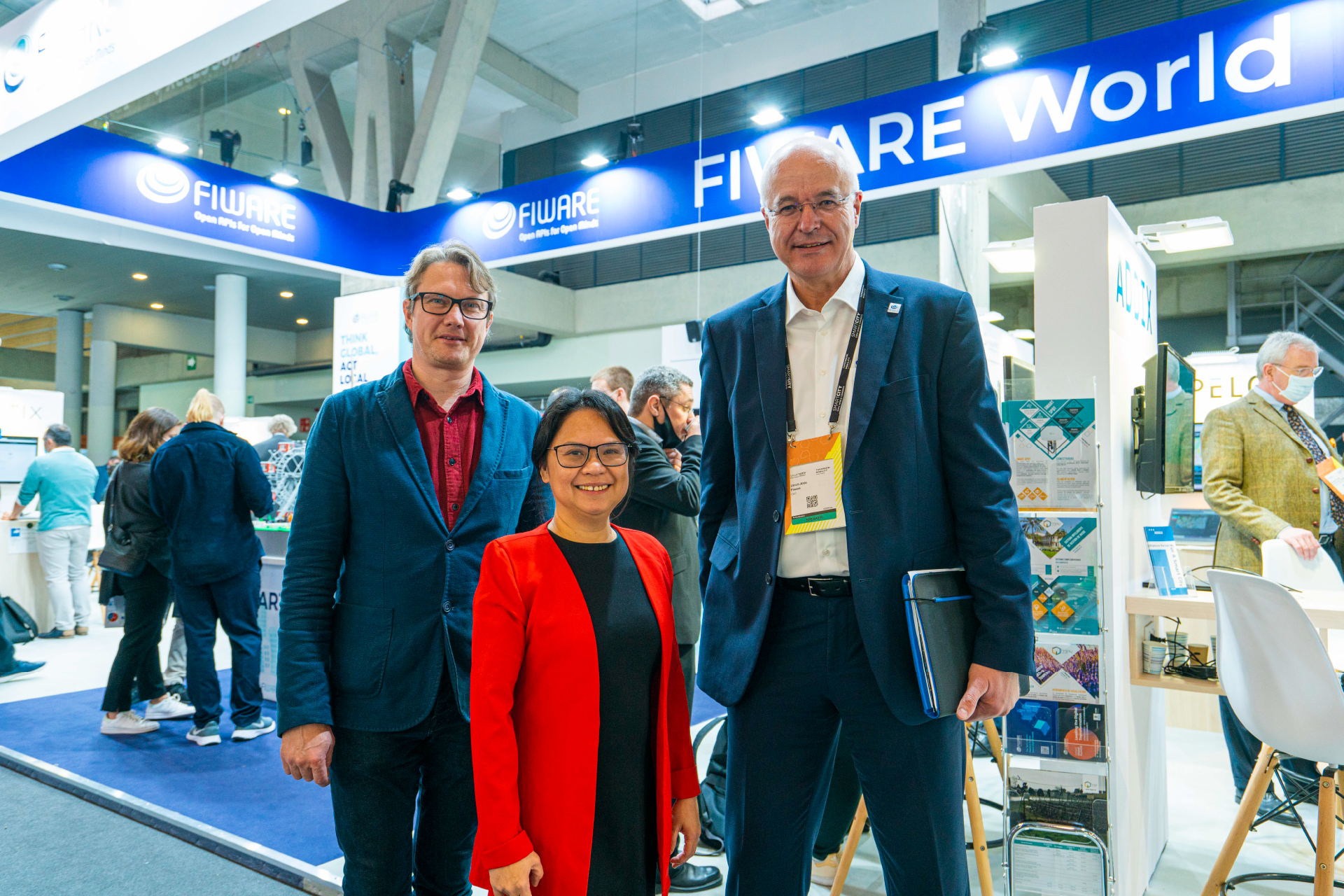 OASC Chairman Martin Brynskov (left-hand side), OASC Executive Director Geni Raitisoja (center), and FIWARE Foundation CEO Ulrich Ahle at the Smart City Expo World Congress (Nov. 16-18, 2021, Barcelona, Spain). © FIWARE Foundation.
About FIWARE Foundation
Together with its members and partners, FIWARE Foundation drives the definition — and the Open Source implementation — of key open standards that enable the development of portable and interoperable smart solutions in a faster, easier and affordable way, avoiding vendor lock-in scenarios, whilst also nurturing FIWARE as a sustainable and innovation-driven business ecosystem.
The foundation achieves this through the support of a fast-growing global community that shares a common vision and combines their efforts toward making FIWARE the Open Source technology of choice for industries, governments, universities and associations to reach their full potential and scale up their activities, thereby, entering new markets and growing their businesses. Founded in 2016, the foundation has Atos, Engineering, Red Hat, NEC, Telefónica and Trigyn Technologies among its 450+ members. For further information, refer to FIWARE's Press Kit and follow the organization on Twitter, LinkedIn, and YouTube.
Press Contact
Val De Oliveira: valdirene.deoliveira@fiware.org

About Open & Agile Smart Cities (OASC)
OASC was founded in 2015 and incorporated in 2018 to give cities and local and regional administrations a voice towards technology providers and regulators. OASC members are represented by the Council of Cities, currently led by Porto (Portugal), with Vienna (Austria) and Rotterdam (The Netherlands). Together, they work towards establishing a minimal but sufficient technical common ground that reduces the risk when investing in digital technologies and improves their capacity to reach their policy goals.
OASC oversees the development of the so-called MIMs (Minimal Interoperability Mechanisms), which are a way of ensuring that data can be shared consistently and reliably between systems. The MIMs include Personal Data Management (MIM 4) and Fair AI (MIM 5). In Europe, the MIMs Plus are being developed by the Living-in.EU movement, where OASC chairs the Tech Subgroup. For more information about OASC, visit the website or connect on social media.
Press Contact
Saara Valtasaari: saara@oascities.org