Plan your visit
Discover the extraordinary Global Summit venue, some preselected hotels, the Canary Islands' business ecosystem, and an archipelago of particular and breathtaking characteristics.
FIWARE Global Summit is famous for its all-in-one flexible approach at easily accessible venues at stunning welcoming locations. Designed to give all FIWARE fans and experts, newbies and users the chance to experience innovation, collaboration, project and educational opportunities, and enough time and space to talk to peers, each participant can build his/her programme to the perfect individual mix.
This time, FIWARE has been working with The Institución Ferial de Canarias (INFECAR), a well-known meeting point for activity and economic events close to the seaside and with large garden areas. INFECAR is considered to be the absolute leader in holding events and trade fairs in this part of the Atlantic.
The FIWARE team is arranging for the Grand Opening theatre, open networking spaces, seating corners, coffee break pavilions, and much more. This venue will allow us all a first-class FIWARE experience in the Canary Islands.
How to reach FIWARE Global Summit.
We made it all easy for you: you have all important locations, recommended hotels and our Summit venue within a 15 minutes driving distance.
| Title | Address | Description |
| --- | --- | --- |
| | Av. de la Feria, 1, 35012 Las Palmas de Gran Canaria, Las Palmas, Spagna | |
| | C. Ferreras, 1, 35008 Las Palmas de Gran Canaria, Las Palmas, Spagna | ★★★★ |
| Hotel Cristina by Tigotan | C. Gomera, 6, 35008 Las Palmas de Gran Canaria, Las Palmas, Spagna | ★★★★★ |
| | C. Alfredo L Jones, 40, 35008 Las Palmas de Gran Canaria, Las Palmas, Spagna | ★★★★ |
| | GC-1, 35230 Telde, Las Palmas, Spagna | |
| | Paseo Alonso Quesada, s/n, 35005 Las Palmas de Gran Canaria, Las Palmas, Spagna | |
While FIWARE is growing on a global scale, we want to give you direct access to experience the cities and countries where FIWARE is successful, meet the local people, learn about their cultural heritage and enjoy what fantastic business and touristic places have to offer – including their powerful companies, universities and institutions.
Gran Canaria is in one of Spain's Canary Islands, off northwestern Africa. Known for its black lava and more than 80 stretches of white sand, the main bulk of the Canarian economy centers on the tourism industry, putting a strong emphasis on all that includes the Green, Blue and Sustainable Economy. Locals rely on the banana industry and other agricultural exports. The region, including Tenerife and Madeira, have been strongly growing as an international hub for digital services.
Discover Gran Canaria Brochure
As a speaker, co-exhibitor or attendee of the FIWARE Global Summit, you are entitled to use exclusive booking services providing great deals/conditions on accommodation.
FIWARE takes no responsibility for booking choices, payments, booking confirmations or cancellations, but we are happy to provide you with fantastic suggestions and booking support contact.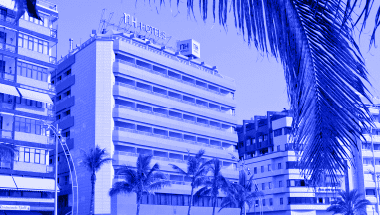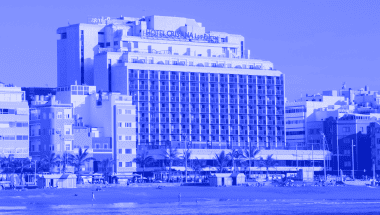 Hotel Cristina by Tigotan
★★★★★