The forth German-speaking FIWARE Networking Event took place in the stunning Mulvany Villa of the city of Herne, and this time brought together more than 120 participants. It marked the start of the two-day program of Herne's first edition of the Smart City Days, and became straight away an ideal place to conduct networks and business talks with the stakeholders from the DACH region. FIWARE Foundation was extremely proud to welcome on stage the Major of the city of Herne, Dr. Frank Dudda. He opened FIWARE's fourth German-speaking event with an inspiring talk about bringing together technology with business addressing guests from Germany, Austria and Switzerland. Within less than a year, the newly founded FIWARE DACH community meet-ups have successfully grown to more than 300 participants!  FIWARE Networking Day embedded in Herne's two Smart City Days' program with  exciting news from science, business opportunities and barbecue The FIWARE German-speaking event presented a rich program covering multiple hot topics such as: 
Data Spaces;

The i4Trust Collaboration Programme of FIWARE and iSHARE technologies to accelerate Data Spaces in line with

DSBA Technical Convergence recommendations

,

Developments in the Smart Mobility domain and autonomous driving based on FIWARE technologies, 

Smart Geo-Solutions and transferrable use cases, 

Metaverse, artificial intelligence (AI) and Open Source technologies for Smart Cities, 

The new Herne digital strategy 2030 and the best experiences, 

Regional and DACH cooperation, 

Opportunities to collaborate at the biggest international fairs, like for example,

Smart Country Convention

,

IAA MOBILITY

,

Smart City Expo World Congress

. 
This time, FIWARE brought a variety of insight-giving presentations from the leaders of the digital transformation such as: Jonathan Behm, Managing Director, Neue Mobilität Paderborn e.V., Gianluca Dianese, Director, IDEASForum, Pierre Golz, CDO, City of Herne, Katharina Hogrebe, Project Manager at Südwestfalen Agentur GmbH, Lukas Künzel, CTO, ms.GIS, Prof. Dr. Dr. Björn Niehaves, Professor for Informatics, University of Bremen, Prof. Haydar Mecit of the Hochschule Bochum, Christoph Mertens, Head of Adoption at International Data Spaces Association (IDSA), Aleksandar Vrglevski, Technology Expert, Vienna Business Agency, Dr. Dennis Wendland, Technical Lead & Architect, FIWARE Foundation.
Developing FIWARE iHubs and Evangelist Community for an open digital future
At the official press conference, the main speakers Prof. Dr. Jürgen Bock – Ruhrvalley, Cristina Brandtstetter, CMO FIWARE, Dr. Dr. Dirk Drenk, Herne.Business, Major Dr. Frank Dudda, Pierre Golz, City of Herne and IDEASForum highlighted, beside others, the special role of FIWARE Innovation Hubs (iHubs) in the market of digitalization as well as new opportunities coming from the strategic cooperation of FIWARE iHubs like IDEASForum in their region, and beyond. 
"The FIWARE iHubs network plays a fundamental role in the FIWARE mission and market adoption helping organizations in the digital economy to be more competitive and innovative. FIWARE iHubs on their side support local and regional companies, cities, developers or academia in their innovation and digitalisation journey by offering easy access to this driving trend of Open Source technologies' use. They can offer business development support, training or the setting up of a lab. They are a hub for creating thriving business networks often reaching out far beyond their country's border by taking advantage of FIWARE's global presence.  With today 39 iHubs worldwide, we are more than proud to see IDEASForum as one of them – a very successful and growing one. Since the very first day of its foundation, it stood out by fastly building strong regional business relationships, running community driving events, and sharing ideas and results with the wider iHubs network for hands-on collaborations, e.g., for a FIWARE-based Metaverse strategy", commented Cristina Brandtstetter, CMO, FIWARE Foundation.
Following the strategy of developing iHubs and helping local digital businesses to be more competitive in the current digital economy with the moto "Think global – Act local", FIWARE signed a Memorandum of Understanding (MoU) on a longer-term strategic collaboration between FIWARE, IDEASForum, one of the 39 FIWARE iHubs, and ruhrvalley Cluster.
Cristina Brandtstetter added: "One strong collaboration space between IDEASForum, the city of Herne and FIWARE has been for many years 'Smart Cities', where FIWARE technologies are meanwhile considered to be the global standard. Supporting their many digitalization initiatives and efforts has been instrumental, but also a matter of the heart, on the way to these amazing Smart City Days where we are today, even embedding the German-speaking FIWARE Networking Event in the overall 2-days program with guest from all over the DACH region. I am truly excited to see the most diverse players, regions and countries pooling their forces in their endeavor to smarter cities".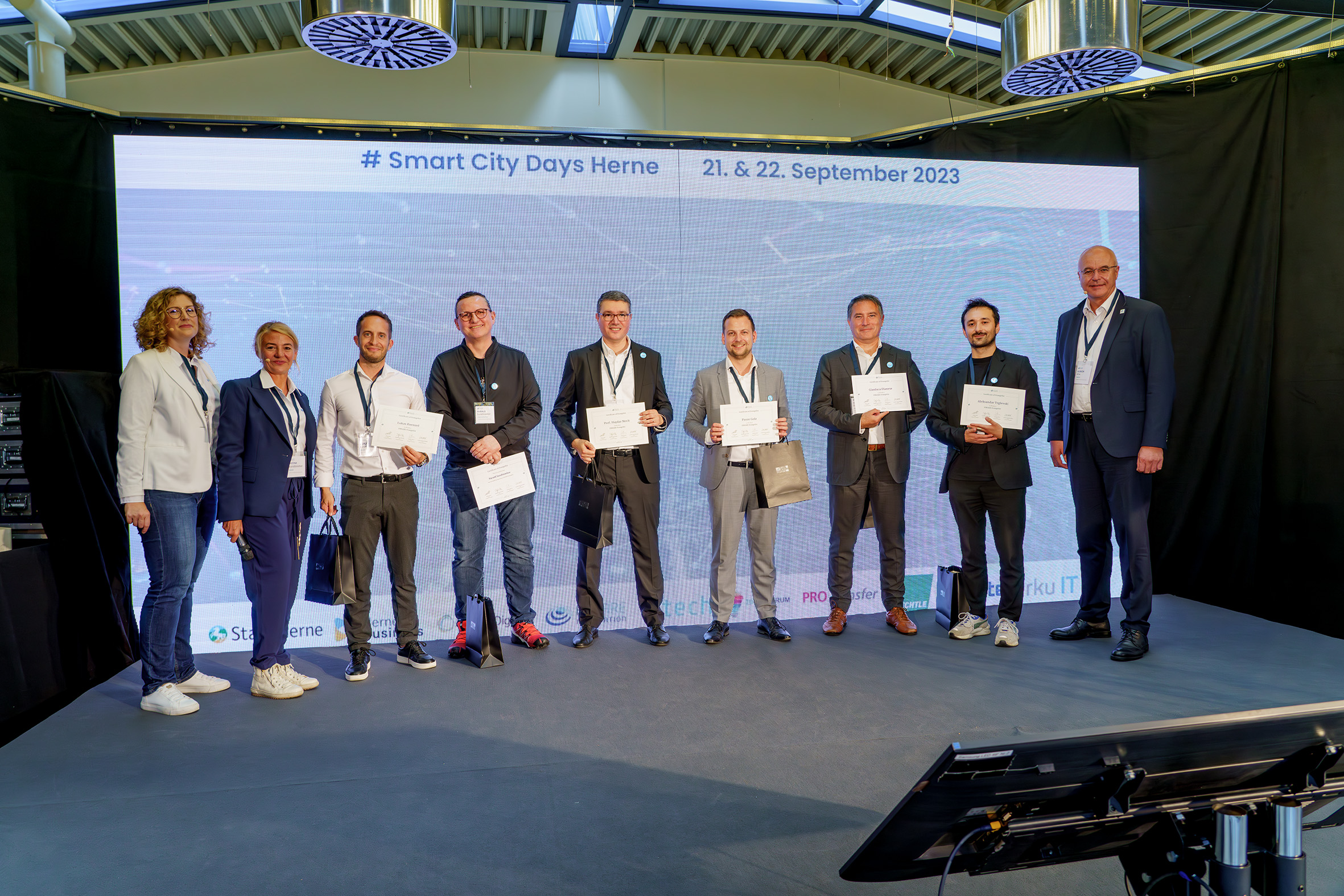 Source: press office city of Herne
Together with a global ecosystem of members and partners, FIWARE grows and develops a worldwide
Evangelist Community
committed to fostering a new generation of interoperable solutions and paving the way for a data-driven economy. It couldn't get any better than seeing all newly awarded FIWARE Evangelists from the DACH region coming on stage and receiving their certificate, a unique pin and Evangelist-specially branded gadgets from FIWARE CEO Ulrich Ahle and Cristina Brandtstetter. Both welcomed the new six FIWARE Evangelists:
Gianluca Dianese
,
Pierre Golz, Lukas Künzel, Prof. Dr. Haydar Mecit, Harald Sundmaeker and Aleksandar Vrglevski.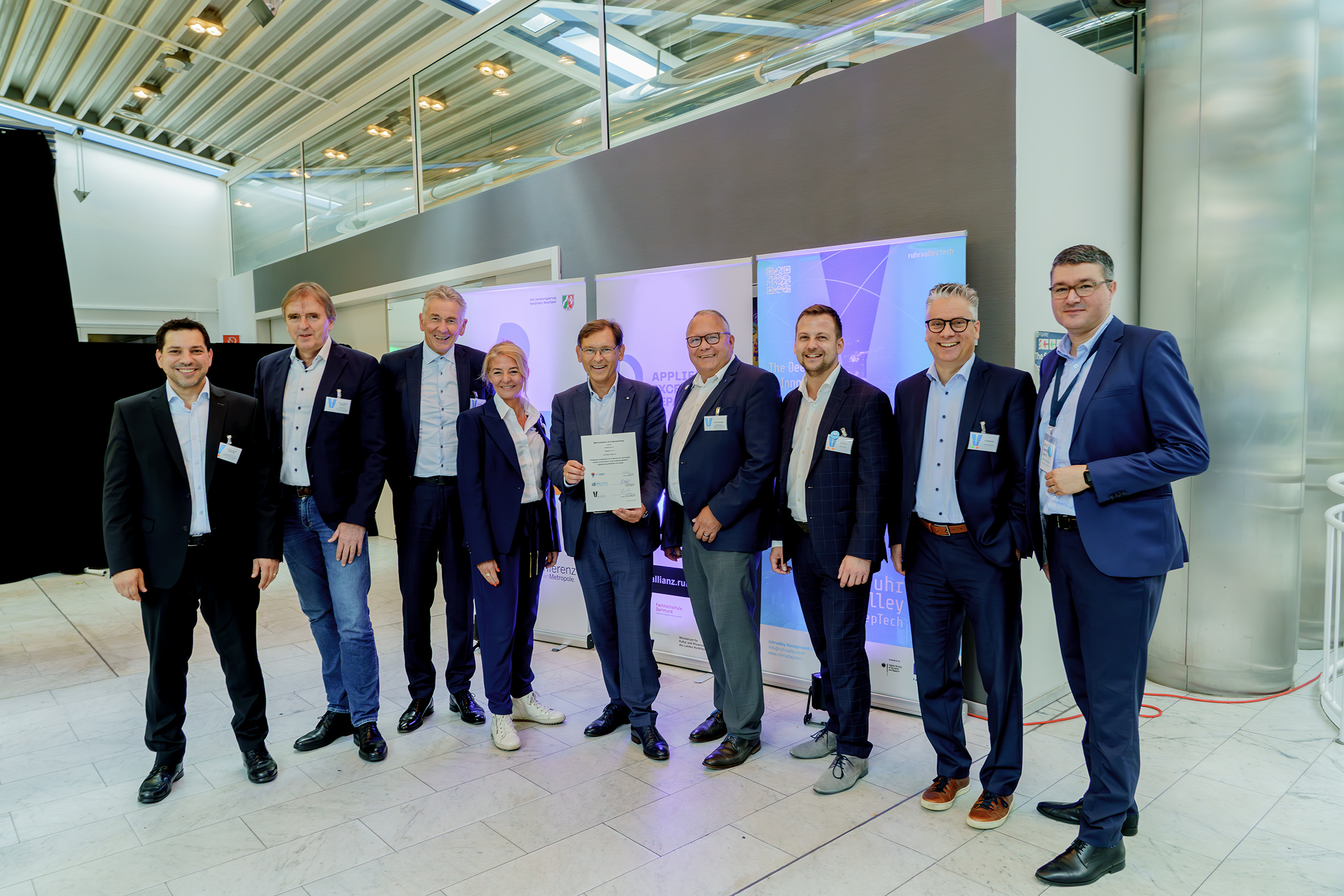 Source: press office city of Herne
Famous eye-catcher Smart World by FIWARE 
The FIWARE famous eye-catcher – Smart World by FIWARE attracts hundreds people who are keen on Open Source and Digital Twins technologies for Smart Cities, Smart Energy, Smart Industry, Smart Agrifood and Swart Water. Twelve modules built by LegoⓇ bricks present the possibilities that open up for a city when it collects, shares and uses data. This time, not only experts but also pupils from the regional schools could learn on hands-on, interactive, educational guided tour how digital solutions and technologies based on FIWARE Open Source work for smart parking and Smart Mobility, water and energy management, E-Governments, Smart Tourism, Smart Industry, Smart Building and Smart Lighting in the real world.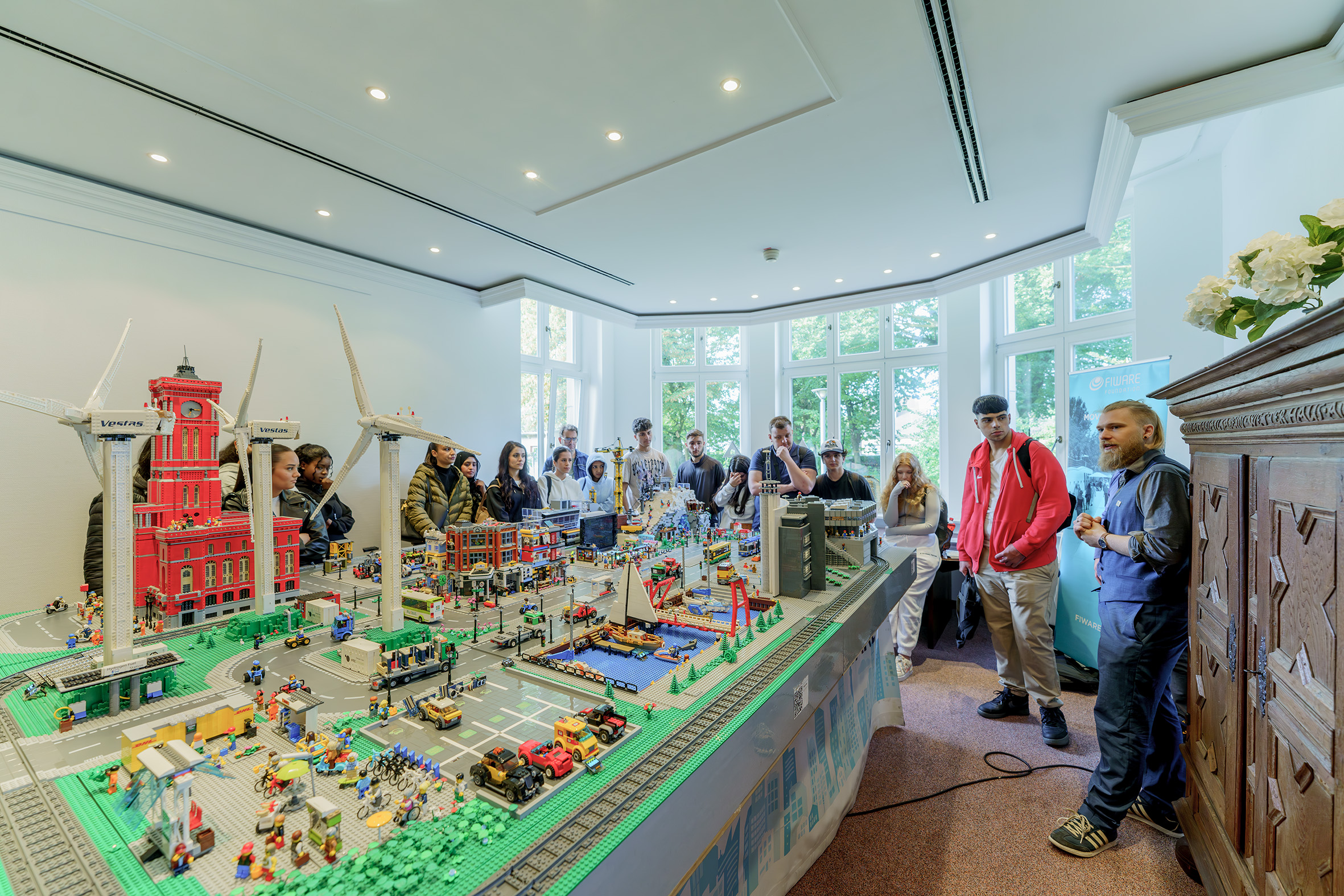 Twice a year the German-speaking FIWARE Networking Event gathers representatives of business and nonprofit organisations, universities, individuals, start-ups, municipalities and many others from DACH region to get inspired by the speakers and topics and expand the network to build the digital future all together! You can be a part of this community!
Stay updated with the latest FIWARE news and don't miss the next fifth German-speaking FIWARE Networking Event. Subscribe to the FIWARE Newsletter here.