FIWARE Foundation can already confirm: the world-famous IAA motor show in Munich does not only remain one of the most important fixtures on the automotive calendar, but also performed successfully the conceptual reorientation towards mobility concepts. FIWARE Foundation, for the first time, took part in the IAA Mobility Summit 2023 being one of the German Smart City Association (Bundesverband Smart City) co-exhibitors and generating great synergies with other co-exhibitors. Partners at the booth included VECTOR Informatik, Elinta Charge, 2Hire, and São Paulo Negócios.
During the five exhibition days, the German Smart City Association and FIWARE agreed to sign a mutual membership agreement to support each other in their journey of creating smart(er) cities. Cristina Brandtstetter, CMO FIWARE Foundation and Mirko de Paoli, Chairman of the Board, German Smart City Association, sealed this collaboration with a partnership handshake.
Figure 1 . left to right: Cristina Brandtstetter, CMO FIWARE Foundation, Mirko de Paoli, Chairman of the Board, German Smart City Association
Five days, fifty plus deep-dive meetings and thousands of visitors at the Smart City Area of IAA MOBILITY hosted by the #BVSC — what an incredible experience! Over 1,500 cups of coffee fueled our conversations as we forged new leads and partnerships. The booth team was honored to have welcomed on the booth guests from business, politics, city administration as well as country ambassadors adding a global perspective to discussions beyond Germany and Germany related players.
FIWARE is welcoming the new IAA's flavour of showing mobility concepts
The IAA Summit is appreciated for being the world's most important, international B2B platform for mobility, connecting mobility enthusiasts, experts and the community in one place. Attending this world's largest mobility event offers manufacturers, supplies, tech companies, service providers or start-ups huge branding and selling opportunities, and thus was a test balloon for FIWARE and being part of the ongoing transformation of the IAA. Almost 750 exhibitors from 38 countries presented performance strengths and innovations in Munich city center and FIWARE Foundation is one of them. FIWARE took the opportunity to additionally show the latest updates on German and EU funded projects such as Battery Pass, NeMo.bil, GreenMov where FIWARE is playing a driving mobility-related (and not only) role.
Contributing to the next IAA show
Several talks with the IAA Management and its Smart Cities key accounts showed that planning has already started for 2025 and that Smart Cities and Mobility concepts will be at the forefront of the new IAA concept — involving FIWARE. FIWARE demonstrated openness to also support the next IAA in two years from now by offering contributions in the spaces of Open Source-based technologies and concepts as well as use-cases and innovations together with its partnering cities and members.
"FIWARE aims to provide the open source platform technology for our smart digital future and build an open sustainable ecosystem around public, royalty-free, implementation-driven and interoperable software platform standards. This will ease the development of new smart applications in multiple sectors. One of the most important sectors, for sure, is mobility. Together with our members and partners, we have been developing Smart Mobility data models, applications, and solutions, based on market-proven Open-Source technologies and implemented them around the world. That is why it is strategically interesting for FIWARE to be part of the IAA Smart Mobility Summit", — comments Cristina Brandtstetter, CMO, FIWARE Foundation.
For the five days of the IAA Mobility, dozens of experts and leaders in their fields came along. To name but a few:
The Council of the City São Paulo;
PROCOLOMBIA with David Canal, Senior Investment Advisor Central and Eastern Europe;
Innovation Energy & Durability Data Center (IEDDC) with Mohamed Chriha, President;
Technische Hochschule Deggendorf with Prof. Michael Heigl;
L&T Technology Services from India with Ramakrishna JVS, Global BU Head;
NeMo.bil project with Jonathan Behm (Neue Mobilität Paderborn e.V.);
Smart City Brasov in Romania.
Should you be interested in Open Source and Open Standards technologies for Smart Mobility or Smart Cities, or their use in other important sectors like Smart Energy, Smart Water, Smart Agriculture or Smart Industry, you have next unique opportunity to meet the FIWARE team and all FIWARE Management on the FIWARE booth at Smart Cities World Expo Congress in Barcelona 7-9 November, 2023.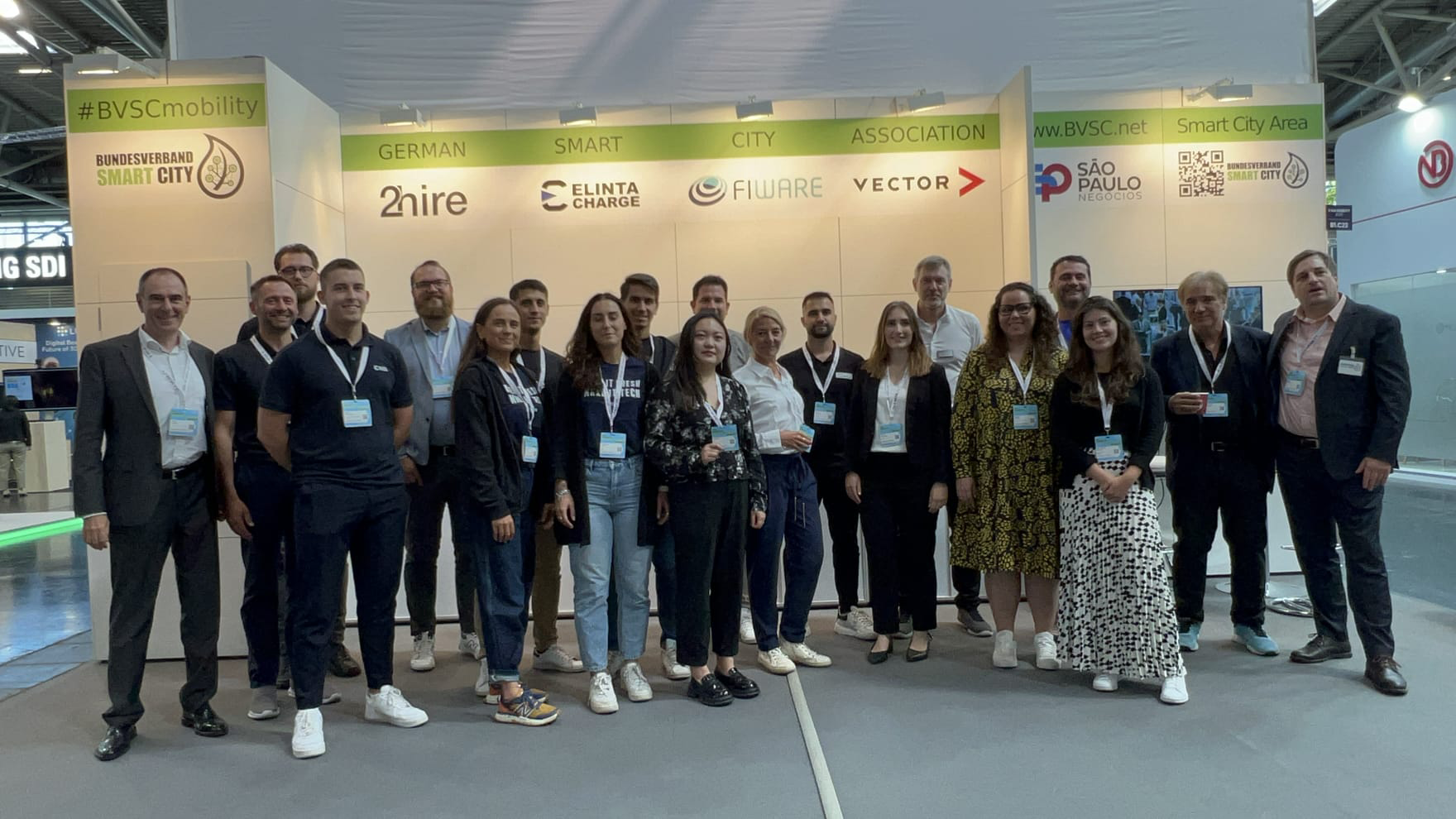 Figure 2 . Representatives of German Smart City Association, Elinta Charge, FIWARE Foundation, VECTOR Informatik, 2Hire and São Paulo Negócios.
For more details, don't forget to sign up to the FIWARE Newsletter.