WISDOM ACROSS THE BOARD   //   INTERVIEW #18
If you follow this interview series closely, you may remember that late last year, we ran a feature on Juan Marcelo Gaitán Leiva, the then Chairman of the FIWARE iHub Committee. This time, we are very thrilled to turn our attention to Gonzalo Alfredo La Rosa, the newly elected Chairman of the FIWARE iHub Committee. Before we get Gonzalo's perspective on the matter and discuss what lies in store for the FIWARE iHubs Network, let's get to know him a bit, shall we?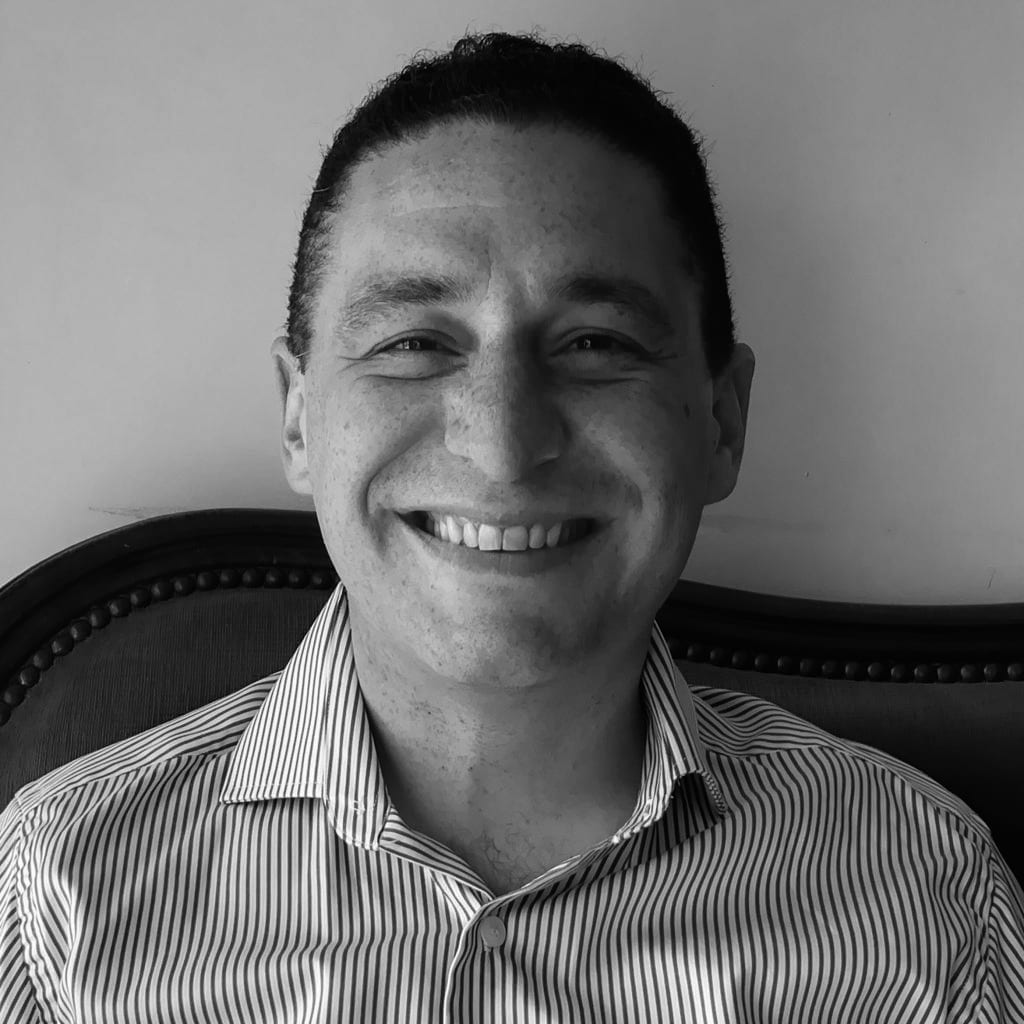 Originally from Argentina (South America), Gonzalo La Rosa has been working in the public sector for the past 20 years (at federal, sub-national, and local government levels), trying to deliver innovative public management and evidence-based public policies. "That's why I am convinced that data and information management are the future of public governance", he tells us. He may be on something and we will surely address that in detail later. 
His expertise goes beyond that as he has also worked in several consulting projects focused on SMEs, and hence knows a thing or two about promoting technological ventures. He is also a coordinator and teacher at various university training programs, which allows him to keep constant and direct contact with students and professionals who are seeking to improve their skills.  
On a personal note, he enjoys traveling, likes science, fiction series and he is a fan of watching and playing football (as most South Americans are). Gonzalo is especially fond of Argentina's Boca Juniors club, of which he is also a member. 
The interview has been edited for length and clarity.
FIWARE Foundation: First of all, congratulations on the election, and may your chairmanship be a fruitful one. Why have you chosen to lead this role? 
Gonzalo La Rosa: Well, I am a challenge seeker. I enjoy pushing my abilities to the limit to solve problems, to present innovative solutions to today's pressing challenges. On that front, the FIWARE iHubs Network presents a massive potential for cities and communities. Together with Ali Benbrahim (the newly elected Vice-Chair), we are looking at many projects that can add further value to FIWARE iHubs, and we are already working on the roadmap for further developments and implementations with FIWARE tech.

The former Chair and Vice Chair have done an excellent job, so we aim to continue their work and will try to deepen the scope of it. Also, I believe that we can further promote, grow and strengthen the FIWARE Foundation vision through the iHubs. 
FIWARE Foundation: You already have a very active role within the FIWARE iHubs and leading the network certainly allows you to expand that role considerably. What experiences do you bring from your current role and your career to date that you feel are valuable to the Committee and the foundation altogether? 
Gonzalo La Rosa: I am a constant enthusiast of spaces for networking, interrelation, and exchange of experiences and ideas. Throughout my career, I have promoted and coordinated networks and initiatives for collaborative work and shared knowledge, because I am convinced that it is the only way to achieve great things. 

This is why my consultancy firm is called Connected Human Talent, because one of my main assets is centered around generating and strengthening connections between people, companies, institutions and governments. And that is the main objective I have for the FIWARE iHubs Network worldwide: to generate new strategic ties, to welcome new members and enhance existing ties, partnerships and the current iHubs portfolio. 
FIWARE Foundation: Being a member of the FIWARE Committees presents trials of many kinds since it requires being attuned to people from all walks of life and handling a large variety of tasks on top of your role as Director of the Instituto Ciudades del Futuro (a FIWARE iHub in Argentina). In hindsight, what do you believe to be the main opportunities when taking on such a role at FIWARE Foundation? 
Gonzalo La Rosa: The most relevant task we have at hand is ensuring the growth of the iHubs Network and promoting pilot projects across all the territories where we have iHubs located at. This will, in turn, consolidate and enlarge the FIWARE Community as a whole. Additionally, we are convinced that with FIWARE as a technology and concept model, digitization and better data management models (both public and private), can be deepened in all areas.
What are your expectations at the prospect of working closely with Ali Benbrahim (Committee's Vice Chairman and the person in charge of the FIWARE iHub Bridge Tunis – the first and only iHub FIWARE in Africa to date? How may your profile complement each other?  
Gonzalo La Rosa: We have already had several meetings, and the first on the agenda was agreeing on values and the working methods for the Committee. We will follow a shared management path that will surely bear the best results for the iHubs Committee and for FIWARE Foundation. We both belong to regions in which FIWARE has a lot of growth potential (South America and North Africa, respectively), and we both live in developing countries that can take advantage of platforms such as FIWARE that provide high technology on Open Source models and a thriving, committed Community behind it. 

Furthermore, we also share a similar approach to working, and planning (namely, with clear objectives and indicators), and that is why we will prepare a Strategic Plan for the development of the iHubs that we will be presented to the Committee in the due course. I am sure that we will have great results working together.
FIWARE Foundation: Whereas SMEs and local communities play a key role in powering economies worldwide, many still lack the digital savvy and the innovative tools to keep up with the competition. From your perspective, what are the biggest challenges for small and medium-sized companies (SMEs) as well as cities when trying to put their digital vision into practice? What about strengths? 
Gonzalo La Rosa: Due to economic and structural constraints, SMEs and local governments usually spend most of their time and efforts solving emergencies, 'putting out fires', which do not allow them feasible time to address relevant issues, such as the development of new skills to strengthen the talent of their teams and citizens, or the promotion of innovative initiatives and research. More than ever, the digital, virtual scene has played a key role in our lives as a result of the current pandemic, but there is still a long way to go with regards to digitalizing the management process of SMEs.

The reality is that across traditional, non-technological SMEs, especially in developing countries, the advantages of digitalization for companies (whatever size they may be) are being downplayed and that needs changing. We all know that digitalization is no longer an option for SMEs but a necessity, so we are at the right time to give the necessary boost to the digital development of organizations. One of the most pressing needs is to generate competencies within teams, with training programs as well as the promotion of pilot projects. Additionally, having the necessary resources (from a financial and manpower standpoint) to promote such pilot projects is also important.

In terms of strengths, technology is the driver. Organizations are always prone to innovation, and SMEs are more flexible and resilient, which allows them to adapt more quickly to changes, which are increasingly constant in today's business environment.
What role do the FIWARE iHubs and Open Source tech play in enabling such companies and local tech ecosystems to improve their products, services, processes and boost competitiveness? 
Gonzalo La Rosa: iHubs have the potential to empower local technological ecosystems, so we have to ensure that they become connection nodes, and articulators of a global strategy, in which all the actors (governments, companies, entrepreneurs, individuals, academic institutions, civil society) from these local communities can participate. The iHubs have to be not only promoters of FIWARE tech and its ever-growing ecosystem but also enthusiastic about Open Source collaborative approaches, which includes shared knowledge and exchange of experiences and best practices. 

Likewise, within the FIWARE iHubs Network, there is a clear spirit of sharing and collaborating with one another, as some iHubs have several years of project development, and others are just beginning. The iHubs eat, sleep, and breath technology, and FIWARE is the ideal platform for them. 

Open Source values have also to be cherished by large corporations present in such territories so that they can encourage SMEs to join this ecosystem of innovation and together generate, work on technological development projects. FIWARE iHubs must be central and protagonists in this transformation process. 
Can you please give us a practical example of what this collaborative, protagonist approach may look like?
Gonzalo La Rosa: Of course. The Instituto Ciudades del Futuro (Cities of the Future Institute, in English) FIWARE iHub has been promoting various virtual training programs and webinars in conjunction with universities. With regards to projects related to sustainability, we have also started the RespirAR project for collaborative air quality measurement, together with the National University of La Plata (Argentina), using as a reference the Respira project of the iHub FIWARE Space in Badajoz. These are just a few examples that demonstrate the strong spirit of sharing and collaboration present within the FIWARE  iHubs. 

Additionally, our iHub has deep roots within the tourism sector in Argentina with several initiatives related to smart tourist destinations, including the creation of the Argentine Network of Smart Tourist Destinations, which comprises more than 140 local governments.

 

Also, in order to disseminate the model and share experiences, in November 2020, we launched the International Fair of Intelligent Destinations, together with the National Technological University of Buenos Aires, and with the support of FIWARE Foundation (a Platinum sponsor at the event). During the event, 400 international speakers, and 30.000  visitors from 50+ countries exchanged ideas and networked in a virtual setting. 

Last but not least, together with FIWARE Foundation, we created the Standard Data Models for Smart Tourism Working Group which is already generating traction. 
FIWARE Foundation: Under the new leadership, in which ways will FIWARE iHubs further support companies, cities, and developers in their innovation strategy? What highlights/strategies are you launching in the next few months to accomplish that?

Gonzalo La Rosa: We are designing the Strategic Plan of the FIWARE iHubs Committee for the period 2021-2023, and we will be soon meeting with the other committees at FIWARE Foundation, and also with each iHub to learn about their achievements and successful projects, but also their challenges, expectations and needs, and this information is the most relevant inputs for us to conclude this planning. At the beginning of March 2021, we will have more details on this. 

Additionally, I believe it is important to further develop content and training programs about the FIWARE platform in various languages, and it is also necessary to work on the generation of new spaces for the promotion and exchange of knowledge and initiatives. It is also imperative to seek financial and technological resources to promote pilot projects. 

Finally, it is also necessary that Open Source technological solutions – that are already implemented and working in other domains and regions – can be shared among the FIWARE Community (and that includes the iHubs), thus saving time and resources in the development of pilot projects in local communities that are still in early stages, such is the case in Latin America, North Africa and parts of Asia. Learning from the successful efforts – and mistakes – of others is a great way to get things right. 
Finally, the FIWARE iHubs are currently present in dozens of locations worldwide, from Argentina to the U.S, but there is clearly room for growth. What expansion/growth strategies do you have in mind not just for new iHubs but also for the existing ones? Overall, where do you see the FIWARE iHubs Network in three years from now?
Gonzalo La Rosa: As I mentioned before, the FIWARE iHubs Network growth strategy is a key part of the Strategic Plan that we are designing with the support of all iHubs. Our key goal is to have fully functioning iHubs in the major cities and technological ecosystems of the G20 countries. The FIWARE platform is ideal to be used by cities and communities that are in search of sustainable development.

In particular, I personally aim to drive efforts into Argentina, a federal country with a vast territory. I believe that there is great potential to generate new iHubs in other major cities and with mature technological ecosystems, so it will also be another challenge for this year.

We have a lot of work ahead of us, but we are convinced that with the support of the FIWARE Foundation and all the iHubs, we will be able to grow and strengthen the network and the community. As the slogan goes: We will think globally (about how to contribute to the sustainable development of our cities and territories) and act locally (by using cutting-edge technologies and working in a collaborative spirit with all actors that are part of entrepreneurial ecosystems from South America to East Asia and beyond). 
Stay tuned as we will be bringing exciting new interviews throughout 2021.