WISDOM ACROSS THE BOARD // INTERVIEW #14
If you follow us closely, you may remember that two weeks this series turned its attention to the Smart AgriFood sector as we caught up with Harald Sundmaeker, Co-chair of the Smart AgriFood MSC and a Senior Researcher at ATB-Bremen. Today, we're very excited to talk to Juan Marcelo Gaitán Leiva – Chairman of the FIWARE iHub Committee and Director of FIWARE Zone – about a topic that's also quite close to the FIWARE Community: digital innovation hubs, FIWARE iHubs.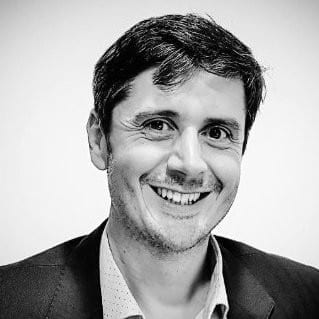 When looking into becoming more competitive in the current digital economy, some of the challenges faced by companies, research institutions, public administrations, and cities, in general, involve the lack of resources to fully understand and access disruptive technologies and solutions, digital tools and relevant networks and collaborations. This is where the FIWARE iHubs step in. Serving as innovation engines, FIWARE iHubs create the right connection between technology providers and the actual needs of local communities. These communities, in turn, go on to enable local digital businesses to thrive not only at a regional but on a global level by supporting companies, cities, and developers in their innovation and digitalization journey by offering easy access to Open Source technologies, business development support, and community building.
By breaking the traditional barriers for technology enablement and business acceleration with the usage of Open Source technologies and standards, FIWARE iHubs encourage the development of scalable, interoperable, and disruptive smart digital solutions across many domains to accelerate businesses, increase competitiveness and facilitate the diversification of local economies. By facilitating the collaboration between scientific research and private businesses, the access to training and mentoring, fostering entrepreneurship culture, among many other benefits, FIWARE iHubs optimize existing resources, whilst also nurturing the path for new ones to flourish. Before we get to the heart of what SMEs are facing today, and the role played by FIWARE iHubs in helping them to thrive, let's get to know Marcelo a little bit, shall we?
Juan Marcelo started his professional career with Telefónica in 1997 as a software developer. He has since then carried out a wider variety of roles, including software engineer, project manager, technology consultant. In his current role as Director of Telefónica's Innovation Center Smart Cities, Juan Marcelo oversees all activities related to FIWARE. For him, the best thing about his job is that it combines his two passions: technology and people. "I love to see, first hand, how technology can improve society and my role in the process. Not all the world's problems are solved by technology, but technology can solve many of them. I'm curious and I love to learn, so being in touch with the innovation ecosystem is a real privilege", he tells us.
Traveling, music, movies, and getting to know other places and other cultures are the other topics close to his heart. "It is very enriching for me to share experiences with people who do not see life the way I do. I'm passionate about the infinite possibilities of discussions when sipping a cafe or a beer.
The interview has been edited for length and clarity.
FIWARE Foundation: How long have you been chairing the FIWARE iHub Committee and why have you chosen to lead this role?
Juan Marcelo Gaitan Leiva: I've been chairing the Committee since its inception. I started in 2017 as interim president and after the first elections, I was officially appointed its Chairman.
FIWARE Foundation: What experiences do you bring from your current role and your career to date that you feel are valuable to the Committee and the foundation all together?
Juan Marcelo Gaitan Leiva: I work in a multinational company in the ICT world, with a very clear vision about the importance of the digital transformation, and the benefits it generates to today's society. Such experience has given me a very holistic vision of the world's business ecosystem. In addition, my work at Telefónica allows me to understand the reality faced by public administrations, whilst also being connected to the entrepreneurial ecosystems and the university environment. These three areas are the key elements on which the iHub concept is built upon, and I have connected the dots, created synergies between them, and then made sure that such knowledge is available to the FIWARE iHub community to help create the foundations for their construction and operation.
FIWARE Foundation: Being a member of the FIWARE Committees presents trials of many kinds since it requires being attuned to people from all walks of lives and handling a large variety of tasks on top of your role as Director of FIWARE Zone – a joint initiative between Telefónica and Junta de Andalucia, Spain, the iHub was created to drive the development of smart applications and services in the region, based on FIWARE technologies. What would you say are the main opportunities when doing Mission Support Committee work at FIWARE Foundation?
Juan Marcelo Gaitan Leiva: Without a shadow of a doubt, my experience within the FIWARE iHub Committee has been very enriching and positive. My relationship with the different members of FIWARE Foundation has always been excellent and we have understood each other perfectly. Moreover, we all pursue the same objective: making the FIWARE community grow faster worldwide. In each and every meeting I have been to, I have been able to learn from others and broaden my horizons as a person and professional. The FIWARE global iHubs network has always had a collaborative and united approach, which has surely allowed the iHub community to grow quickly and strongly.
What has been the greatest achievement/most successful moment with the work you are leading at the Committee so far?
Juan Marcelo Gaitan Leiva: I couldn't single out just one, since there have been so many. We started a roadmap 4 years ago, which allowed us to establish a solid and fair basis of operation of an element, the iHub, predestined to be the core of the FIWARE Community. And I think we have succeeded. We have created rules and operating standards, a clear vision, and mission for our activities and we have defined the elements necessary for iHubs to provide services to their given local community. Furthermore, we have created an inclusive classification model that defines the many different capabilities of iHubs, and the financing models. We have laid the groundwork for iHubs to grow in a robust and sustainable way. It is very encouraging to see the growth of FIWARE's Digital Innovation Hubs, something that we have created together and it is now fast spreading (currently, FIWARE has iHubs in 19 locations around the globe and many more are upcoming).
FIWARE Foundation: Whereas SMEs and local communities play a key role in powering economies worldwide, many still lack the digital savvy and the innovative tools to keep up with the competition. From your perspective, what are the biggest challenges for small and medium-sized companies and cities when trying to put their digital vision into practice? What about strengths?
Juan Marcelo Gaitan Leiva: In general, small businesses struggle to survive, and they usually do not have the resources or capabilities to carry out a digital transformation with a strategic and global vision, in the medium to long term. Therefore they need guidance, they need mentoring as to where they should go and how they should go on about running their business.

In such cases, a person or an organization that has a global vision and the right knowledge and connections, someone whose main interest is to recommend the best approaches for them can be the deal-breaker. And here is where the potential of the iHubs lies: transforming SMEs into competitive enterprises, with a place in the market and the ultimate goal to empower local economies.

In contrast, small and medium-sized companies are much more agile and have the capacity to adapt to changes in a much faster manner, which makes them very powerful at the moment.
What role does Open Source play in enabling such companies and local tech ecosystems to improve their products, services, processes, and boost competitiveness?
Juan Marcelo Gaitan Leiva: Open Source models are, by definition, environments that nurture entrepreneurship and innovation, as they open the door to anyone (individuals and companies) that wishes to join the digital revolution. It has no barriers to entry and therefore any company can make use of open components to improve internal processes, manufacture more competitive components in the market. As it is available to the public, anyone can make use of it and scale up their businesses.
FIWARE Foundation: In which ways do FIWARE iHubs support companies, cities, and developers in their innovation strategy beyond offering Open Source technologies? Can you please give us a practical example from FIWARE Zone?
Juan Marcelo Gaitan Leiva: The iHub has many ways to help local businesses become more competitive in the global marketplace: from FIWARE technology training to specialized courses and customized mentoring, to connecting them with potential customers to certifying and including their solutions on the FIWARE Marketplace.

To use a concrete case building from my experience managing the iHub FIWARE Zone in Spain: so far, we have trained more than 5.000 people, and have helped our members to get more than 3M euros of European funds to carry out innovation projects. Also, we have facilitated the path for Andalusian companies to their solutions in more than 6 countries, and more than 10 job positions have been created, thanks to FIWARE. We are currently financing (with 100,000 euros) companies that propose the best solution for an environmental management and sustainability platform for the Port of Algeciras Bay. In a few months, Andalusia will have a leading company in this sector.
Finally, the FIWARE iHubs are currently present in dozens of locations worldwide, from Montevideo (Uruguay) to Texas (U.S.). Where do you see the FIWARE iHubs Network in three years from now?
Juan Marcelo Gaitan Leiva: We are very happy with the growth experienced by FIWARE iHubs. These past years have been key to consolidate the foundation, and now it is time to grow and extend further. I am convinced that we will double the number of iHubs in the coming years. At the end of 2020, I will be passing the Chairman baton to somebody else and I hope the work continues in this direction. With that said, the real protagonists have been the members of the FIWARE iHub Committee, and in particular, the Vice-Chairman Daniel Villalba. With the support of FIWARE Foundation and the Committee, Villalba has been working extremely hard to get the iHubs network to the shape that it currently has. Regardless of who the next Chairman is, I rest assured that the iHub community is moving towards a great future.
Stay tuned as we talk next to Juanjo Hierro, Chairman of FIWARE Technical Steering Committee and CTO at FIWARE Foundation.