WISDOM ACROSS THE BOARD // INTERVIEW #4
Following last week's chat with Agustín Cárdenas Fernández, Director of Business Transformation at Telefónica Empresas, this week, we bring you a perspective from the other side of the world as we get together with Dilip Hanumara, CEO of Trigyn Technologies, a FIWARE Foundation Platinum Member.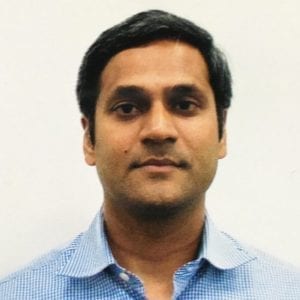 ​Established in 1986, Trigyn is a publicly-traded multinational information technology firm with more than 1,500 professionals located worldwide. Operating in the fields of consulting, managed services, custom solution development, re-engineering, maintenance and support, integration services, web-based solutions, mobile, responsive sites, enterprise content management, and Open Source solutions, Trigyn retains a state-of-the-art development center in India, with a corporate presence in North America, Europe, Asia, and Africa.
Before we dive into the interview specs, let's get to know Dilip a tiny bit. With a Bachelor of Engineering in Computer Science and Engineering, Dilip brings nearly two decades of work experience in operations, P&L oversight, product development, and multichannel distribution at startups and major organizations.
Dilip is also the founder of DHIRA, an organization focusing on digital data, striving to help companies to move forward with their customer-stakeholder experience, business-corporate operations, and data-driven decision-making by using transformative digital technologies such as Artificial Intelligence (AI), Machine Learning (ML) and User Experience Centric Design (UXCD). Prior to starting DHIRA, Dilip was a Director at BlackRock, an investment management company based in New York.
FIWARE Foundation: Why do you want to be on the board?
Dilip Hanumara: Trigyn joined FIWARE Foundation in 2019 as a Platinum Member and in order to build the sort of long-lasting relationship and impactful strategic partnership that we very much embrace here at Trigyn Technologies, I decided to take a rather more proactive role.
FIWARE Foundation: What experiences do you bring from your current role and your career to date that would be valuable for the Foundation?
Dilip Hanumara: In my role as a Board Director, I have several major goals to achieve. First and foremost, I will strive to increase FIWARE international presence and brand awareness, especially in India and North America (one of Trigyn's largest markets). Secondly, when I look at FIWARE Open Source technology, I see a tremendous opportunity to expand the platform. My aim is to continue to build the FIWARE talent and increase the FIWARE know-know by tapping into the millions of talented developers out there. Once they understand the potential of the platform, they would be eager to contribute and strengthen FIWARE technology for the greater good. Finally, in addition to helping with the tech side of the business, my financial background will certainly be an added value for the Foundation's growth strategy.
FIWARE Foundation: From your perspective, what are FIWARE Foundation's biggest strengths and challenges (besides the ones mentioned above) for the upcoming years? What would you do to enhance the strengths and overcome the latter?
Dilip Hanumara: In the short period that I have been part of FIWARE Foundation, I've really appreciated and enjoyed the interactions that I had with the team, the developers, the management, the partners, and board members. The sense of purpose not only to expand the Open Source technologies but also to make a meaningful impact on improving the living conditions is deep-rooted within the team. Especially at a time like this, working remotely, the team has doubled down on staying focused and continuing to deliver towards the goals. As the Foundation expands to other geographies and forge new partnerships, maintaining the sense of community and cohesiveness will be tricky at times but it also provides an opportunity to expand the values and culture, through digital enablement.
FIWARE Foundation: Finally, where do you see the Foundation in three years from now and what will be your contribution to its further growth?
Dilip Hanumara: We have a real opportunity here to make FIWARE a core operating system for Smart and Connected Living (with proper privacy considerations). And here I mean all the fields that can undoubtedly contribute to that, from Smart Health to Smart Cities to Smart Waste, to mention but a few. As an example, I mean having your digital device, which you can access from anywhere – home, work, on the go – powered by FIWARE enabling you to securely share and communicate with your doctor, teacher, coach, local government, and so on. Such a system guides individuals and society to thread the new waters more confidently. Together with its hundreds of members and dozen strategic partners, FIWARE is crafting a more secure digital future and I surely want to have a key role in that journey.