FIWARE is dipping its toes into Water Management.
A consortium of fourteen European partners, including major stakeholders in the field of Water Management, met on June 10th in Brussels (Belgium) to launch a global initiative. FIWARE4Water is targeted to bring the standards linking the physical and digital world for more efficient resource management towards support water management processes and bring communities of innovation suppliers together with end-users.
FIWARE4Water, coordinated by OIEau, together with DWC, ScoreWater, and NAIADES is one of the four new Horizon 2020 projects joining forces to foster the digital transformation of the water sector. A joint kick-off meeting organized by the Executive Agency for Small and Medium-sized Enterprises was held on June 12th in Brussels to find possible complementarities and synergies in terms of interoperability, sensors, data analytics/Artificial Intelligence, and water resources/abstraction/drinking water treatments.
Main objectives of FIWARE4Water are:
To demonstrate the FIWARE capabilities and specific potential of its interoperable and standardized interfaces for both water sector and end-users.
The development of modular smart applications using FIWARE and open API architecture for the real-time management of water systems.
Connect the end-users and innovation supplier communities for water compliant interfaces and data models on a comprehensive cross-domain platform associated with 4 Demo cases for smart water applications and 3 Demo Networks.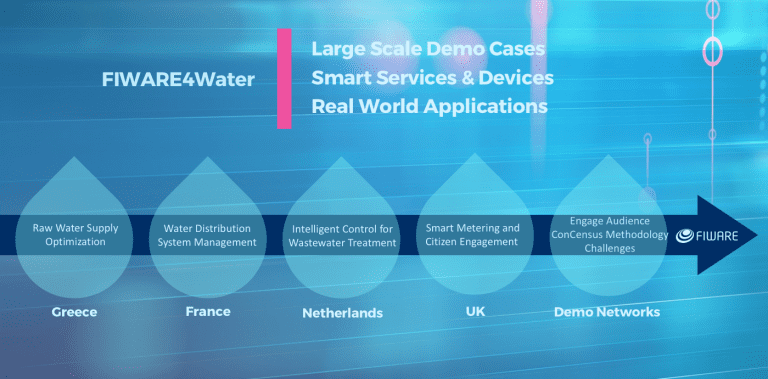 All the water end-users will benefit from this action, be it cities, water utilities, water authorities, solution providers and citizens. On the other hand, not only large corporations but also SMEs will be able to capture the opportunities derived from this new wave of digitization in the water sector.
Watch this space for more information about the development of the initiative. Click here to read more about FIWARE's value proposition for Smart Energy. 
Want to stay up-to-date with the latest developments in FIWARE for Smart Energy and discover how open standards are transforming our world for the better? Attend the upcoming FIWARE Global Summit in Berlin (23-24 October) for an unforgettable event.