Saint-Quentin is a city of around 56.000 inhabitants in the north of France. Together with 3 other cities (Bruges and Mechelen in Belgium and Delft in the Netherlands) this city is exploring within the Interreg 2seas project SCIFI the possibilities for mid-sized cities to create value and better services for their city and citizens supported by innovative public procurement procedures, interoperable solutions, opening up data and an open data platform.
City Challenges Based on Stakeholders Involvement
Last year, 7 SCIFI challenges were launched in the field of energy, environment, and mobility and since the beginning of this year, the selected startups and SMEs are piloting their solution in one or two cities. End of June 2019 they present their learnings and results of their pilot.
Saint-Quentin initiated 4 consultation sessions with its citizens to better understand their concerns. One big topic proved to be the environment and the waste of resources. The city also decided to include all stakeholders in the various stages of the pilot (before, during, after): A challenging approach for both the solution provider and the city, but needed to assure that the pilot goes beyond the project period.
Water Management Challenge
Saint-Quentin's challenge consists of exploring ways to optimize the watering of green spaces, like parks and sports fields.
Alexandre Chaffotte, innovation manager of the city of Saint-Quentin, explains the context: "My colleague Stéphane is responsible for the green spaces of the city of Saint-Quentin. His concern is to optimize the water consumption on sports fields and at the same time to minimize the necessary interventions of its staff."
At the moment the watering is being done local knowledge, daily routines, and intuition of the staff members. With factual data, like the soil humidity, water penetration level, temperature, wind (direction and force), local weather forecasts and water consumption this process and the monitoring can be improved. But there is more context data when taking the decision to water the fields like sports events (watering during a game is not possible; one just before a game could be necessary) and the mowing schedule of the robot mower. And of course, he needs the data aggregated in a dashboard.
But to really optimize the processes of this city service, a decision support system is needed taking into consideration all available data to indicate time slots for watering, and to water, it automatically without labor-intensive interventions. To do that, the city needs a solution that is interoperable with its existing infrastructure (irrigation system and mowing robot). Interoperability is the key to helping Stéphane to reap the full benefits of a water management solution by facilitating his daily management, reducing time spent to monitor sports fields and optimizing their water consumption."
The challenge is being tackled by Element IO, a young innovative company from Saint-Quentin. Element IO is providing an integrated solution based on interoperable devices (sensors and valve controllers) and open data mashup to deliver to the employees of the green space department of Saint-Quentin a monitoring application of their automated or traditional watering systems. By design, Element IO offers the possibility to its customers to set up simple mashup rules to combine available sources of information (open data about green fields locations, common usage, occupation calendars, weather stations,…) to the information generated by the Element IO devices installed on the managed green fields. The first set of Element IO devices – the sensors – publish information about the soil and air conditions (humidity, air pressure, sunshine) as open data without being intrusive nor stressful for the grass. These data are aggregated through the Element IO platform in order to provide decision-making tools. The appropriate quantity of water and time slot are sent to the second set of Element IO devices – the watering controllers – to trigger the watering at the right moment in the right quantity and on the right spot (12 sensors and actuators per football field).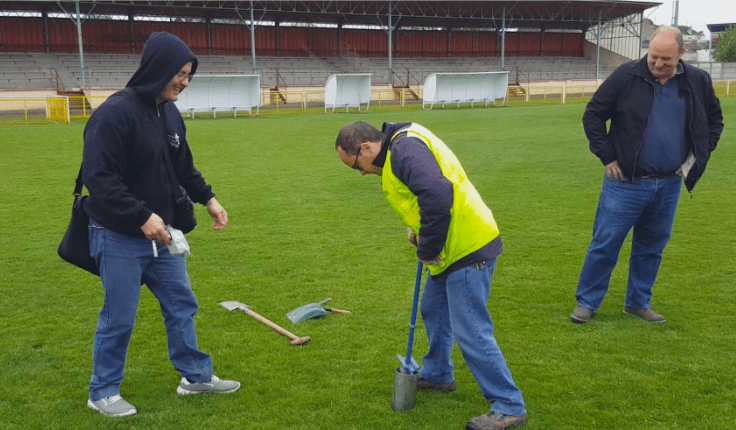 Alexander explains: "We have to make sure that the solution developed by Element IO is interoperable with the previous infrastructure used by Stéphane (irrigation system and mowing robot) and to do that project has to deal with data models and communication protocols and try to use standard ones in order to find a sustainable way to deal with interoperability matters."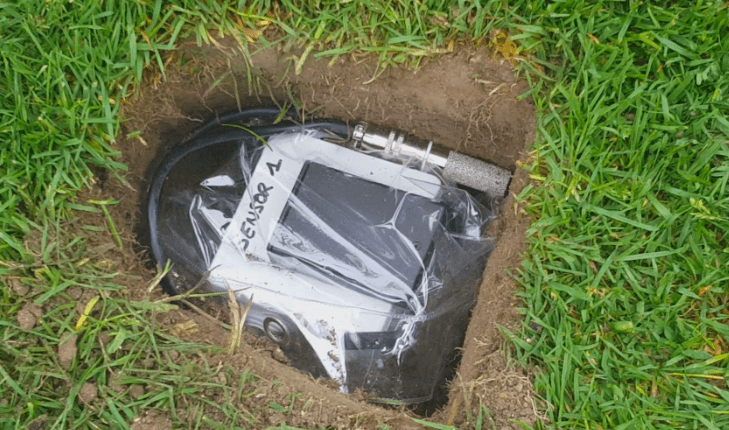 That's why the local FIWARE iHub operated by SCIFI partner Faubourg Numérique has been involved, not only as business facilitator but also as technology services provider: to help the City of Saint-Quentin and Element IO to easily and rapidly address interoperability and scalability challenges, namely by integrating the OASC Minimum Interoperability Mechanisms around the Context Broker CEF building block and a FIWARE IoT backend architecture. An important part of the technical tasks has been the selection, adaptation and integration of the data models to virtualize the physical entities and their dynamic relationships based on existing and harmonized data models (provided by FIWARE DM and schema.org global communities, among others). In the coming months, the learnings and technical deliverables from this local implementation will be globally shared by the City of Saint-Quentin and Faubourg Numérique as a contribution to the SCIFI project and to the Front-Runner Smart City Program jointly launched by TM Forum and the FIWARE Foundation.
Smart Cities Innovation Framework Implementation (SCIFI) is an Interreg 2Seas-funded open innovation accelerator programme bringing together citizens, corporate and public-sector organizations that have smart city needs, challenges and/or data with startups, companies, and students that have innovative solutions with data for these needs/challenges.
SCIFI enables medium-sized cities to create proof of concept that opening their data will create value and better services for their city and citizens.
SCIFI enables startups, companies, and students to work directly with cities to develop smart city, open data solutions and to scale easily their products and solutions. It is centered around an accelerator programme that facilitates joint and innovative cross-border procurement.
Successful applicants will have a funded opportunity to work closely and directly with cities and city clusters to develop open data-based solutions (pilots) to tackle key smart city issues. We provide mentoring, access to ecosystems and other support to help successful applicants develop a concept into a robust, replicable and sustainable smart city solution that is closely aligned with the needs of the public sector. The next open calls will be launched on July 1st: more information on http://smartcityinnovation.eu/
SCIFI is funded by Interreg 2 Seas 2014-2020, a European Territorial Cooperation Programme covering England, France, the Netherlands and Belgium (Flanders) and is being delivered by the cities of Mechelen, Delft, Bruges, Saint-Quentin, Agoria, Faubourg Numérique, Cambridge Cleantech and University of Southampton.
Guest post provided by Interreg 2seas project SCIFI. Do you want to know more about this project or pilot do not hesitate to contact the city of Saint-Quentin: Alexander Chaffotte (alexandre.chaffotte@saint-quentin.fr)