Congratulations are in order for the City of Wolfsburg, Germany. As part of its digital strategy, the city has become a member of the Open & Agile Smart Cities (OASC) network.
With the goal of "creating and shaping the nascent global smart city data and services market", the OASC network connects over 130 cities worldwide. It hereby encourages cities to exchange knowledge to, together, shape the digitization of cities. According to OASC, such a dialogue is based on the use of open, non-proprietary standards and minimal technical mechanisms to simplify the exchange and use of open data.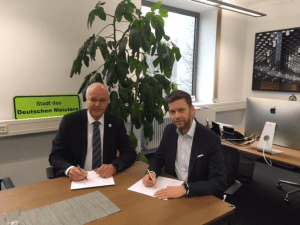 The FIWARE Foundation supports the goals of the OASC. It also contributes to the realization of Smart City platforms and 'Smart Solutions' with open source components and software solutions.
Since 2016, the City of Wolfsburg has been working hand in hand with Volkswagen AG to push forward the digitization process. The aim of the #WolfsburgDigital initiative is, therefore, to transform the city into a leading digital city.
Wolfsburg, as an important and innovative business location, is a great addition to the OASC network. "The City of Wolfsburg would like to contribute and further optimize its progress in the implementation of the open data platform in the network", says Dennis Weilmann, Head of Economics, Digital Affairs and Culture of the City of Wolfsburg.
Ulrich Ahle, CEO of the FIWARE Foundation, added: "FIWARE-based Smart City solutions are now used globally. Compared to other European countries, Germany has a lot of catching up to do in terms of digitization in the public sector. Wolfsburg uses cooperation with leading European and global Smart Cities to exploit the synergy potential of common standards for the further development of the city".
For more information about OASC, please visit their website.