WiTraC was one of the 14 top startups from among 2,000 applicants to be selected by IMPACT Accelerator to join the IMPACT Growth Program in 2018. WiTraC, which has created a wireless RTLS based on IoT, smart sensors and actuators, by having improved different wireless protocols, reached some impressive milestones last year, and we're certain 2019 will have lots of great things in store for them too. We caught up with the team not too long ago to talk about their solution, achievements, and goals for 2019.
What is WiTraC and what sets it apart from other solutions on the market?
WiTraC: Our technology is fast and easy to implement, integrate and use, low energy consumption, low cost and functional indoor and outdoor.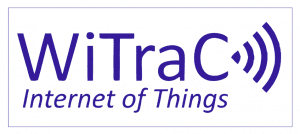 WiTraC expertise with best in class clients proves every industry spends many resources to track, meter and control assets, machinery, materials or people. They face huge costs, time wastes and potential safety and operational risks that they want to reduce, avoid or mitigate. Therefore, WiTraC has created a wireless real time location and tracking system (RTLS), based on Internet of Things (IoT), smart sensors and actuators, by having improved different wireless protocols (RFID, Zigbee, LoRa, M2M, and others). Our technology is implemented in several industries, warehouses and cities to improve the supply chain value. Our technology is smart for being all wireless, multi-protocol, multi-sensor, multi-platform, fast and easy to implement, integrate and use, low energy consumption, low cost and functional for both indoor and outdoor.
Some real examples include:
We have developed smart sensors for fleet management so that logistics managers have real-time control over the vehicles and drivers, thus optimizing delivery times, routing and helping to achieve quality standards and customer satisfaction.
WiTraC provides with smart solutions for outdoor vehicle storage within production and logistic scope. We make easy to find a car parked together with thousands of similar vehicles, thus saving in personnel, time and resources, in a wireless and real-time manner.
How and why did you choose to integrate FIWARE?
WiTraC: Above all, we decided to integrate FIWARE because it makes possible the following achievements:
Connection and integration of multiple sensors and trackers.

Creation of context elements, representing entities in the system, i.e. a certain

sensor that measures temperature.

Update context information, i.e. send new temperature updates.
Be notified when there is a change in the context information (i.e., change the

temperature value).

Ask about context information. The Context Broker stores context information

that is being updated from the applications, so that queries are resolved based on this data.

A set of rules will be defined in order to interact with the electric bus driver by means of internal actions (i.e. update a given entity in ORION) or external actions (i.e. send email, HTTP post).
Together with CEP, drivers will receive alerts about good driving practices in order to care the electric system of his/her vehicle, i.e. alerts about battery status (checking if it is necessary to recharge it or to change it), estimated time of battery life before the next load (based on each electric system parameters) consumption information, KPI about driving efficiency for better shelf life of the electric system, etc.
Could you tell us a little more about a successful WiTraC use case?
WiTraC: During the IMPACT acceleration process, a software was developed with the main purpose of analysing the whole dataset provided by electric buses sensors and to offer relevant and personalized information and, also, to act in the electric system when it is needed. The final goal of this action is to improve electromobility by means of optimizing electric system performance (i.e., giving useful information to drivers for the best care of the electric vehicle or acting to prevent any damage of the battery if electric vehicle is suffering a wrong use, among others) increasing from 2% to 5% the life cycle of batteries and, therefore, increasing with the same rate the shelf life of the electric vehicle. This software was tested in an electric bus in Valencia where WiTraC already deployed a complete metering and tracking system for gas buses. This is a very important project for the future of electromobility in Valencia city since weather conditions in summer are the worst for electric buses due to the high consumption of air conditioning in these vehicles (30% of total consumption).
The system used collected data from:
Electric System Status: battery load level, working hours, engine power…
Driving: GPS, speed, acceleration, stops, distance since the last charge of the battery…
Environment: temperature, humidity, noise, pollution…
2018 was undoubtedly a great year for WiTraC but that doesn't mean they won't be trying to top that success in the year to come. When we asked the team about their goals for 2019, they, therefore, came with an impressive list including:
RTK / Galileo RTLS

RFID RSSI RTLS

Multioperator Cellular RTLS

NB-IoT / LTE-M Comms

Blockchain Comms

CAN BUS / OBD Sensor

RTC / EEPROM Sensor

Measure / Capture / Send Algorithm
Pattern Recognition / Machine Learning Algorithms

Witrac Analytics / BigData MapReduce Platform

Extraction Transformation Visualization APIs

Device Token Encryption

Docker Continuous Delivery

Wireless Remote Configuration