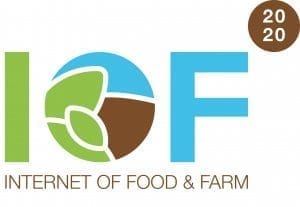 IOF2020 has launched a brand new Open Call. The initiative, "designed to generate maximum impact right from the outset and in the long-run, bringing closer together and integrating the supply and demand sides of IoT technologies in the agri‐food sector", launched its Open Call on June 5th during the IoT Week in Bilbao.
The Open Call allows new use case teams to join the IOF2020 journey within the Internet of Food and Farm to enlarge the number of IoF2020 stakeholders and create more impact on the European farming and food sector.
Who: Coherent teams of IoT agri-food supply chain actors. Single participants are not accepted.
What: Projects with a high impact on the supply chain, a high level of technical feasibility and innovation, as well as a strong economic sustainability, also in new regions.
How and When: Interested in the Open Call? Feel free to share your ideas or ask a question here. If you have a team and you want to submit a proposal, make sure to preregister your submission on the IoF2020 website before 31 August 2018 17:00 CET and submit it before 30 September 2018 17:00 CET.
How Much: Projects are eligible to costs from €300K up to €500K.
Date
June 5, 2018
August 31, 2018
September 30, 2018
October 31, 2018
December 31, 2018
January 1, 2019
Open Call Step
Open call official text publication
Deadline for preregistration of the proposal
Deadline for receiving applications
Communication of the evaluation results to applicants
Contracting with successful proposals and prepayment
Start of new use cases
For more information about the IOF2020 Open Call as a whole, important documents to be aware of, more information about the submission process and FAQ, click here.