Last month, the FIWARE Foundation travelled to New Delhi, India to attend and participate in the 5th edition of the India M2M + IoT Forum, which aims to connect community stakeholders of the M2M + IoT Ecosystem from India and the rest of the world. FIWARE Foundation CEO, Ulrich Ahle, was accompanied at the Forum and in the exhibition area by several FIWARE members, including NEC India, HOP Ubiquitous, Smart Cities Lab LTD, and ApInf, who showcased their best practise examples at the booth.
Mr. Ahle delivered a keynote speech on the first day of the event as part of the Plenary Session on 'The Smart Cities in India – Stakeholders Perspective'. He spoke about the hurdles that cities need to overcome, such as dealing with different data formats coming from existing information available in the city context. From both an organizational and technological point of view, improvements can therefore be made.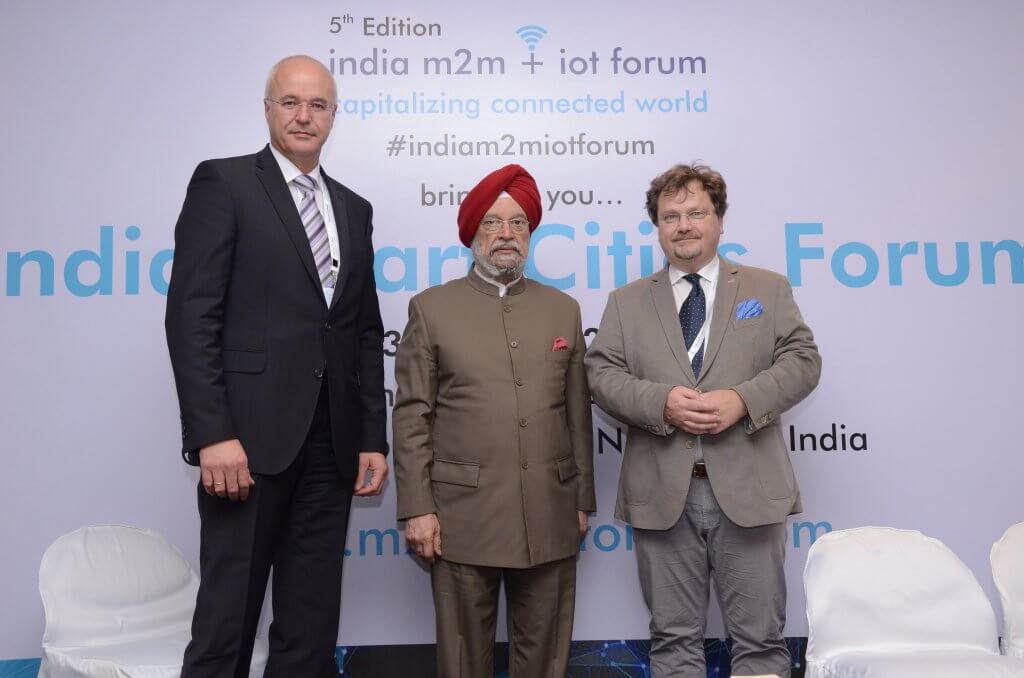 That's where FIWARE comes into play, as an Open Source Platform for smart solutions with a standard data model and open interfaces. Over 117 cities in 24 countries around the globe have already started to create their Smart City based on FIWARE technology, and FIWARE could hereby bring numerous benefits to cities in India as well. On that note, FIWARE would, in turn, be interested to integrate both the know-how and capabilities of Indian software, as well as hardware engineers into the further development of its technology.
Later that day, Mr. Ahle also joined the Industry Round Table as a speaker, and, on the second day, spoke in the Inaugural Session 'Empowering Villages Through Technology and Creating Rural Innovation Clusters'.
On the evening of the first day FIWARE hosted a VIP dinner reception, with speeches from Mr. Ahle and Olaf-Gerd Gemein, CEO of Smart Cities Lab. The event was also attended by the Honorable Minister of Housing and Urban Affairs of the Government of India, Hardeep Singh Puri, where he was welcomed together with Mr. Klaus Pendl, First Counsellor – ICT Delegation of the European Union to India. Mr. Puri is also responsible for the Smart Cities Mission, which aims to build 100 Smart Cities in India. During the reception, he spoke to the attendees about the digitization strategy in India.